I am finally back home for a few weeks but without the kiddos as they are headed on a much deserved vacay with their dad.  I'm excited to have this time to catch up on my huge pile of mail, spring cleaning and feeding my handsome hubs, Brandon, lots of vegan dishes.  Now that I am home, he can ease up on playing "Chopped" in the kitchen with canned black beans, avocados, chips, and almond butter.  And, he can take a break from making his Bananaise sandwiches (smashed bananas with honey) that he shares with our precious pup, Lil' Rog.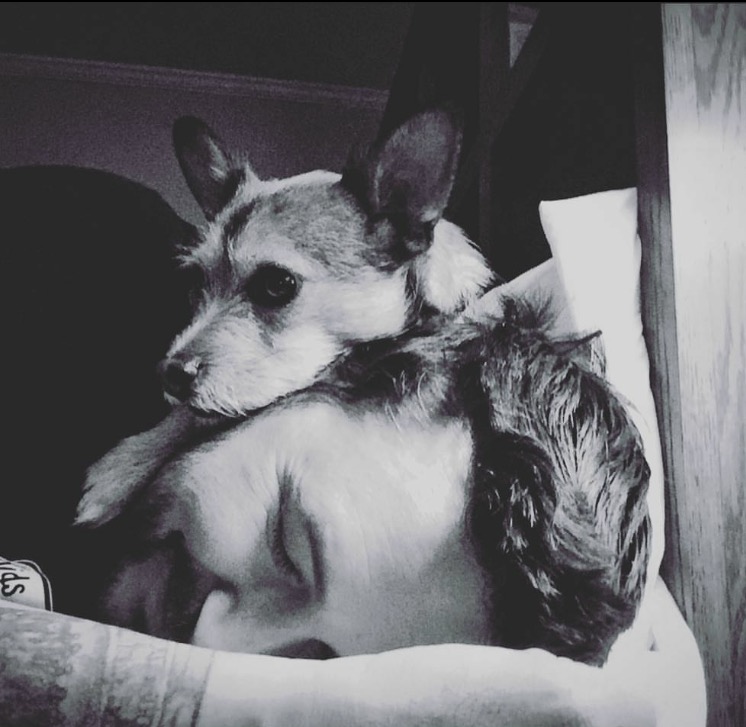 Although I am a meat-eater, Brandon and I are an interesting balance.  He eats to live, I live to eat.  He looks at food as fuel, I look at it as a sexual encounter.  He loves my cooking but never goes into the details of creating a dish when I am away.  He is happy with his can of black beans.  So, it is only natural that I want to spoil him (and the kids) when I am home.  We do the usual taco meal at least once a week with lots of seasoned ground beef.  For B, I substitute the beef with portobello mushrooms and pecans.  The texture is very much the same as ground beef and when seasoned the same way as taco meat, it is pretty damned successful in fooling everyone.  Put on some music, get in the kitchen and give this one a try!
Vegan Taco Salad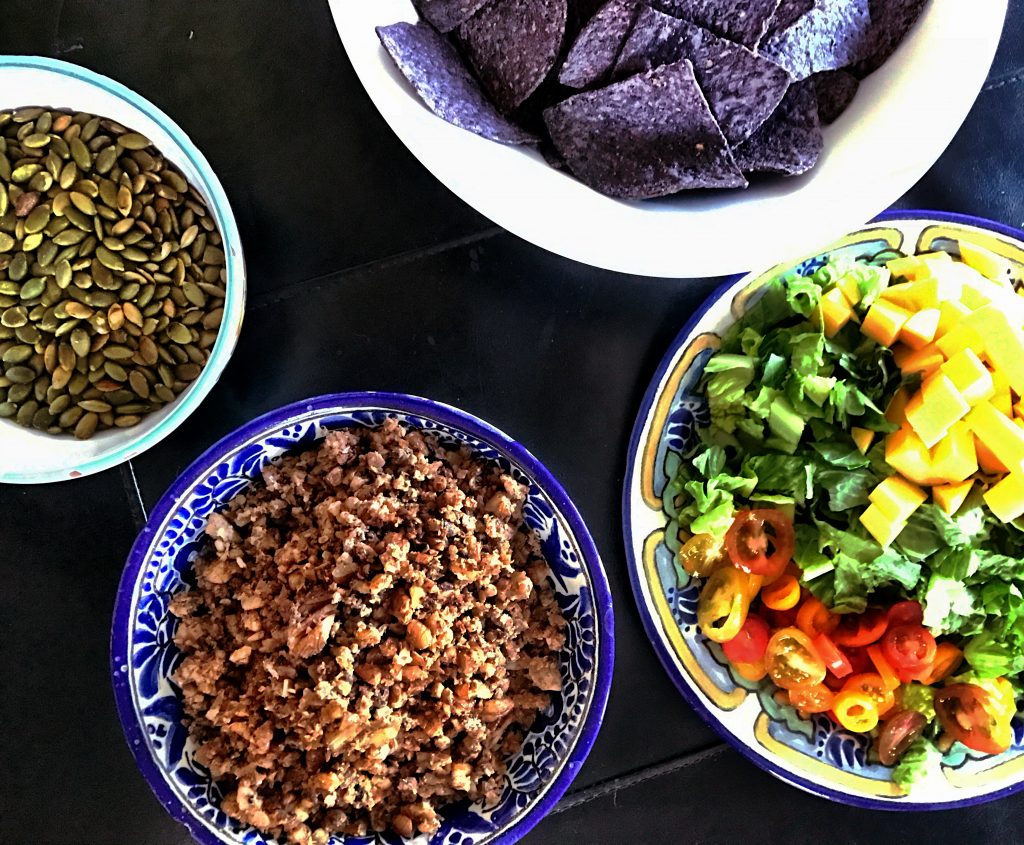 When making regular taco salad, I just use the simple additions such as shredded lettuce, tomato, red onion, and grated Monterrey.  To make this vegan option more colorful and tasty, I add the crunch of pepitas (pumpkin seeds) along with a little sweetness from cubed mango.  You can play around with different combinations to find your exact 'jam'… pomegranate seeds and cashews, kiwi and almonds, even blood oranges with walnuts.  Be bold!  Serve the salad with your favorite salsa or hot sauce to keep it from tasting too dry.
1 lb fresh mushrooms, processed
2 cups pecans, processed
2 cloves fresh garlic, finely chopped
2 tbsp olive oil
2 tsp ground cumin
1 tsp kosher salt, more if needed
2 tsp chili powder
fresh cracked pepper
blue corn chips
Shredded lettuce
Chopped tomatoes
cubed fresh mango
pepitas or pumpkin seeds
hot sauce or salsa
Heat a large nonstick skillet over medium-high heat.  Add olive oil and heat for a few seconds.  Add mushrooms, pecans, and garlic.  Saute for 10-15 minutes or until water has cooked out from the mushrooms.  Then, add cumin, salt, chili powder, and pepper.  Stir to combine and keep warm until ready to serve.
To assemble, crunch chips at the bottom of serving bowl.  Top with mushroom and pecan mixture (the meat) followed by lettuce, tomatoes, mango, seeds, and hot sauce or salsa.