Hot mix is not a bad ass batter for waffles.  Hot mix is a bad ass playlist to accompany you in the kitchen.  Brandon jokes with me all the time about "hot-mixing" when I cannot listen to an entire song without changing it to the next.  Guilty.  So, here is my playlist of hot mixes I have been digging this week.  Wake up and feed your body and soul, and GROOVE!
Although they fall apart after a few days, these Rise & Shine Bars are an easy and delicious "grab-and-go" breakfast for those busy mornings.  I say, let them fall.  When crumbled, they make a nice muesli over yogurt and berries.  Or you can take a little more time and rustle up something more substantial and satisfying!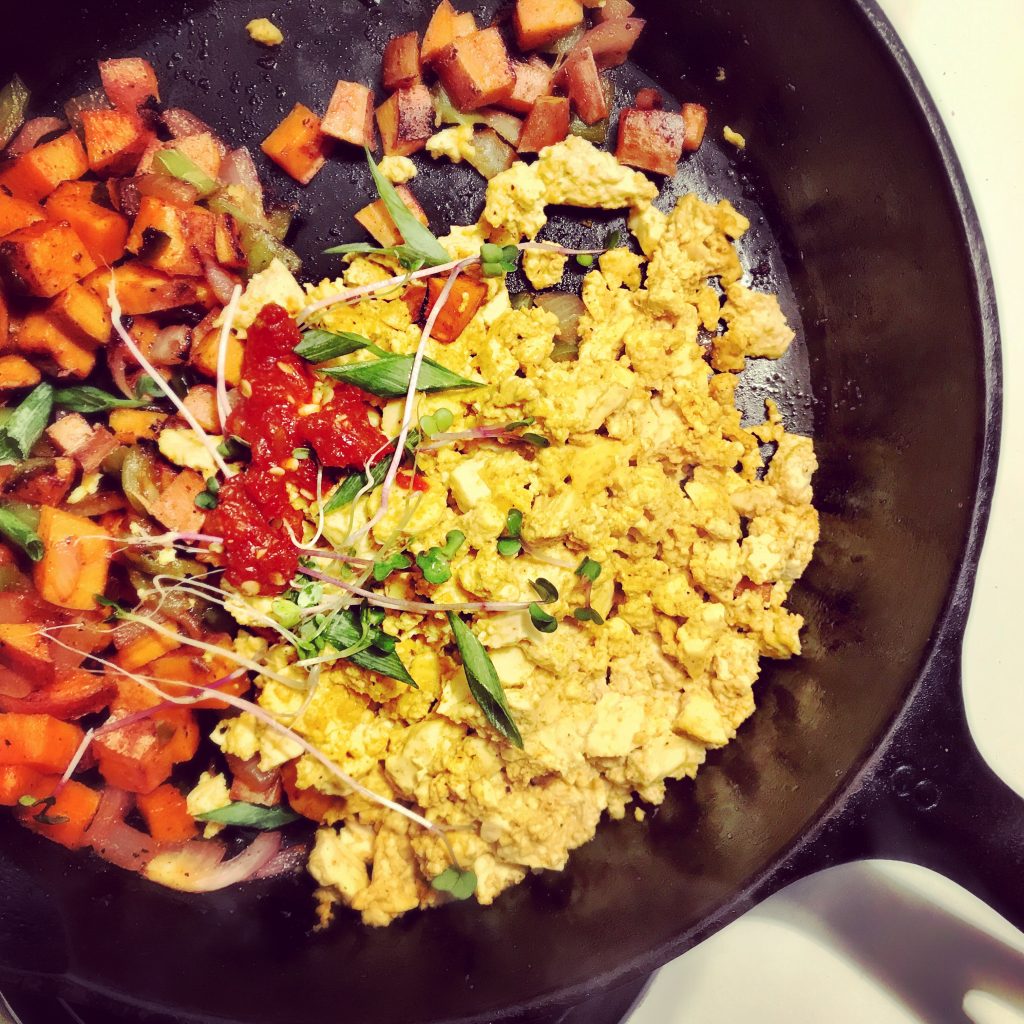 Tofu Scramble with Sweet Potato Hash
1-14 oz package firm tofu, crumbled into small pieces
1 tsp turmeric
1/2 tsp garam masala
2 sweet potatoes (skin on), cubed
1 tbsp coconut oil
1 green bell pepper (pith removed), roughly chopped
1 bunch green onion, julienned
2 to 3 sprigs fresh thyme
kosher salt and fresh cracked pepper
garlic chili paste for topping
alfalfa sprouts for garnish
In a small bowl, combine tofu, turmeric, and garam masala.  Set aside
Heat a cast iron skillet over medium heat.  Cube potatoes.  Add coconut oil to skillet, then potatoes, bell pepper, green onion (save a bit for garnish), thyme, salt and pepper.  Stir potatoes, then cover with lid and reduce heat to medium-low.  Cook for 5 minutes then stir potatoes, cover once more and let cook for another 10 minutes, check midway to avoid burning the potatoes.
Uncover lid and add tofu to skillet.  Cook for just a few minutes or until tofu is hot.  Serve with chili paste, remaining green onion, and sprouts.
This week is a killer post-punk playlist (one of my favorite musical subcultures) for you to get rad while you make brekky.  The Spotify list is only up for a week so, be sure to check it out before it's gone.  I've included a list for you slackers.  Enjoy!
Talk About The Weather-Red Lorry Yellow Lorry
Cool-Pylon
You're Driving Me Mad-The Cravats
Green Fingers-Siouxsie and the Banshees
Change-Killing Joke
Ghosts-Abecedarians
India-The Psychedelic Furs
Road, River, And Rail-Cocteau Twins
Dark Spirits-Red Temple Spirits
Somewhere-The Danse Society