As I stepped outside into the crisp cold autumn air this morning wearing a dress (I'm such a dumb ass), my leg hairs stood straight up in shock.  It won't be much longer before they will get to WAVE in this air….you know, with No Shave November being just around the corner and all….but more importantly, the time for making fall soups is finally here!!!!!
Once a week, I clear out my fridge of all the red-headed step veggies and throw them into a nice "Everything But The Kitchen Sink" soup.  You all know what I am talking about…that half of a red onion, those few carrots beginning to not be so happy to see me, and an entire head of purple cabbage minus a small missing piece used for shrimp tacos last Tuesday night.  I'd be so damned happy if stores started selling shredded purple cabbage (not slaw) in itty bitty "one serving" packages.  Until then, I will use the leftover head to make a vegetable broth for soup and whip up a batch of croutes from leftover artisan bread.  I'm not even mad that my broth turns purple.  I waste nothing.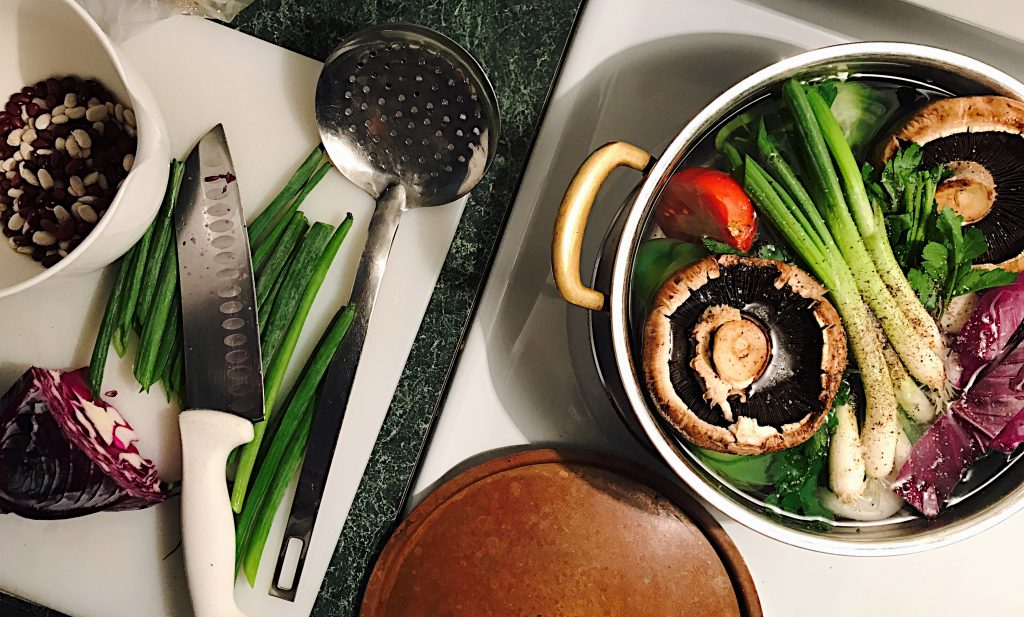 This week, I had green onion, that damn purple cabbage, portobellos, a roma tomato, coarse sea salt, pepper, and parsley to use for my soup broth.  I added about 1 gallon of water to a stock pot along with veggies and kept it at a slow simmer for about an hour, then strained everything through a fine mesh sieve and discarded the lifeless veggies.  Back into the pot the broth went…
I then added about a cup of dried beans (any of your favorite variety will work) to the broth along with two bay leaves and simmered for 2 hours, adding more water if needed.  Don't roll your eyes at me while whispering, "Who the hell has time to wait for two hours?!"  Uhhhh, you do!  It's just two Real Housewives or four Chopped back-to-back episodes…..mmmhmmmmm.
After the beans cooked to a toothy texture, I removed the bay leaves, added butternut squash, fresh corn cut right off a few cobs, a half cup of wild rice, and one head of broccoli florets.  I let it hang out over a low heat for another 45 minutes and then served with my Croute recipe.  You can find the recipe here along with a bonus soup recipe..my favorite one, actually.  You're welcome.
If you get into the habit of doing this once a week, you can stock pile your broth in smaller batches by freezing it in zip lock baggies.  Anytime you need a little or a lot, it will always be there for ya!  I use it for other quick soups during the week.  Or, if you ARE in a pinch for time, you could always buy a box of organic from the grocery store.
On the same day of making this particular soup, I was able to use the veggie broth to steam a batch of vegetarian Asian Pot-stickers.  I do spend a lot of time in the kitchen (thanks to my masochistic ways) so all of this cooking really does not phase me.  I REALLY DO stand in front of the stove, barefoot but NOT pregnant, thank baby Jesus.  I digress….
I make these quite often, however, I was recently introduced to The Giant Asian Pot Sticker.  Seeing these prepared with a large egg roll wrap blew my mind on so many levels.  I just had to try it.  I usually make smaller dumplings (vegan or pork-filled) which can be a little more time consuming so, I was happy to see, where I was making 24 at a time before, I could now make four big ones!  Edamame Mushroom filling tucked into each wrap, lightly fried in a splash of sesame oil then steamed with the flavorful broth…yeah, this shit sent me over the edge with delight.  But, I will have to share this recipe on another day.
Happy broth making!