I have a favorite "romantically red" lipstick that I hardly ever wear because 1) It's super red for workdays in the kitchen and 2) I can never lay a sloppy kiss on my husband's lips without having him eat the entire tube within a year's time….yes….that's a lot of kisses!  So, Russian Red sits lonely and quietly in my makeup bag most days.  This past week, I thought a lot about this particular tube of lipstick and its beautiful deep red color I gravitate towards, my mother and her love for vintage fashion, and being okay with wearing that Russian Red color any day of the week.  When I see red, I immediately feel passion.  I crave things:  a feeling, a place, a person, or food that resonates romance.  I, then, find my imagination taking me to a quaint little coffee shop with outdoor seating.  There, I sit with my handsome dude enjoying a light lunch of lettuce wraps with a sweet strawberry relish (the color of my lipstick) while Billie Holiday is being piped out of speakers.  Am I weird?  Maybe…. but the lettuce wraps I imagine are not.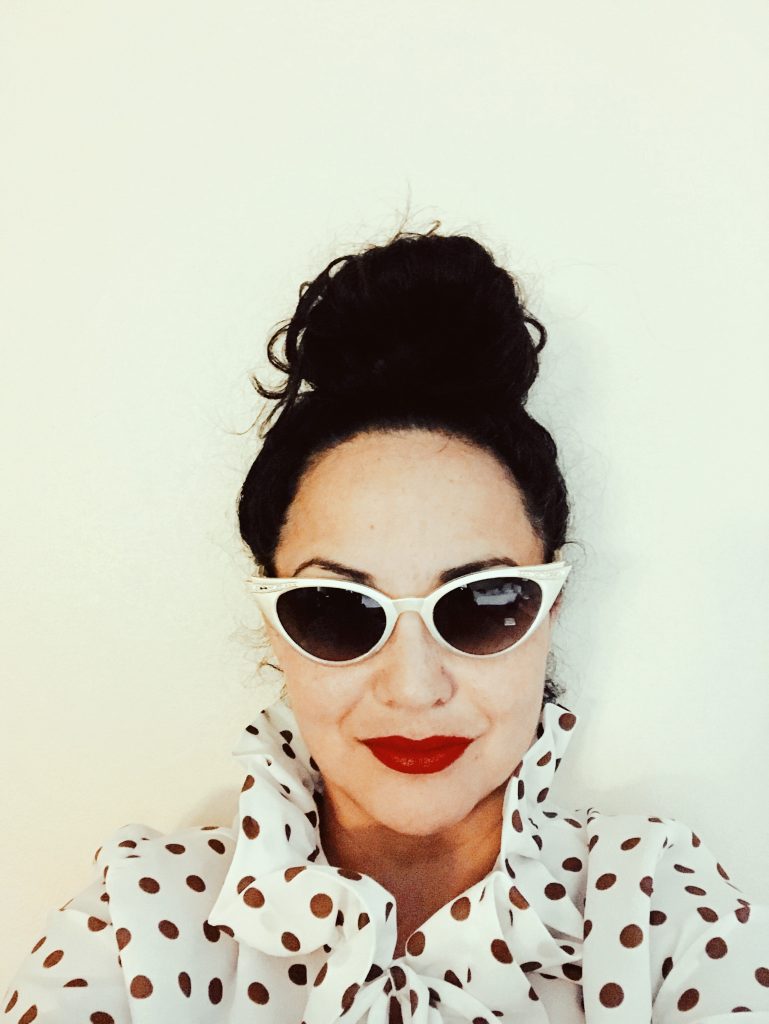 The other day, I ventured into downtown Tallahassee eager to find an eclectic vintage store.  Every city has one.  You just have to sniff it out.  My nose found the perfect place nestled in an old building that neighbored a tattoo shop.  The sign above read, Avant-Garb.   As I walked in, I immediately felt a strong pull into my soul and knew that I would find something for myself.
When I lost my mother in 1999, I had the painful task of having to go through her closet of clothes, purses, and shoes.  Back then, I really wasn't into all of the cool vintage things she had acquired over the years.  I never wanted to BE my mother until she was gone.  Out of everything she had, I wish I had kept this one pair of brown crocodile pointy heels.  They were fabulous but, they were a size too big.  Over the years, I would find myself thinking a lot about those shoes and what an idiot I was to not keep them.
After I woman-handled the eyewear (I scored two pair) at the front counter of the store, I bee-lined it to the shoe section.  There they were.  Those fucking brown crocodile pointy heels….IN MY SIZE.  I began hyperventilating and felt that tug again in my soul.  It had to be a "hug tug" from my mom.  It just had to be.  I realized at that moment and heard the words in my head…'wear your red lipstick any time you feel like it, make your husband eat two tubes of it once a year, and wear these shoes until they need to be re-soled for the third time."
-Ruthie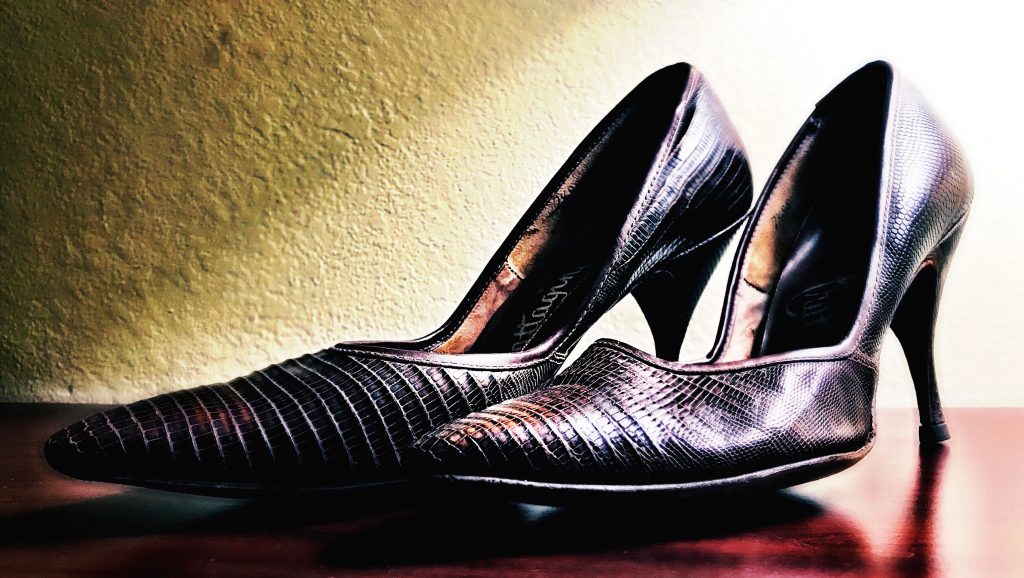 Asian Pork Lettuce Wraps with Fresh Strawberry Relish
In my catering days, I used this recipe for mini lettuce wraps that guests could pick up and eat with their hands.  I just tore the lettuce leaves into smaller pieces and topped it with a mango relish.  You can make the mango relish using the strawberry relish recipe…just switch out strawberries for mango…or pineapple…or kiwi….make it your own!
1-8 oz. package baby portobello mushrooms, dirt removed (do not wash) with a dry paper towel
2 tbsp olive oil
1/2 red onion, chopped
2 garlic cloves, chopped
1-8 oz. can diced water chestnuts, drained
1 oz. fresh ginger, peeled
1 cup walnuts
4 to 6 slices of center cut pork loin, fat trimmed *You can use regular ground pork to save time*
2 tbsp sesame oil
2 tbsp soy sauce
1/2 cup hoisin sauce
1/4 cup water
1 bunch fresh green onion chopped
1 head butter leaf or red leaf lettuce, washed and separated into single leaves
Heat a large non-stick skillet over medium-high heat.  Process mushrooms and then add to skillet along with olive oil, red onion and garlic.  Let saute while you process water chestnuts and ginger together.  Pulse until roughly chopped.  Spoon chestnut mixture into a bowl and process walnuts the same way.
Add chestnut mixture along with walnuts to the mushroom mixture in the skillet.  Saute for 5 more minutes.  Pour mixture out into a bowl.  Set skillet off of the heat while you process the pork into a rough grounded texture. (If you're using ground pork, skip this step)
Place the same skillet back onto the heat, add the sesame oil and pork.  Cook for 15 minutes or until pork is well done.  Add mushroom/water chestnut mixture to the pork and stir.  Add soy sauce, hoisin, and water then let simmer until it thickens.  Stir in green onion right before spooning into fresh lettuce leaves. Top with Strawberry Relish.
 Strawberry Relish
1 container of fresh strawberries, greens removed, washed, and chopped
1 fresh jalapeno, seeded, white pith removed and finely chopped
1/2 cup loose packed fresh cilantro, chopped
juice of 1/2 lime
1 heaping tbsp local honey
kosher salt and fresh cracked pepper to taste
Combine all ingredients in a medium bowl.  Stir and keep chilled in refrigerator until ready to serve