Such a controversy…that brine!  Some people swear by its magical ability to juice up poultry and pork before they are cooked to perfection.  Others proclaim that it makes the meat too salty.  I have been accused of being "too salty" before but, that is a whole other blog post!  Haha…
I am ABSOLUTELY a fan of brine!  Through trial and error, I have come to learn not to brine my meat over 4 to 6 hours as well as adjusting my sweet/salty ratio when necessary.  My birds and pork are always juicy and tender.  How does brine work? Let's investigate…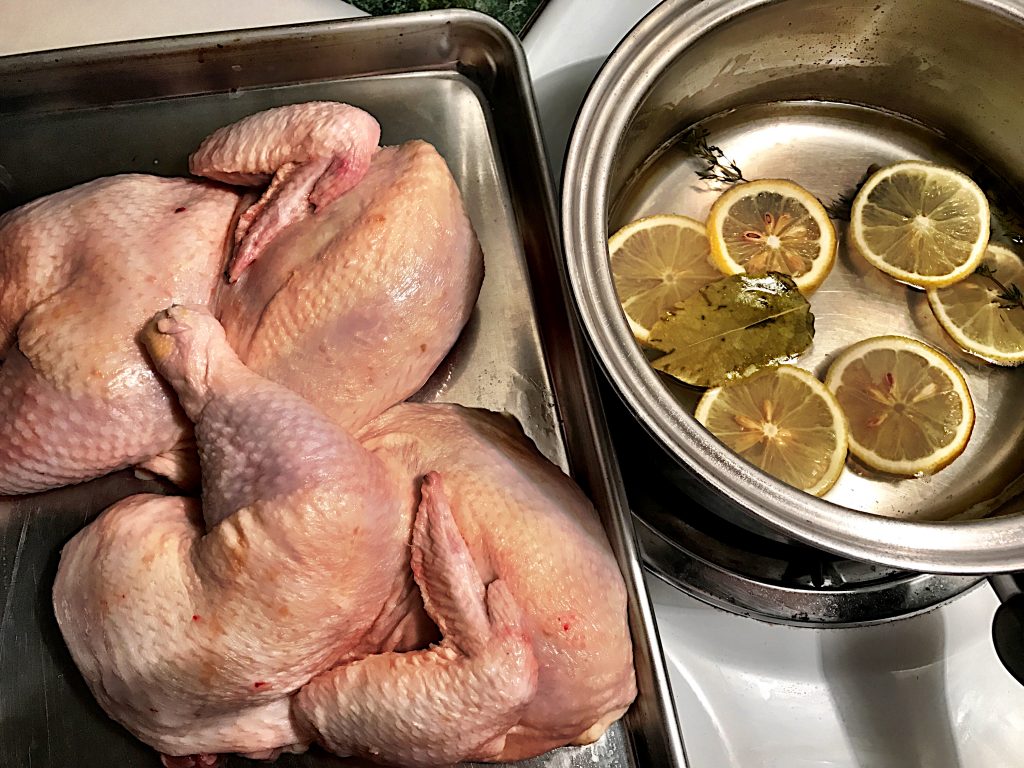 One way of looking at it is this:  you are basically taking your meat to the spa.  Anytime you cook meat, it loses moisture through denaturing.  Raw individual coiled protein in the muscle fibers unwind and join together with one another which in turn shrinks the meat. By using a brine, the dissolved salt gets the protein in the muscle fibers "loosened up". They begin to unwind and swell which will lend to a juicier meat.
One of the best brine recipes that is my go-to during the holidays is part of Alton Brown's Good Eats Roast Turkey Recipe.  I have had great success with this particular brine with one exception.  A friend of mine used it to brine her Thanksgiving turkey last year and learned she was violently allergic to allspice berries.  Yikes!  But, now she knows… haha!  So, kids… it is always good to be aware, beforehand, of any food allergies your guests might have.
Getting back to the brine… Below, you will find a more simpler version that I use on the reg and works great with poultry.  If you are brining pork, just omit the lemon.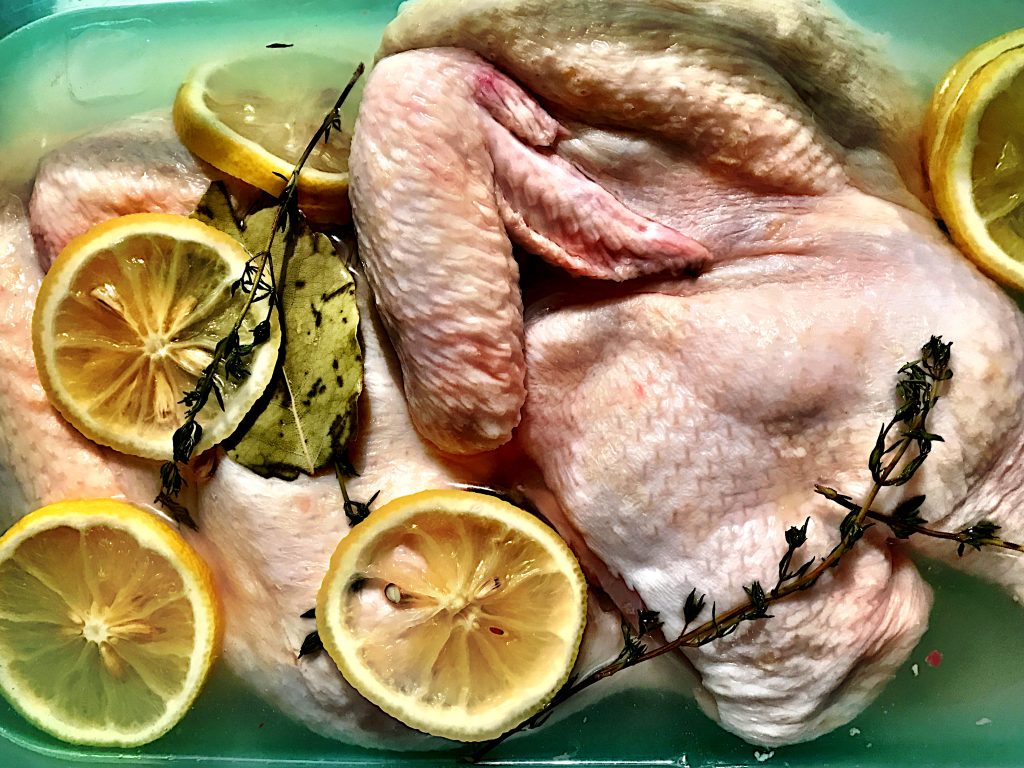 Simple Brine of Thyme and Lemon
2 cup room temperature water
1/4 cup kosher salt
1/4 cup granulated sugar
1 lemon, sliced thin
4 sprigs fresh thyme
1 bay leaf
Combine all ingredients in a medium sauce pan and bring to a simmer over medium-high heat.  Remove from heat and let steep for about 30 minutes.  Add 2 cups of ice to brine to help cool.  Soak chicken for 4 to 6 hours (more time over that might take away from the natural flavor of the chicken).  Remove chicken from brine, rinse and pat dry before cooking.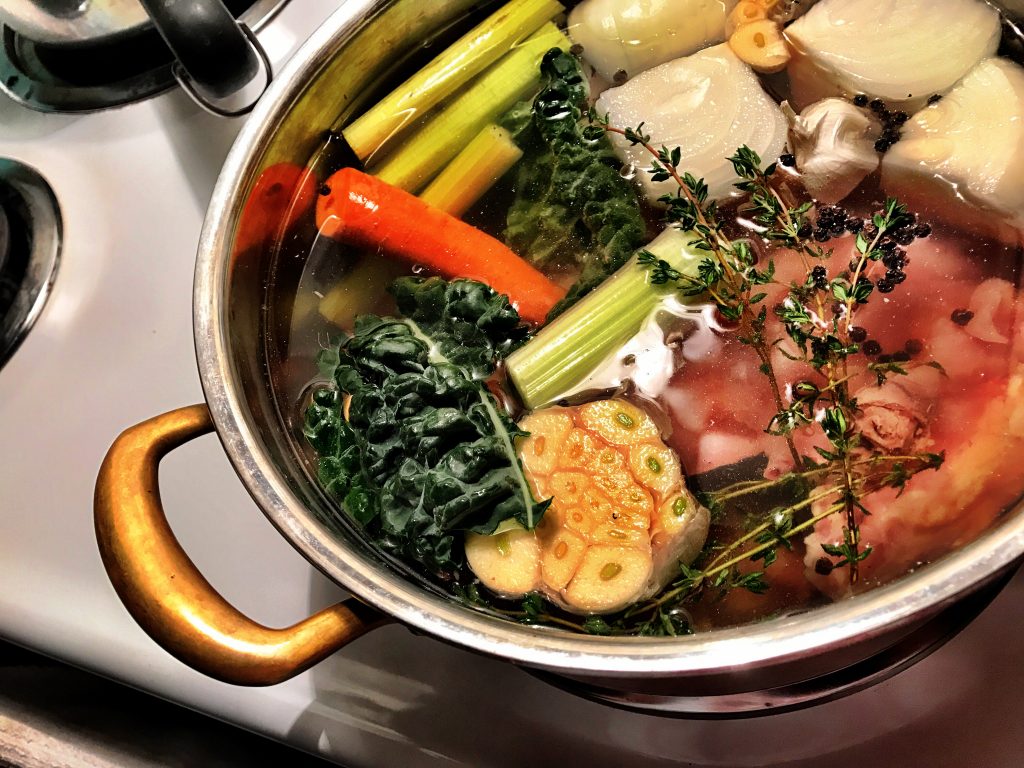 Speaking of chicken…I like to buy a whole bird so that I can use it for two recipes.
1)a chicken recipe and…
2) chicken broth 
I have a few friends who cannot stand touching a bone-in chicken let alone dismembering it into 8 pieces.  I love my friends but, whatever, man!  I do not mind handling, popping joints apart, or quartering my poultry for two very important reasons:  it is cheaper to do it yourself, and it makes for a more flavorful chicken.  The bone will infuse flavor into the meat just like it does to water when making a chicken broth.  Bone-in chicken also helps keep your meat from shrinking and drying any further during the cooking process.  So, push your idiosyncrasies to the side and get dirty!  Yeah, I said it!
Be bold!  Your palates will love you for it! <3