Some days, we are too exhausted to cook dinner.  Luckily, there are recipes, like this one, that you can whip up in 40 minutes or less.  You can also make it ahead and reheat.  It will never taste like "leftovers".  Just leave out the kale and add it in after the soup has been heated.  By doing so, the kale will keep its beautiful color and nutrients.  For a cool site explaining various types of kale and their benefits, click here.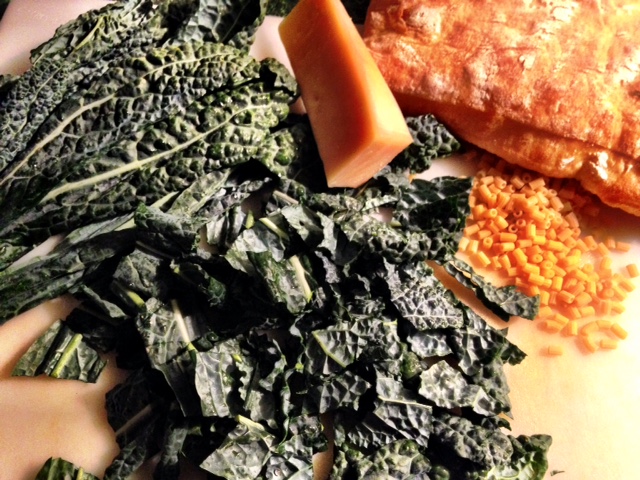 Sweet Italian Sausage and Kale Minestra
1 lb 3 oz. pkg sweet Italian sausage links, casings removed
 1 large white onion, chopped
2 cloves garlic, finely chopped
1 tsp ground nutmeg
6 cups chicken broth
1 cup dried ditalini pasta
1 bunch lacinato kale, chopped
1 14.5 oz can cannellini beans, drained and rinsed
kosher salt and fresh cracked pepper to taste
grated Parmesan
crusty bread (I use ciabatta….almost always)
Cook sausage in a large dutch oven over medium-high heat until browned.  Add onion, garlic, nutmeg, and stir. Cook for another 10 minutes or until onions are softened.  Add chicken broth, cover, and reduce heat to low-medium.  Simmer for 15 minutes.  Add dried pasta and beans.  Simmer until pasta is al dente; about 15 minutes.  Add kale, season with salt and pepper, stir and serve with crusty toasted bread and Parmesan.