Say what?  Breakfast for dinner?  Did you also say you wanted a super cool playlist to jam to while whisking your damn eggs?  I aim to please….myself and then push on to you!  I am horrible at figuring serving quantity because I have no idea how hungry you may be… I don't know your life!  Seriously though, this will feed 6 to 8…depending on your "sharing mood."
Potato and Mushroom Frittata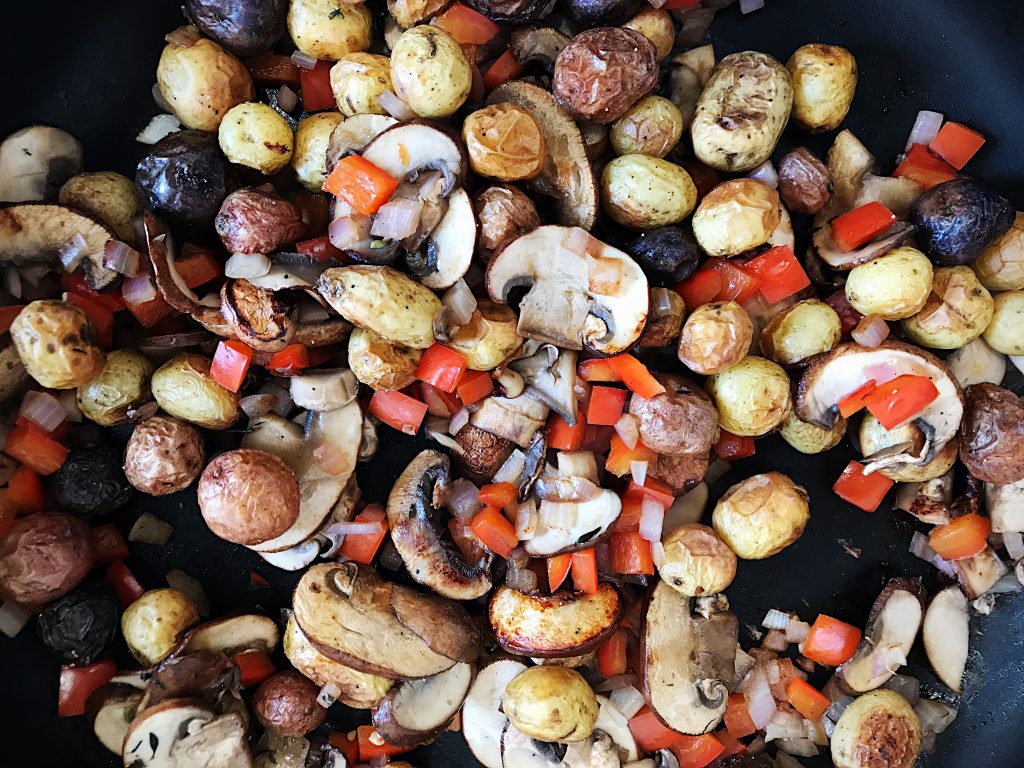 1 bag baby tri-color Yukon potatoes or just plain Yukon
1 tbsp olive oil
kosher salt and pepper
1 container fresh baby portobello mushrooms, sliced
1 red bell pepper, seeded and chopped
1/2 red onion, finely chopped
4 sprigs fresh thyme
8 eggs
1 cup ricotta cheese
1 cup unsweetened vanilla almond milk
1 cup finely shredded Gruyere cheese
fresh dill for garnish
Preheat oven to 375.  Toss potatoes with olive oil, salt and pepper.  Roast in oven on baking sheet for 25 minutes.
Meanwhile, heat an oven safe large non-stick pan over medium high heat.   Add a glug of olive oil to hot pan then add mushrooms, red bell pepper, and onion.  Saute until onions become translucent and water from mushrooms has evaporated.  Mushrooms should have a lightly crisp brown sear on at least one side.
Remove potatoes from oven and add to pan with vegetables.  Add thyme and set aside.
Whisk eggs, ricotta, almond milk, cheese, and dill in a large mixing bowl.  Season with more salt and pepper.  Add egg mixture to hot pan with vegetables.  Cook over medium heat until eggs begin to cook around the edges.  Place pan in oven and let bake for 20 minutes or until egg mixture is completely cooked through.  Last few minutes of cooking, switch oven setting from bake to broil to brown top of frittata.  Using oven mittens, carefully remove pan from oven and set aside to cool before serving.