Why yes….I AM referring to The Smiths song about the realization of all the various contours of  women.  But, I am also proclaiming that my mother was indeed huge.  I don't mean huge as in large or heavy..I mean, she was a big deal.  She was strong.  She was beautiful.  She was a survivor.  She was my hero.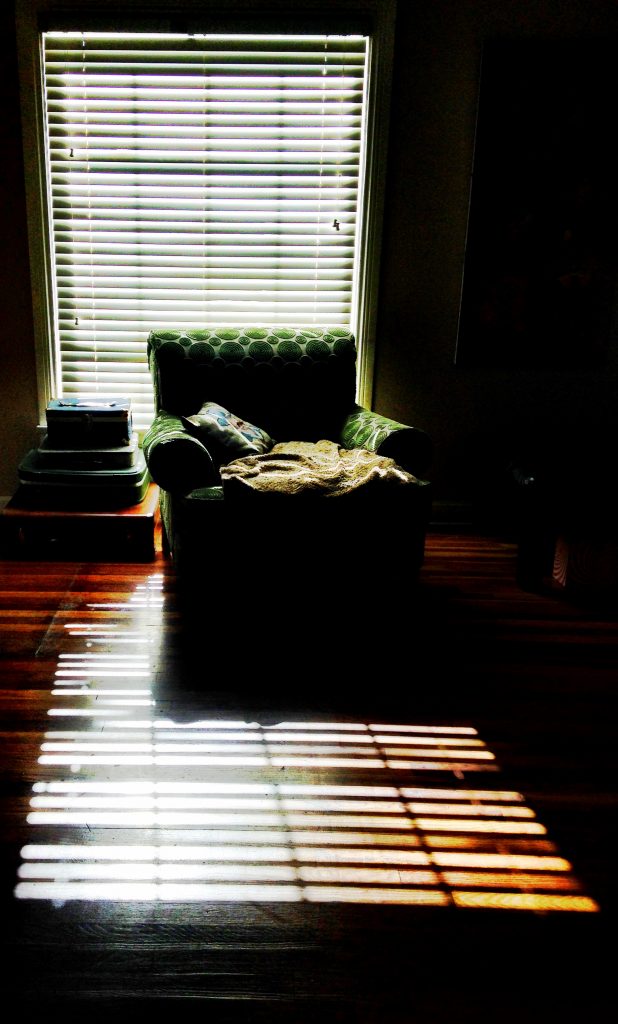 Irene loved hitting the farmers market and garage sales early on Saturday mornings.  She would wrap up her outing by having lunch with a friend and then show up at my doorstep with a bag of fresh vegetables.  She would step inside of my home, sit in her favorite chair of mine, and show me her treasures she had found that day.
One particular Saturday, she had a sack full of the most beautiful tomatoes and an LP under her arm.  I was never a fan of tomatoes but the album she carried totally made up for my slight disappointment.  I immediately noticed the orange cover and knew right away it was Louder Than Bombs by The Smiths.  Only my mother could have known how much I loved that band.  I was completely impressed by her thoughtfulness and remember thinking, "you fucking rule, mom".  For years, I dismissed her quirky actions as nonsense only to miss them now that she is gone.  Every one of my annoyances has flourished into a cherished memory….
"Like, how many times do I have to chase rolling oranges under cars because you keep falling in the grocery store parking lot, mom?  What?…..you got kicked out of a garage sale because you were arguing too much about the price of a straw basket?  You told the telemarketer you weren't 'interesting'?!?!?!  It's INTERESTED, MOM.  You called my boyfriend 'Government Cheese' just because he has knee holes in his jeans…Mommmmm!  Oh…you invited me to breakfast but you conveniently forgot your checkbook?  What……you have diabetes?  I have to wake at 6:00 am to cook your breakfast because you don't trust you will prepare what the dietitian told you to eat?  You want me to take my lunch hour to drive you to your friend's house because you can't remember her phone number?  You have a what…a brain tumor?  You want WHAT for lunch…BBQ RIBS and potato salad?  You can't have that, mom…yes, I know you're dying…okay.  You want coleslaw too?  Guess what, mom.  I'm pregnant! You want me to name my baby after you?  Uhhmmmm…no, mom…I just can't.  You're what….you're afraid to leave us?  Don't be, mom.  We will be alright."
Do me a favor, cherish your mother and eat her tomatoes before she is no longer there to give them to you.  Happy Mother's Day! –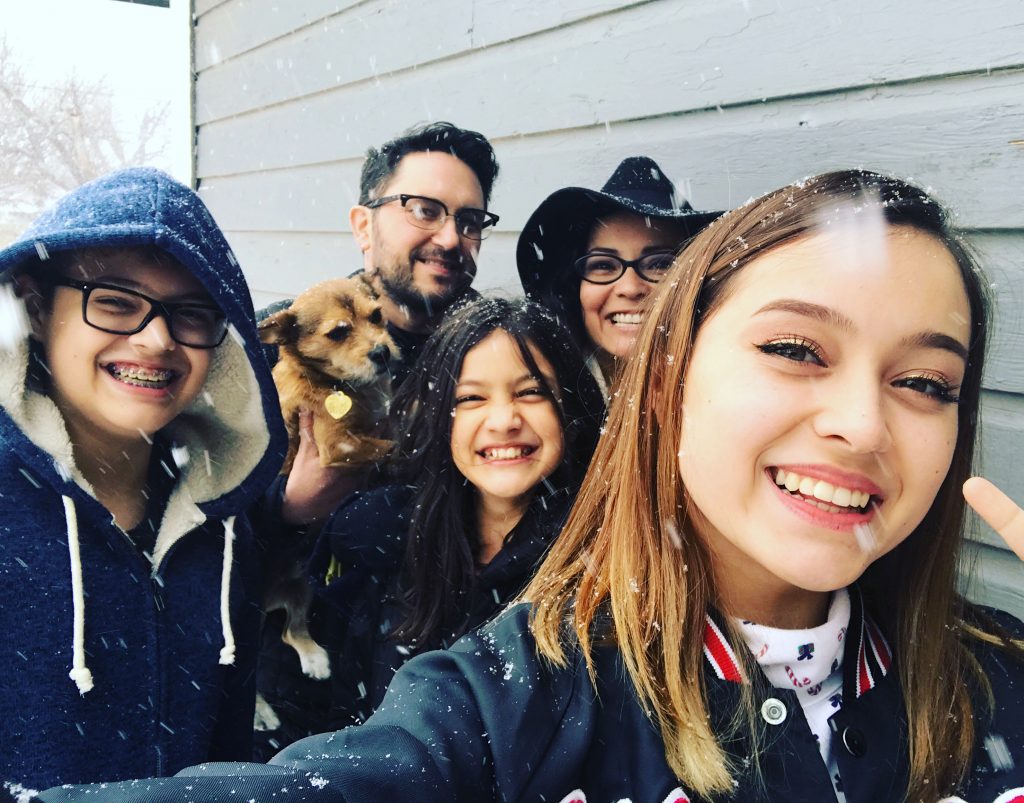 Left to right:  Max, our dog, Lil' Rog, Brandon, Izabella, Me, and Bennie Irene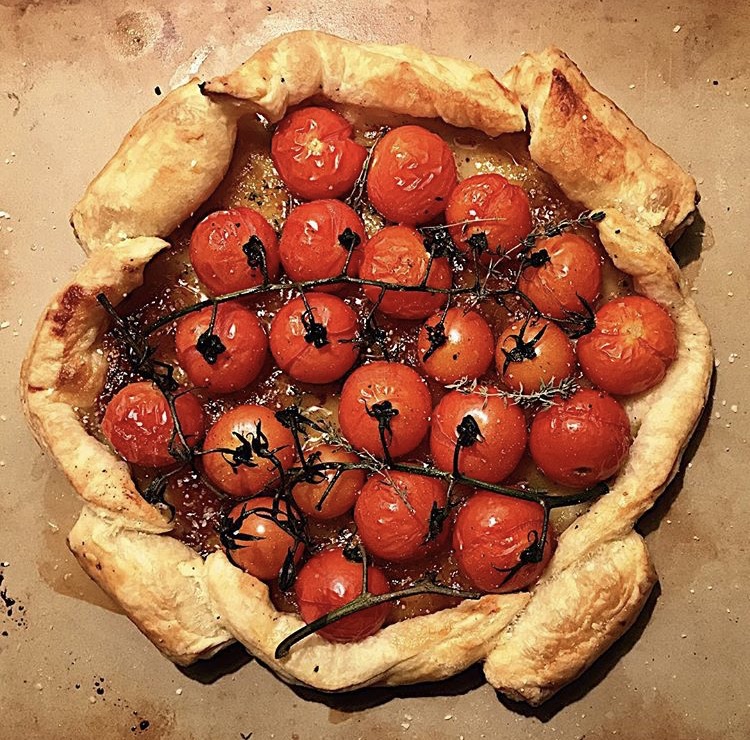 Roasted Tomato Galette with Fig Jam
1 bunch fresh tomatoes on the vine
1 tbsp olive oil
kosher salt and fresh cracked pepper
1 jar fig jam
1 sheet puff pastry, thawed
3-4 thyme sprigs
Preheat oven to 350 degrees.  Drizzle olive oil and sprinkle salt and pepper over tomatoes.  Roll out puff pastry to about 1/4 inch thickness.  Place pastry on a baking stone or a baking sheet lined with parchment paper.  Spread fig jam in the center of the pastry and place tomatoes and thyme sprigs on top of the jam.  Gather edges of the pastry and shape it around the tomatoes and jam.  Bake for 30-45 minutes or until the tomatoes begin to pop and the pastry has risen and baked to a golden brown.  Let cool for 10 minutes before serving.