Sunday mornings are for relaxing.  I love them for several reasons.  I can leave my bra off, be in no hurry to do anything, and try my best to preserve that moment where I wish my Sunday morning would never be over.  YOU know that moment…
It is the moment when you plan the things you want to accomplish today before you actually get up to do those things.  Do you want to organize the garage, binge watch your favorite TV series, finish writing a bitchin' song, bust out Christmas decorations or, in my case, spend it in the kitchen making a savory dutch baby for breakfast and trying not to burn your boobs?  Whatever you decide, make it count.  Happy Sunday, everyone!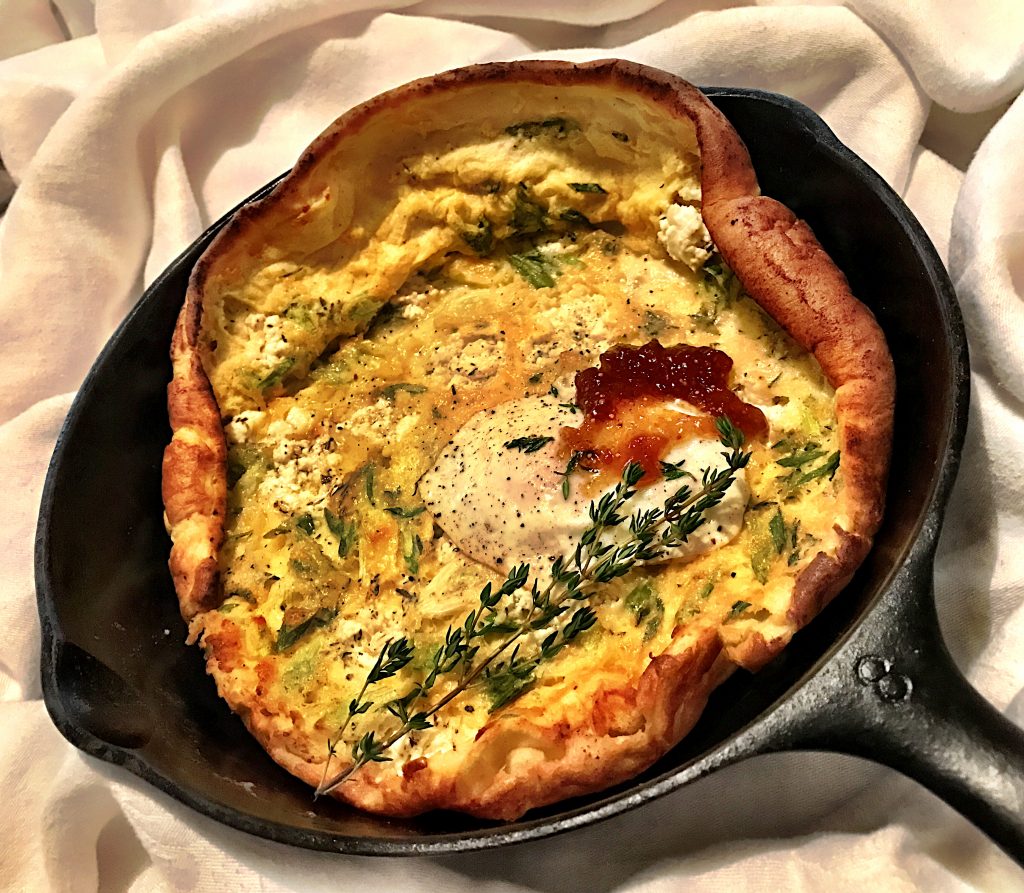 Savory Goat Cheese Dutch Baby
4 eggs
1/2 cup 2% milk
1/2 cup all-purpose flour
2 tbsp grated Parmesan
2 scallions, chopped
4 sprigs fresh thyme
1 tsp kosher salt
fresh cracked pepper
2 tbsp herbed goat cheese
4 tbsp unsalted butter
Preheat your oven to 425 degrees.
Whisk eggs and milk together in a standing mixer.  Add flour and whisk until fully incorporated.  Stir in Parmesan, scallions, fresh thyme, salt, and pepper.  Set aside.
Heat a black iron skillet over medium-high heat until hot.  Add butter to skillet until melted.  Pour in egg mixture and crumble goat cheese evenly over mixture.  Bake in oven for 25 minutes.  Remove and top with fried egg and your favorite breakfast jam…I love fig 🙂