Sweet and salty is one of my favorite flavor combinations.  With this dish, you get that sweetness from fresh fruit instead of artificial sugars…. damn those sugars.  They're awesome though, right?  Hell, I'm eating a cookie as I type this post.  But, back to the recipe…if you're looking for an even sweeter alternative to the salsa, switch out the blackberries for mango!  I use it to top chicken, burgers, tacos, and lettuce wraps.  You will become addicted to it as much as I have and will easily be making it at least once a week.  Give it a try!
               Salmon Burgers with Smashed Blackberry Salsa and Miso Creme Fraiche
2 salmon portions, skinned and cubed into ¼" pieces
1 cup fresh spinach, coarsely chopped
3 green onions, chopped
2 tbsp fresh grated ginger
¼ tsp kosher salt
¼ tsp fresh cracked pepper
2 large egg whites
1 tbsp soy sauce
1 cup panko bread crumbs
2 tbsp sesame oil plus more for cooking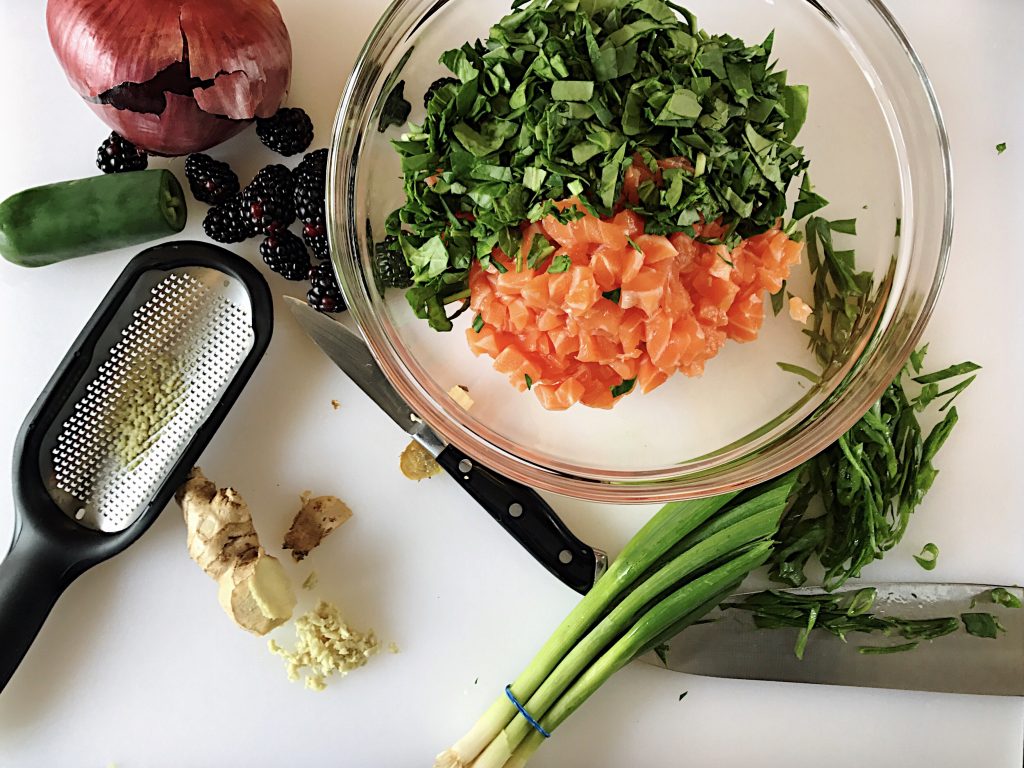 Mix all ingredients together in a medium bowl and then form into four patties. Three salmon portions will make about 6 patties.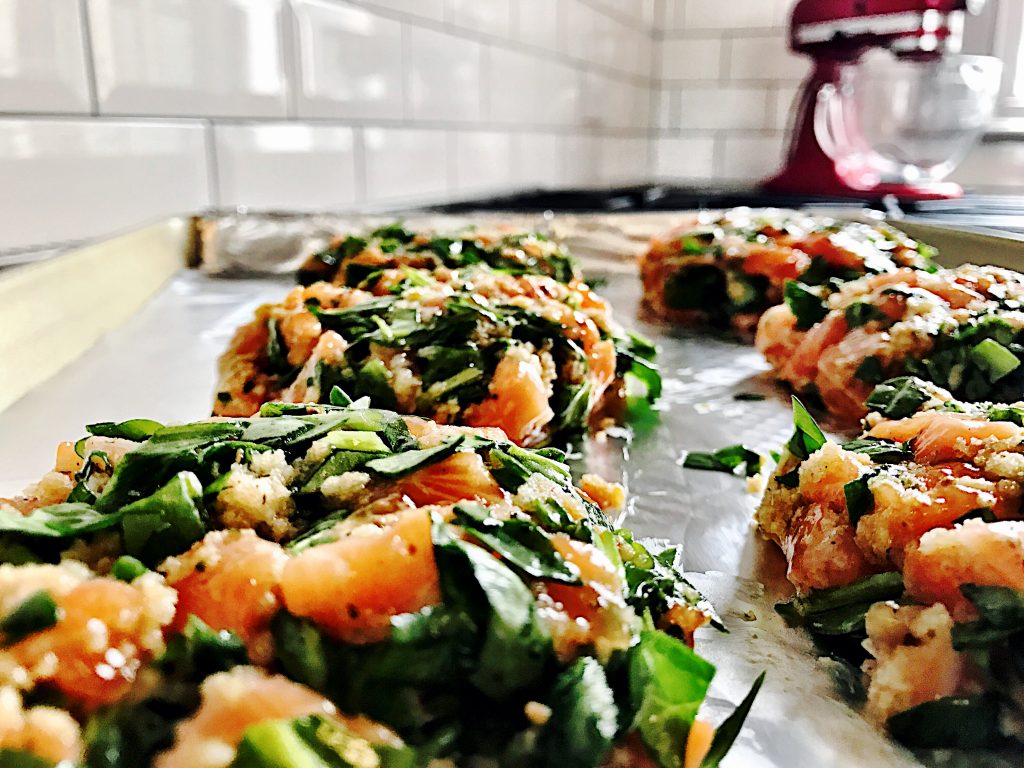 Heat a large nonstick skillet over medium-high heat. Add about another two tbsps of sesame oil into the pan. Then, cook patties for 3-4 minutes on each side.  Keep warm in a 180 degree oven until ready to serve.  Make salsa and creme fraiche.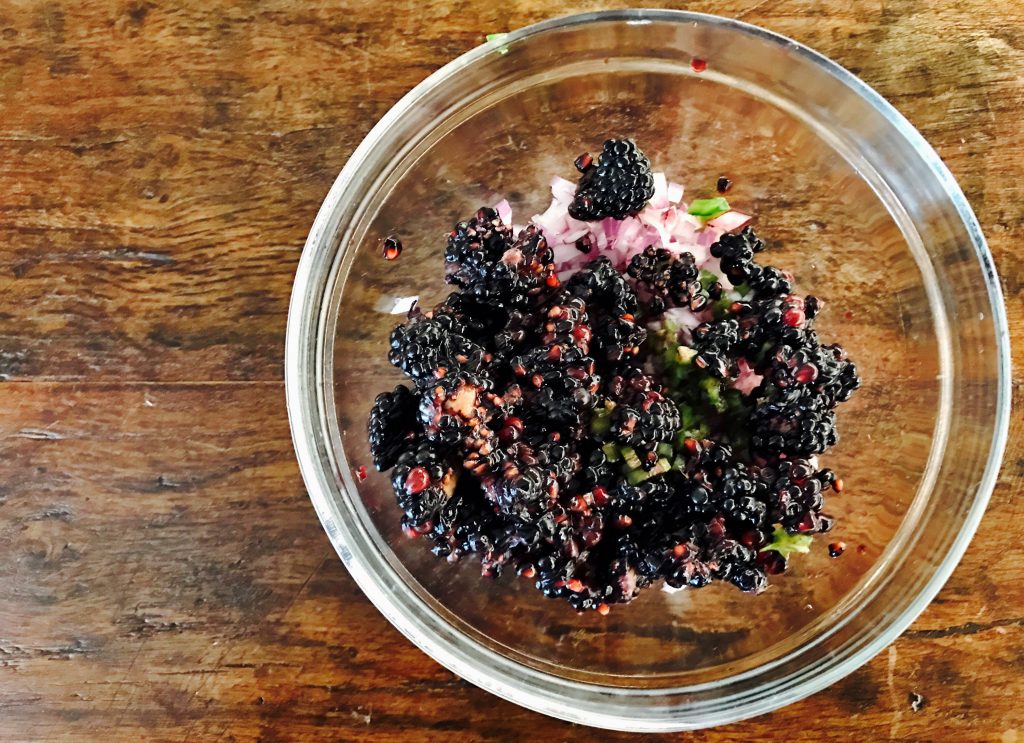 Smashed Berry Salsa 
1 container fresh blackberries
1 fresh jalapeno, seeded and finely diced
1/4 red onion, finely diced
juice of 1 lime
kosher salt and fresh cracked pepper to taste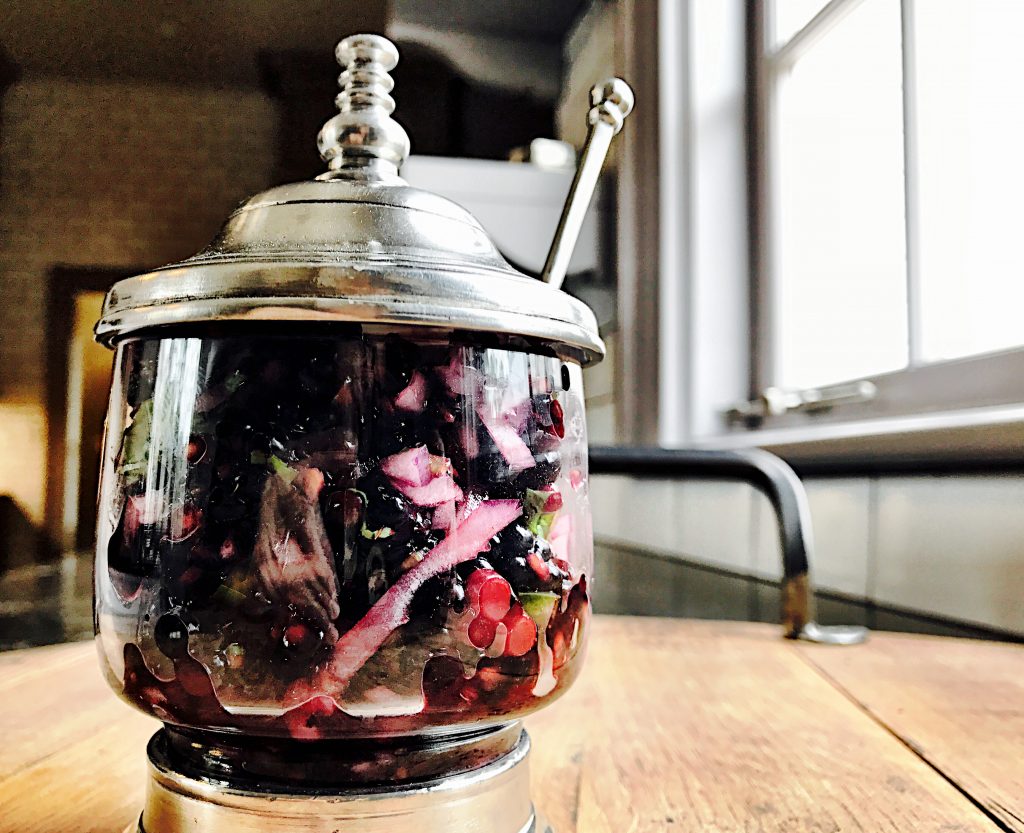 Using food gloves, smash each blackberry with your fingers and throw them into a small bowl.  Watch for flying blackberry juice as it can stain certain counter tops.  Add the remaining ingredients, stir and refrigerate until ready to use.
Miso Creme Fraiche
1 heaping tbsp white miso paste
1 cup creme fraiche
Mix together in a small bowl and refrigerate until ready to serve. Top over plated salmon burgers with smashed blackberries