As I prepare dinner, I think about what my family is doing for THEIR dinner back home.  I think about how I can make my dish vegan for Brandon.  Tofurkey instead of a Cornish hen maybe….?
Every day that passes, is not just a pen to calendar…drawing a line through a box as one more day closer to seeing my family back home in Texas.  I won't lie.  It definitely is that.  But, it is also another day of personal growth, experience within my position, and opportunity to enjoy the beautiful things and moments that seem to get lost when I am home.  I step outside of my house, breathe in a view of the morning fog, and think about what my youngest kiddo is packing for lunch before her school day begins.  I take a quick snapshot of the fog and save it to share with her during our nightly text conversation.  We talk about how our days went and we make plans to start meditating together, organizing her bedroom, and planning meals to cook when I get home.
I, then, take the lovely drive into town by way of a winding road, flanked with tall pines, and go over my grocery list in my head.  I begin to wonder if my oldest daughter will be lining up french fries inside of her burger (just like I did in high school) to save "eating time" during lunch hour and I smile.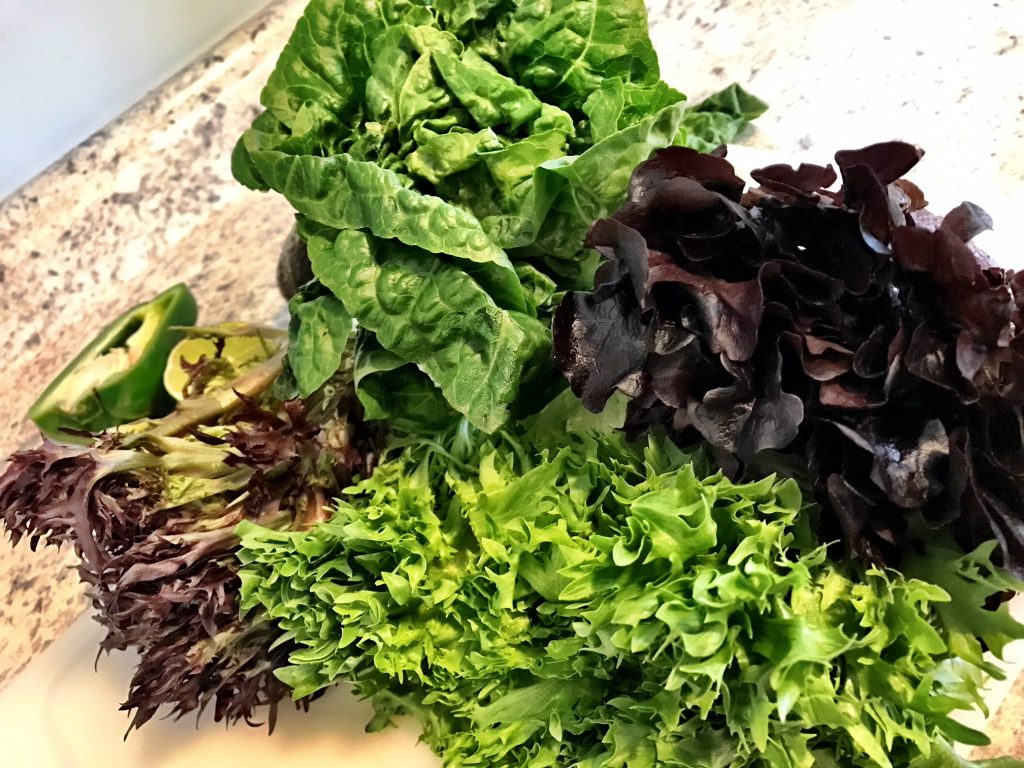 As I get back to my kitchen to wash my leafy greens for a salad, I think about how my son's palate is changing from liking "deep fried brown food" to drinking more water (thank you, athletics) and being okay with more color variety on his plate.  He calls me about once a week to tell me his highs and lows.  Sons don't need their moms as much as daughters need them (insert sarcasm)…haha.  Nonetheless, I look forward to hearing about his triumphs and crises from the week and the crackling in his voice that changes each time we speak.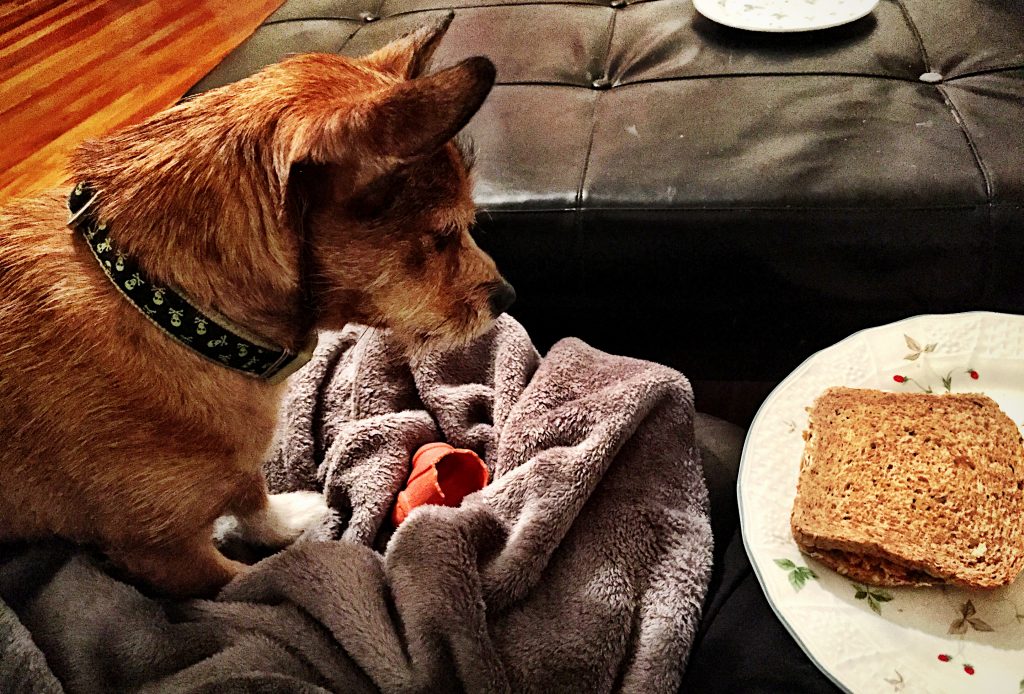 Then, my dude, my guy, my main squeeze, texts me every day all day long.  I tell him about a bomb-ass lunch or dinner I made and he sends me pics of our dog, Rog, staring at his peanut butter sandwich.  I'll tell him about the guy, working at the local grocery store, who has a haircut JUST LIKE Javier Bardem's in No Country for Old Men.  He says, "Pics, or it didn't happen!"  The laughs we have….so yeah, I have got the most amazing family.  They sacrifice time for me, support my being gone and they respect my work.  We keep each other in good spirits so that we can all do our jobs well.  I cannot wait to cook them Cornish hens and Tofurkey.  
Roasted Cornish Hens with Brown Basmati Fried Rice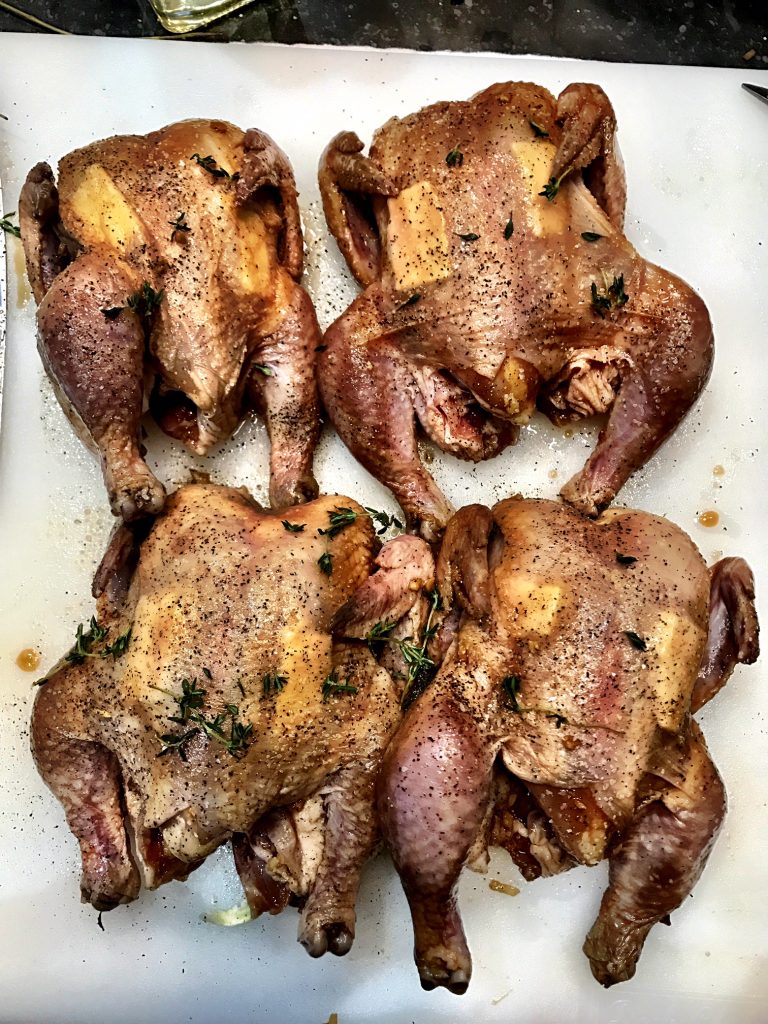 4 frozen Cornish hens, thawed, rinsed, patted dry and back bones removed
4 tbsp unsalted butter
2 tbsp olive oil
sprigs of fresh thyme
kosher salt
fresh cracked pepper
Preheat oven to 350 degrees.
Take 1 tbsp of butter and break it in half.  Slowly separate the hen's skin from the muscle with your finger.  Slip in 1/2 tbsp butter into each side underneath the skin and over the breast muscle.  Repeat with other 3 birds.  Rub with olive oil then sprinkle with thyme, salt, and pepper.  Heat a large skillet over medium-high heat.  Add 2 more tbsp of olive oil to skillet, then add hens, breast side down to brown for about 4-5 minutes.  Turn over with tongs and brown the other side.  Transfer to a roasting pan, lined with parchment paper, and roast in oven for 30-40 minutes or until juices run clear and temperature of the thickest part of the hens reach 180 degrees.
Brown Basmati Fried Rice 
2 cups brown basmati rice
2 tbsp sesame oil
1/2 red onion, chopped
1 head broccoli, flowerettes broken down into smaller pieces
3 eggs
2-3 tbsp soy sauce
fresh cracked pepper
Cook rice according to package instructions.  Once cooked, cover and set aside but keep warm.
Heat the same skillet (used to brown the hens) once again.  Add sesame oil and saute onion and broccoli.  Season with salt and pepper.  Add rice to skillet and fry along with vegetables.  You may need to add a little more sesame oil if needed.  Push the rice to the edges of the skillet and make a spot in the middle to scramble the eggs.  Crack eggs into the middle of the skillet and begin scrambling with a fork until done.  Mix the rice and eggs together.  Add soy sauce and mix one more time.  Season with pepper and keep warm until ready to serve with hens