Being back home from Georgia for a bit, I always have a little trouble getting back into the swing of some things.  Mainly, I struggle to find the desire to cook for the family and myself.  Yesterday, I had a meltdown about not wanting the responsibility of feeding them.  I wanted them to feed me!  I wanted a break.  I went on and on about how I would die of starvation if it were up to them to make dinner.  It was a horrible pity party that, a day later, I laugh about.  I am completely over it now.  I realized that my precious little chickens and husband did not deserve such a crappy attitude after being apart once again.  I admit, I can suck at times.  Haha…
Today, I am back to normal!  I made olive tapenade, black bean hummus, toasted pita chips, Asian broccoli cauliflower salad, strawberry and goat cheese salad topped with leftover cocoa-spiced rubbed pork tenderloin, and roasted acorn squash and potato soup….all because I wanted to.  And I haven't even started dinner yet!  My vegan hubs is stocked for a few days and the kids will be stoked as well 🙂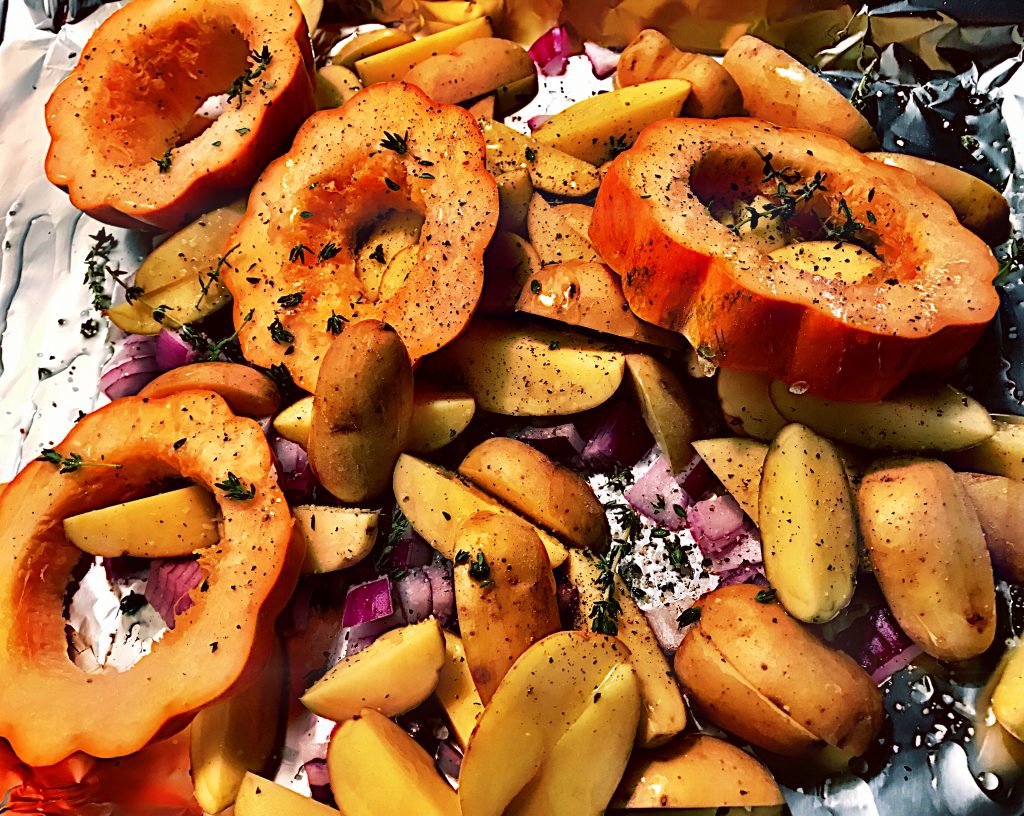 Roasted Acorn Squash and Potato Soup
I love roasting my veggies for soup to add a more intense flavor.  And yes, leave the squash skin on!  If you don't think you will enjoy a little bitter taste from the acorn squash skin, you can peel it before roasting.
1 acorn squash, sliced into rounds and de-seeded
1/2 red onion, chopped
10-12 mini golden potatoes, sliced
2 tbsp olive oil
5 sprigs fresh thyme
kosher salt
fresh cracked pepper
4 cups water
1 tsp ground ginger
1 tsp curry powder
1/4 tsp ground nutmeg
2 tsp kosher salt
1- 14 oz. can coconut milk
1/4 tsp garam masala
1 bunch lacinado kale, roughly chopped
Preheat oven to 350 degrees.  Toss squash, red onion and potatoes with thyme, olive oil, salt and pepper.  Place on a baking sheet and roast in oven for 30 minutes or until softened and slightly crisped.
 Pour water into a dutch oven or stock pot.  Add roasted vegetables, ginger, and the next 5 ingredients.  Bring to a boil then reduce to low heat and let simmer for 10 minutes.  Remove soup off of the heat.  Ladle three spoonfuls into a blender.  Puree until all vegetables and broth are smooth.  Pour mixture back into the pot along with kale and stir.  Let simmer for 5 minutes before serving.