Hot damn, this week has been a fun one!  I have gotten to sweat about 4 pounds off of my bones and cook, cook, cook!  This particular dish was one of my favorites in that it had a great aroma and roasted beautifully.  If you're not a fan of prosciutto, you can substitute with bacon or crumbled pancetta. I'll be headed home this weekend for just a little minute but will entertain you with whatever I have got going on with my hometown peeps.  Catch you on the flip side!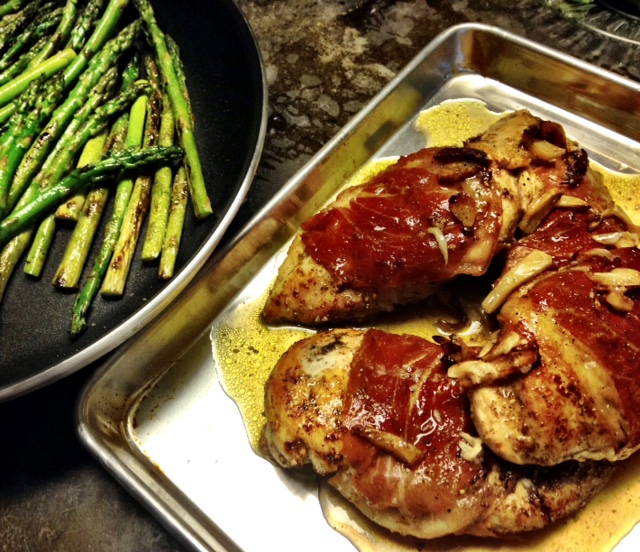 Prosciutto Chicken with Honey Soy Asparagus
serves 4
4 boneless chicken breasts, fat trimmed
4 tbsp za'atar
2 tbsp olive oil
1/4 lb thin sliced prosciutto
5 garlic cloves, peeled and sliced (more if you love it!)
1 tbsp olive oil
1 bunch fresh asparagus, rinsed and trimmed
kosher salt
cracked pepper
2 tbsp soy sauce
2 tbsp local honey
Brine chicken for 30 minutes in 1/4 cup sugar, 1/4 cup salt, 2 quarts water.  Rinse, pat dry and pound out chicken to loosen the muscle fibers.
Line a baking sheet with foil and toss chicken with za'atar, olive oil, and garlic.  Wrap each breast with 2 slices of prosciutto and set aside.  It is okay if you get a few garlic pieces caught underneath the wrapping; that will add more flavor to the chicken.
Heat a large non-stick skillet over medium high heat.  Heat olive oil and add chicken and garlic to pan.  Remove foil from baking sheet and add another clean sheet of foil.  Brown each side for about 8 minutes or until prosciutto is crisp. Place chicken, garlic, and drippings from the skillet onto baking sheet and roast in oven at 350 degrees for 20 minutes or until chicken reaches an internal temperature of 160 degrees.  Remove and let sit while you prepare the asparagus.
Heat a medium skillet over medium heat with olive oil.  Saute asparagus until sides begin to char.  Add salt, pepper, soy sauce, and honey at the last minute before removing from heat and serving.