This is Izzy.  She's the one who looks like she's about to stage-dive off the steep mound of dirt.  She's one passionate kiddo.
Passion.  If we do not have it, are we wasting our lives?  I don't really mean, "wasting OUR life".  I mean, "wasting A life."  An opportunity to really feel something…anything; gratitude, awe, true desires of our hearts that make our veins burn with anxiousness to take it in… are all within our reach.  Are we grabbing it when we see it?
In picking up a habit of journaling every morning, I often slip into a deep "aha" moment at times.  One morning, not too long ago, I had one of those aha moments about the power of passion.
Recently, I witnessed someone else's passion…my very own kiddo's passion.  Izzy has always been that fearless soul; at age 3, jumping into a 10 ft.-deep pool without knowing how to swim, sneaking out hammers and nails to work on crafts at age 5, and to this day at age 11, eating fresh onions for a snack.   I don't know….maybe she's just an adrenaline junkie or a masochist.  Like, what kid does that?!?!  This past summer, she developed an interest to learn the ukulele and began playing non-stop until her little fingers yielded blisters.  It was a prime example of where passion outweighs pain.  I was completely awestruck.  The difficult part for me was to step away from my own narcissism in thinking, "wow, look at what an awesome job I'm doing raising this kid to be passionate about something!" I had nothing to do with it.  Instead, I realized, I was witnessing this incredible little human experiencing the growth of passion all on her own.
Sometimes we get so caught up with keeping passion alive within ourselves, we miss opportunities to see it cultivate in others…guilty one, right here!  In this day and age of social media and self image being front row in our "priority bank", it is important to step back and away from our own narcissism in order to recognize and acknowledge someone else's passion.  I feel we have become our own paparazzi…self-cheering section, if you will.  I am not suggesting we brush our accomplishments under the rug.  Toot your horn when you want to!  We all all bad-asses at different times in our lives.   I am simply saying, slow down and just LOOK AROUND.  Passion is within others everywhere and can actually be an inspiration to us all if we just pay attention to its presence.  Although I won't be eating fresh onions for breakfast any time soon, I will, however, be looking forward to finding that good ol' passion out in the world…starting with this Fig and Berry Pizza!
Fig and Berry Pizza with Mascarpone and Olive Tapenade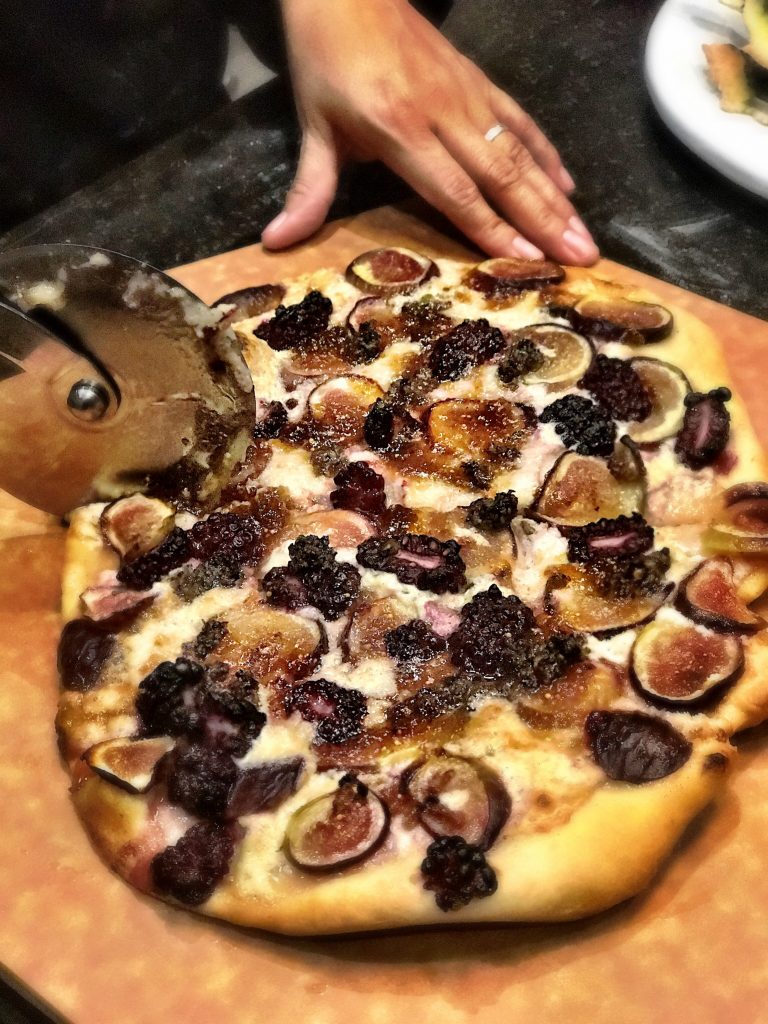 I love a little salty mixed with sweet so, I added a few dollops of olive tapenade and crumbled feta onto the pizza before sliding it into the oven.  You won't be sorry.
1 container mascarpone cheese
1 vanilla bean, split and beans scraped or 1 tsp vanilla extract
1 tsp sugar
Pizza dough recipe or store bought to save time
4 to 5 fresh figs, sliced
1/2 cup fresh blackberries, sliced
1 oz feta cheese, crumbled
1/2 cup olive tapenade (recipe below)
Prepare pizza dough as directed (3 1/2 hour process).  Combine mascarpone, vanilla, and sugar in a medium mixing bowl.  Set aside.
When dough is ready, preheat oven to 450 degrees.  Roll out dough onto a floured surface.  Place pizza stone in oven for about 10 minutes to get nice and hot.  With oven mitts (duh), remove stone from oven and transfer pizza dough on top.  Spread mascarpone over the pizza, then top with figs, blackberries, feta, and olive tapenade.  Bake in oven for 20-25 minutes or until mascarpone is bubbly around the edges and crust is golden brown.
Olive Tapenade
1 can black olives, drained
1 jar kalamata olives, drained
1 jar green olives, drained
1 small jar capers, drained
3 garlic cloves, roughly chopped
1 tsp crushed red pepper flakes
4 to 5 sprigs fresh thyme
olive oil
Add all ingredients into a food processor and process while adding a slow stream of olive oil.  Be careful not to over process olives into a paste.  Top over fig pizza or serve with toasted pita chips.