As my cookbook collection continues to grow, I find myself going back to the very same one time after time.  Frida's Fiestas:  Recipes and Reminiscences of Life with Frida Kahlo, gifted to me quite a few Christmases ago,  is my go-to culinary connection to a culture lost.  About this time every year, I bust it out and cook up a storm of authentic Mexican dishes just to feel a little bit closer to my heritage; Papas en Salsa Verde, Flag Rice, Corn Pudding with Poblano Cream Sauce.  It is my favorite cookbook in my collection as it reminds me of an "Uncle Rico" moment…the summer I found a huge part of me in New Mexico.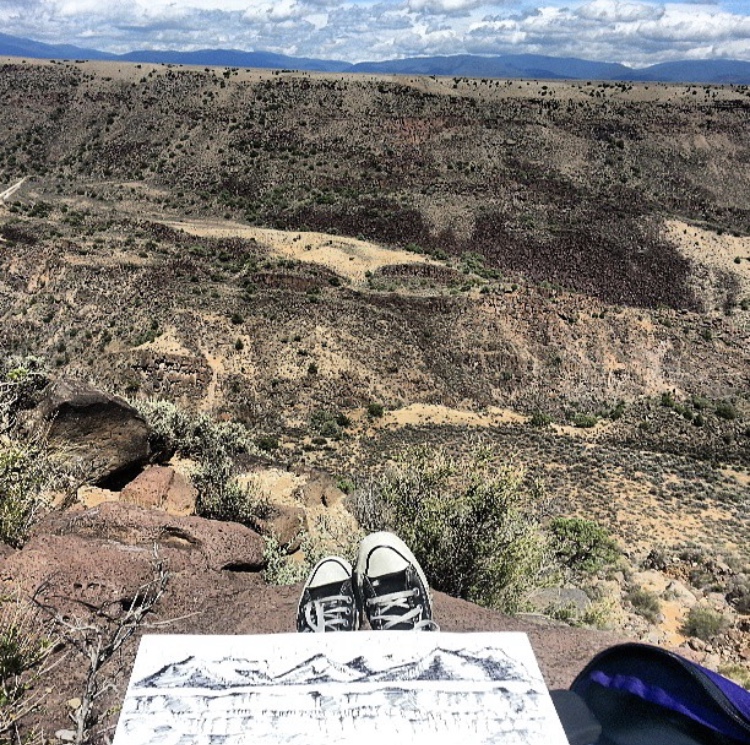 In that summer of 2013, I took a dual credit Art History and Drawing course called Sketching the Southwest, visiting various museums, Hispanic cultural exhibits, and historical landmarks of New Mexico.  A whirlwind of emotions plowed me over from the experiences I encountered.     
 For myself, being a 'real' tourist for the first time in my life meant a great deal to me.  I was able to experience and become consumed by my travels for longer than three days.  I absorbed impact calories from so much art that I developed a yearning to live it.  A strong inner experience grew apart from my culturally stagnated position I had been in for years.  My experience urged me to search for the bona fide in the sense of a reality I wasn't familiar with and wanted to learn.  I wanted to connect with the disconnection of my culture lost. And so…I share with you, excerpts from my final paper ( which I LOATHED writing) and project from the course.
An old traditional aura throughout the streets of Old Town Albuquerque mixed with a new energy filled with gift shops and tourists gave me a sensation of intrigue.   I fixated on the 'old' and was inquisitive of its history.  Walking through the town square was an observation of that history in an open air museum.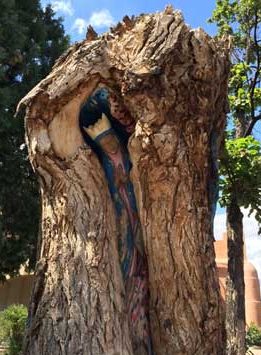 A tree was just a tree until I viewed it from the other side.  Suddenly, I saw a three hundred year old cottonwood tree symbolic of miracles depicting a vision of the Virgin Mary seen by Juan Diego near Mexico City in 1531.
Upon entering the Town Plaza, my eyes absorbed the San Felipe de Neri Church, the convent of Sister Blandina and the home of Ambrosio Armijo, a Union soldier who built his home in the 1880s which is now the Placita Restaurant on the square.  The devotion to family, faith, and tradition were existent in their design.   For instance, the 125 year old staircase was just a staircase until I learned that it was imported from Spain in 1872 for the wedding of Ambrosio's daughter to accommodate her 30 foot long wedding gown train.
As I embraced the nostalgia from day one of my tour of the Southwest, I was eager to visit the Hispanic Cultural Center.  Being able to fit the visit into our schedule a day after we had planned, was a very positive sign for me.  Had I not gone, I would not have experienced such a powerful connection with several exhibits. The Scraps of Life short film, produced by Gayla Jamison, echoed a haunting depiction of strength and family bond; two elements weak within my own familial history. The numerous grieving mothers, sisters, and wives of missing murdered Chileans during the Pinochet coup d'état 1973-1990 banded together to look for truth and justice.  The tears of a hopeful wife who had not seen her missing husband in years were symbols of faithfulness of a love that never died.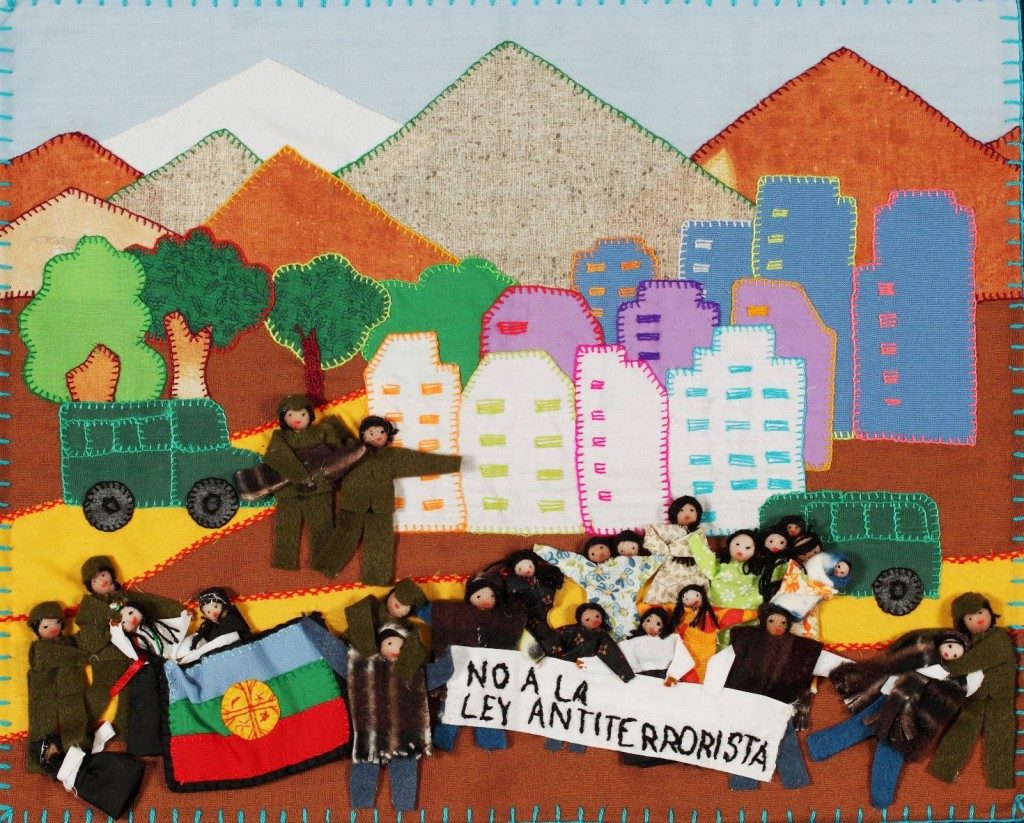 I found the film to be an extremely powerful starting point for the Stitching Resistance display.  The beautifully stitched layers of sackcloth and burlap arpilleras were a compelling narration of the film.  Human rights issues and violations, abductions and disappearances, women and community wearing white shirts to symbolize peace and black skirts to symbolize mourning were the stories created within each arpillera.  They served as a guarantee that the lives lost were never forgotten.
The Estampas De La Raza exhibit of Contemporary Prints in the Albuquerque Museum conveyed a more personal connection for me.  It was a manifestation of my coming to terms with self identity.  As I studied each print, I took note of the artists' portrayal of the Chicano Movement and its traditions….its icons both secular and spiritual that have kept the culture alive.
In La Ofrenda (1988) by Ester Hernandez, a Latina is depicted as a Chicana who is proud of her past yet very much a part of contemporary American life.  She is comfortable with her identity adorned with a tattoo of the Virgin of Guadalupe on her back and a contemporary hair style.  She looks as though she is carrying her heritage with her into the future.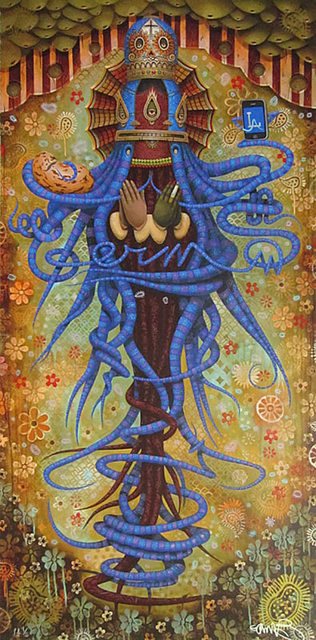 Although, Purgatory Mary (2010) by Germs (Jaime Zacarias), did not necessarily portray Chicano struggle like other works in the exhibit, it was a compelling piece celebrating more than one cultural experience.  The main figure in the print is a blue multi-tentacled 'Mary' with hands and eyes ostensibly derived from Buddhist sculpture.  One of the many tentacles holds an iPhone with a Los Angeles Dodgers logo as the screensaver.  Another tentacle is wrapped around a pinto bean (baby Jesus) and other tentacles spell out Germs across the composition in graffiti fashion.
Experiencing tourism in the Southwest was a revealing, educational, and inspirational absorption of art.  It fed my soul with a rich and ever-changing culture defined by passionate artists in various ways.  From the petroglyphs, Navajo textiles and pottery, to the Nuclear Science Museum and contemporary area artists' studios, New Mexico's art scene proved to be more than just red chili ristras hanging from an adobe home.  The scene, art, and museums were a very important catalyst to inspire the tourist within me to become a better artist.   More importantly, those same things gave birth to a thirst I'd never known; a thirst for commonality with art, history, my own culture and a self-confirmation that I do exist.
The Hispanic culture and art that I experienced with its richness in tradition, respect for family unit, and religious romanticism reached out to me louder than ever.  Coming from a predominately white upbringing, I felt a strong yet forgiving resentment brewing within me for the culture I had been given in exchange for the culture I had lost.  I came to recognize that the culture I was handed was not given in vain. My mother, who grew up extremely poor and was taken out of school at an early age to work in the cotton fields and pecan farms, wanted a 'better' life for me.  Her passion for wanting to raise me in an unfamiliar culture, subjected me to racism and lack of acceptance. I was completely ignorant of my own culture.
After my travels, I realized it was time to embrace the culture that had been absent in my life for too long.  So…for my final project for the dual credit course, I blending where my mother came from, where she placed me, and how I tried to wipe away that layer to expose myself to my culture lost.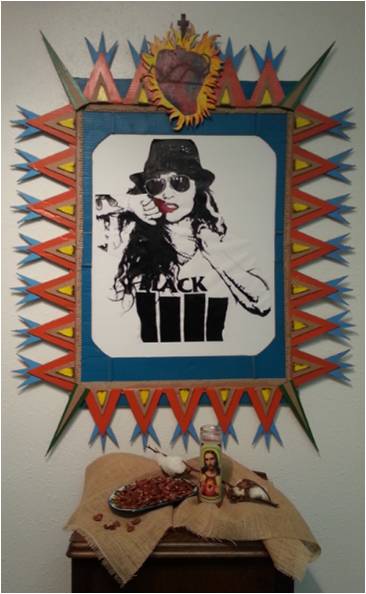 Me… Where a Hole Used to Be – 2013 Installation
Ruthie Landelius
Acrylic on vellum, coroplast and cardboard
         Art, music and food have always been of great interest and inspiration for me.  They merge into a Trinity of expression which speaks to creativity and self discovery.  I cannot do one without the other because my aesthetic is informed by and relies on the feelings and information derived from the experience of each.  Influences from New Mexico have allowed me to realize that this "Trinity" had taken me full circle.  From multiple trips to this region, I had experienced new food, new music, and such penetrating art that threw me into a deep investigation as to who I was, who I am now and how I exist.  The progress of my self-growth has become an essential catalyst to the significance of the art I create.
Throughout my life, I have felt an overwhelming sense of loss without truly understanding what that loss was.  I had discovered that I had missed out on an amazing Hispanic Culture most of my life.  I had always known of this particular culture, I just always viewed it from the other side of a looking glass.  For years, I have hidden my talents out of fear of rejection.  Now, I have a drive to create artwork that connects with the things that constitute my being.
My mother's old antique sewing machine with a dish of pecans and cotton resting on top represents Irene and her past.  The combined earthy browns are reminiscent of a dry heat in San Saba, Texas; her birth place.  The wood is thirsty for oil just as you become thirsty for water once you have eaten a pecan.  Please, eat a pecan.  The bright colored frame with the Sacred Heart above transports me to a welcoming Mexican hacienda; one that I had never known.  As I tug at my pearls and smear my lipstick, I attempt to remove the stress of having to fit in, be proper and innocent.  I cannot be Sandra Dee.  I can only be me, surrounded by vibrant welcoming colors, with my satin rimmed fedora, my Black Flag punk rock t-shirt, and my ink.  I search for me, where a hole used to be.  I am a Chicana.
UPDATE ON ART INSTALLATION:
Sadly, it was thrown away due to a poor storage choice on my part (under my bed) and a lil' pup who liked to pee (under my bed).