When I was 10, I wanted to be the biggest rock star the world had ever seen.  At the time, I had great determination to see it through.  But, you know….life happened.  I grew older and got busy with the whole "life thing".  I became a wife, and more importantly, I became a mother.  My determination turned towards being a source of inspiration to my children.  It was their future that became more important to me than anything else.  Yesterday, I received a sweet reminder from my youngest daughter, Izabella, that I needed to keep working toward my dreams.
Izabella is 10.  She has a vast imagination with dreams to do so many great things.  She is a creator.  She is an artist.  She has dreams to be a scientist, an entrepreneur, an animator, and a writer.  Her latest creations are hand-painted carved foam desserts that I now use as a focal point to prepare for the birth of my own dreams.  I am constantly witnessing her mind at work and the little girl within me becomes inspired once again.  Yesterday, my a-ha moment was ever so clear;  I, the parent, am inspired by her.  She reminds me of the importance of continuing to create and work harder to reach my dreams.
So….I am back at work hashing out recipes for my book.  It is a slow process but will be interesting, frustrating, and fun!  Here is a small taste of what is to come…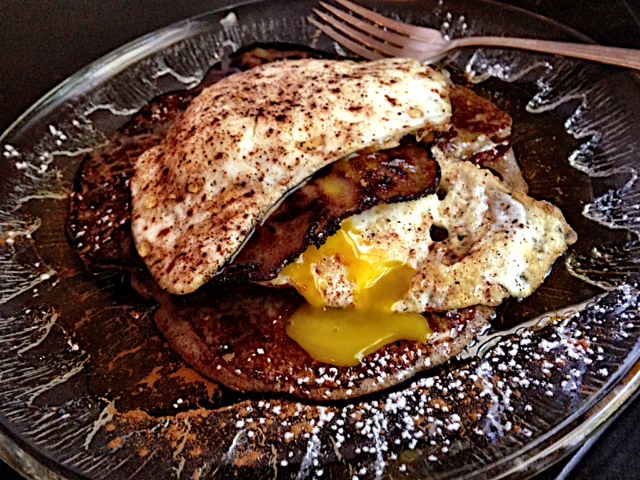 Buckwheat Pancake and Cinnamon Fried Egg Stack with Bourbon Maple Syrup
     "The Sundays without our Furr's visits were the Sundays that fell opposite payday.  Weekend breakfast at home was one of my favorite memories.  Although we seldom sat together at the dining room table because half of us were either sleeping in or not speaking to one another, neither of which stopped my dad from making breakfast.
He had quite the talent for cooking.  He had taken a second job as a cook at a small café outside of town called Nona's.  It was right off the interstate and easy for truckers to stop in for a hot cup of coffee and my dad's delicious pancakes.  There is something about walking into a dive café that triggers my hunger.  A combination of café sounds and sights; the clanking of off-white colored cafe dishes, diners' conversations and plumes of smoke from their cigarettes, the smells of maple syrup and coffee lingering in the air and that token waitress with an awesome beehive hairdo.  Nona's had it all.   Those café sounds and smells became a solid reason as to why I enjoyed breakfast so much.
My dad often took on those familiar smells of coffee, fried eggs, syrup, pepper, cigarette smoke but with the addition of Budweiser.  I could smell him from the hallway as I walked into the kitchen yawning, sleepy-eyed with uncombed hair.  There he stood making pancakes.  There was definitely an art to making those yummy fluffy slabs of warmth.  He would slowly pour a stream of batter into a black skillet that was the perfect temperature.  I would stand on my tip-toes to peek into the pan and watch bubbles pop up to the surface of the batter.  Once he flipped the pancake to the other side, it began to take on a beautiful caramel color and an aroma sent from heaven.   In a smaller fry pan on the burner next to the skillet, were two eggs frying to over medium.  He would place a pancake onto his plate, then a fried egg, then another pancake, followed by the second egg on top of the stack.  After drizzling maple syrup over the top, he would then cut into the stack as if it were one of Nona's pies.  The yolk would ooze out and mix in with the syrup; the bright rich color of yellow marbleizing with the sweet maple shade of bourbon.  Watching those two slowly collide gave warmth over my body as though I were a cat sitting in the morning sunlight.  Looking back, I find it interesting that I understood and appreciated all of these elements at such a young age.  After all, it was a beautiful thing to see.  It was culinary genius."