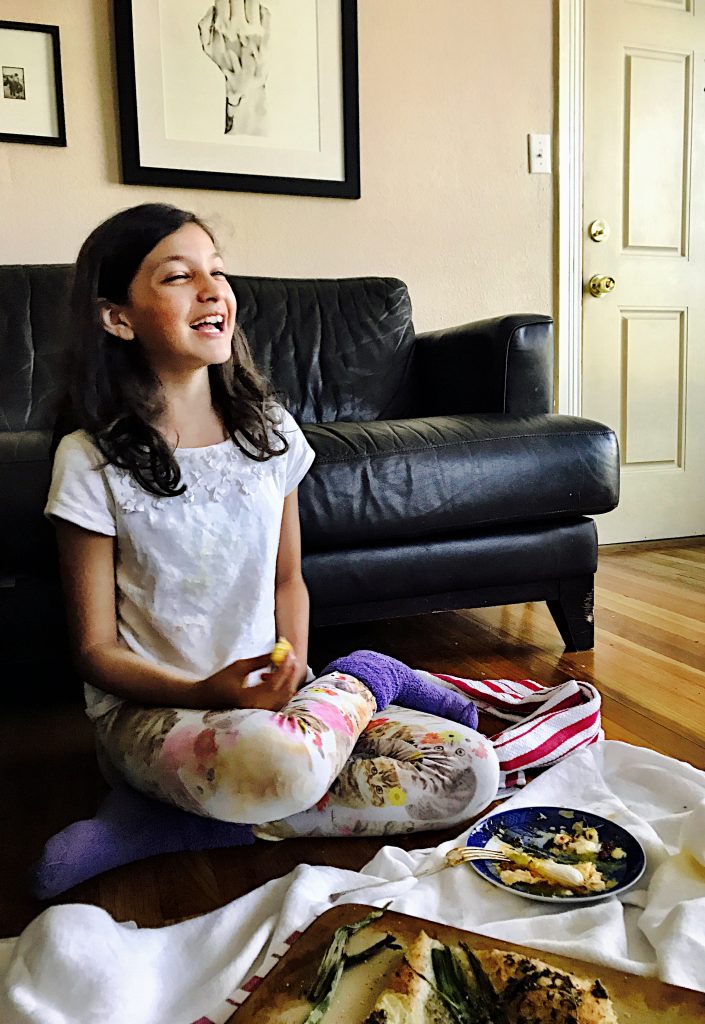 Being a mom is fucking rad.  I just love my three little humans who are so different from each other.  They keep MY life interesting in that I get to spoil them each in creative and various ways.  When I am back home in Texas for a week or so, I do my best to carve out a little "one on one" time with each kiddo so they don't suspect I have a favorite among them….because, I don't.  My seventeen year old, Bennie, is elated if she and I spend an entire day on the couch with ice cream and popcorn, binge watching Netflix.  My thirteen year old son, Max, is perfectly happy with a hug/slap on the "back of the head" combo and a trip to the convenient store for lime chips, a big ass coke, and witty conversation.   Izzy, my eleven year old, is usually wide awake at 6 am; always the early riser, always the early bird. Yesterday, we got to enjoy a delightful little breakfast picnic on our living room floor while the other two were sawing logs until their growling tummies woke them for lunchtime.  Our feast of fried eggs topped with Mexican chorizo and a simple Spring onion pastry set the tone for a pretty awesome day.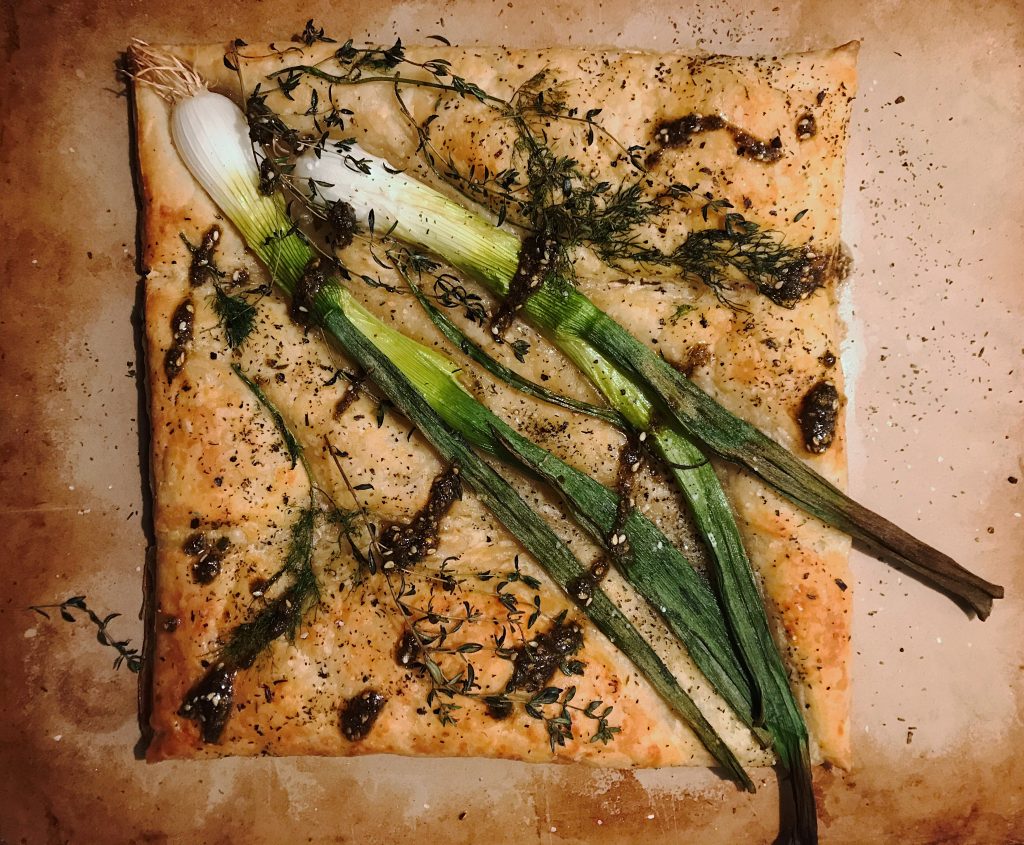 Spring Onion Pastry with Herbs and Za'atar Dressing
serves 4
The fried eggs and Mexican chorizo are pretty simple to prepare.  I cook the chorizo in a small saute pan, covered with a lid, for a few minutes, then set aside until my eggs are fried and ready to plate.  This way, I can keep the chorizo separate from the eggs for a vegetarian-friendly breakfast.  Puff pastry is perfectly fine for vegans as it does not contain eggs or dairy.  Serve with sliced oranges or your favorite fruit and everyone will be happy!
1 sheet Pepperidge Farm puff pastry (vegan friendly)
2 to 3 spring onions, washed and patted dry
a few sprigs of fresh dill and thyme
1 tsp dried Italian seasoning (I use Penzey's)
Kosher salt and fresh cracked pepper to taste
Olive oil for drizzle
2 tbsp za'atar
1 tbsp local honey
2 tbsp olive oil
juice of 1/2 lime
kosher salt and fresh cracked pepper to taste
Preheat oven to 375 degrees.  Unfold thawed pastry sheet onto a baking stone.  Slice spring onion in half length-wise and gently place on top of pastry along with dill, thyme, and seasoning.  Drizzle with olive oil then add a pinch of salt and pepper.  Bake in oven for 20-30 minutes or until pastry is golden brown.
Meanwhile, add za'atar, honey, oil, lime, salt and pepper into a small mixing bowl.  Whisk ingredients together.  Set aside.
Remove pastry from oven and let cool for 15 minutes.  Drizzle with za'atar dressing and serve.