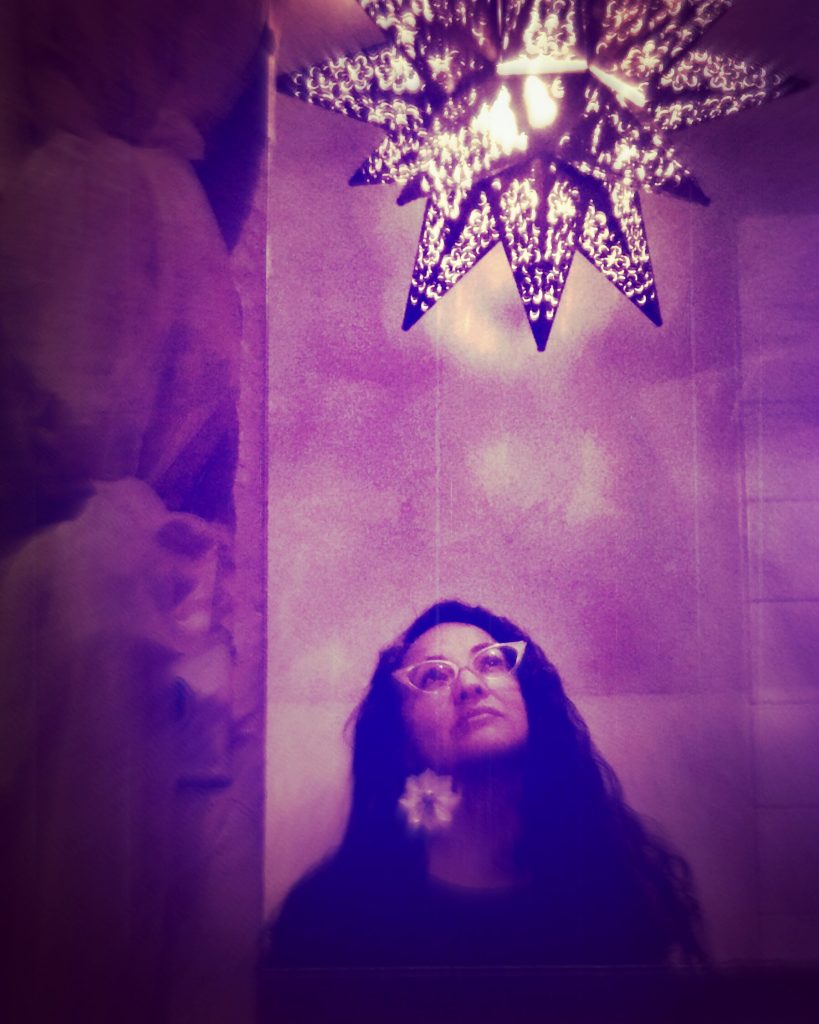 I had a few weeks to relax, take a break from work, and spend time with my beautiful kids and handsome hubs.  Having time like that truly translates to having lots of time to daydream.  A favorite pastime of mine, daydreaming has been my go-to method to recharge the path to my goals.  It reels me back to hope, inspiration, possibilities, and growth.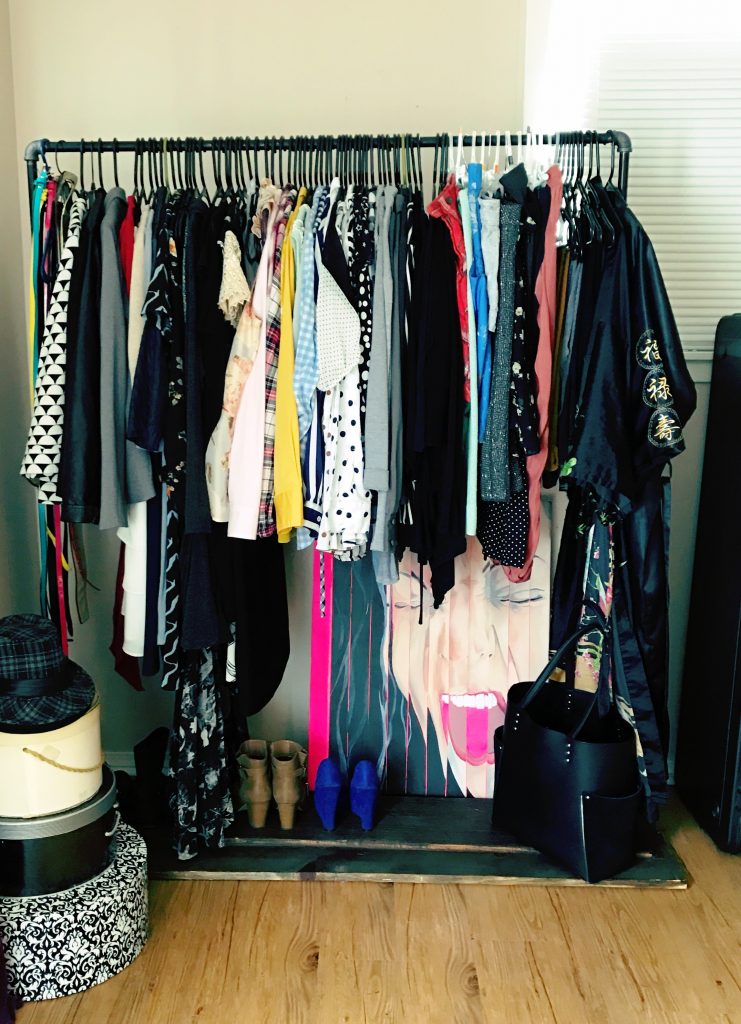 Another favorite thing of mine is my new clothing rack.  Although it is not new, it is quite new to me and was ever so needed!  I have been living without a closet for the last five years and decided it was time to end that sad streak.  Converting a den into my bedroom left me without a place to hang clothing so, I had all of my things in different rooms around the house.  Hence, I desperately needed a quick solution.  I hit up a friend who had a few of these kick ass clothing racks for sale.  They not only solved my problem of not having a closet, they added a cool element to my space!  They are definitely a favorite addition to my decor.  If you're not "hood" like me and actually HAVE a closet, you can use a smaller clothing rack as a neat display for your weekly wears.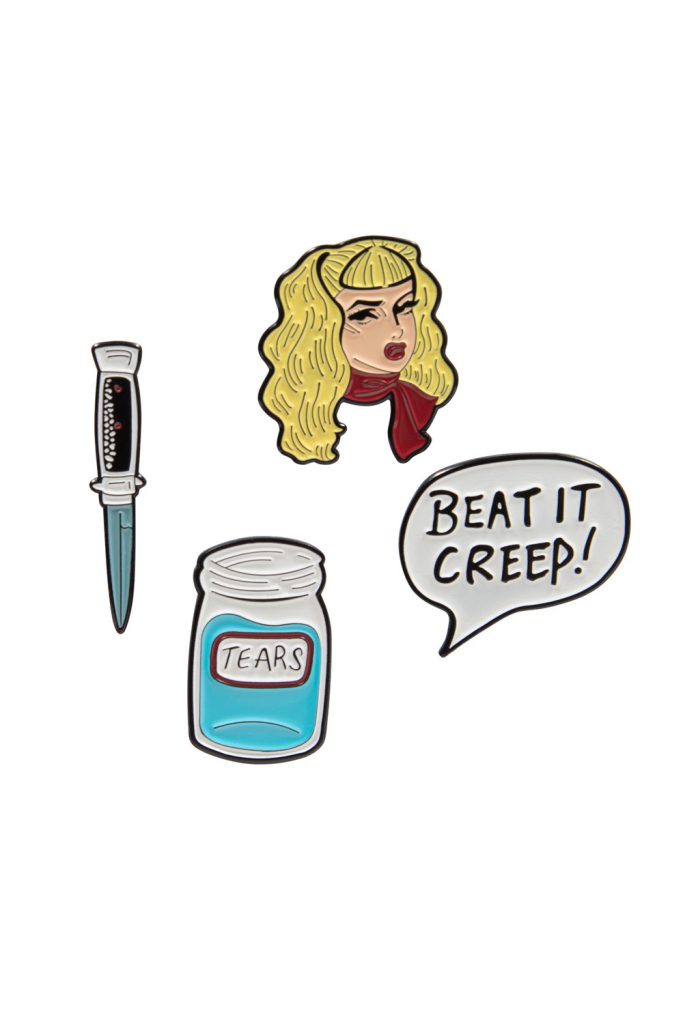 I am in the process of looking for a replacement black pleather jacket as my old one is about to eat the dust.  We, the jacket and I, have had a good run this last decade but, it is time to move on to the next one that will adorn my old band buttons I saved from junior high.  I am currently crushing on this pin set from Pin Up Girl Clothing to add to my collection.  I love the mini knife pin for when I'm feeling stabby!  I have GOT to get moving on my search for the perfect jacket!
Speaking of feeling "stabby"….with summer creeping its unwanted head around the corner, I am already looking for ways to think positively about its impending arrival.  Anyone who knows me, knows I loathe summertime.  I am not a fan of hot pants, flies, or sweating.   A favorite thing that keeps me cool throughout the summer months is ice cold watermelon.  Honestly, I would eat it all year round, if I could.  This recipe is perfect for a light salad to accompany dinner with friends on the patio.  If you are not sure about the sweet/salty thing, just omit the onion and cheese.  Instead, top with toasted coconut flakes.  But for the record, I AM sure.  So, you should just do it because I said so, mmmmmkay?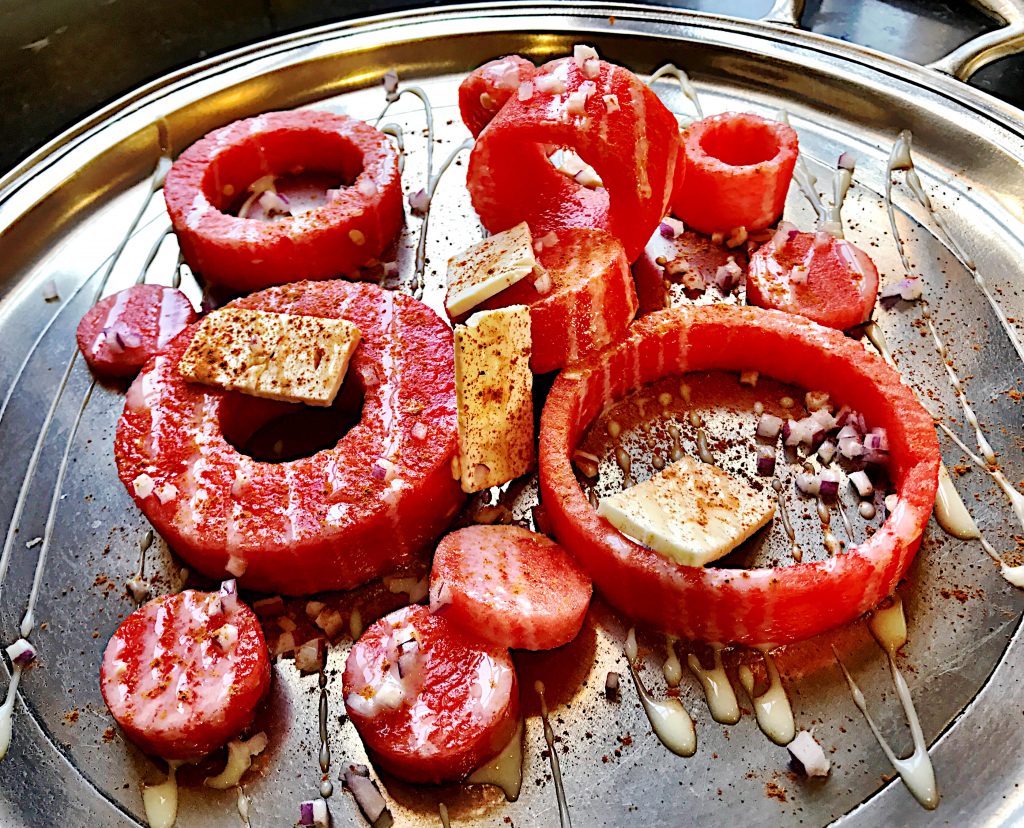 Watermelon Salad with Feta and Red Onion Drizzled with Condensed Milk and Cinnamon 
1 whole mini seedless watermelon
1/2 red onion, finely diced
1 block feta cheese, sliced into thin pieces
set of round cookie cutters
1/4 cup condensed milk
1 tbsp powdered sugar
1 tsp lemon juice
cinnamon for dusting
Place melon onto a cutting board.  Cut off both ends then stand melon on flat side.  With a knife, slowly cut away the rind from top to bottom until you are left with the whole melon completely skinned.  Prop back on its side and cut the melon into slices of different widths.  Using the cookie cutters, cut various size circles from each slice.  Arrange on a platter, sprinkle with onion and top with feta cheese.
In a small bowl, whisk together the milk, powdered sugar, and lemon juice.  Drizzle over watermelon with a spoon, dust with cinnamon and serve.