My dreams are always either about food (a new recipe idea that will make me the most brilliant person alive) or murder (MY murder) at which point, I either wake up googling said idea to see if it has been done before or I wake from having a panic attack.  What in the hell do our dreams even mean?!?!?!
A few days ago, I had a dream of making the most simplest vegan tacos for my mother and brother.  Long story short, my mother has been deceased for over 18 years and my brother has not been able to walk, chew, or swallow since the day he had a near fatal stroke in his brain stem eight years ago.  But, in my dream, my mother was radiantly alive, and my brother was just as he was before he had the stroke.  Grilled sweet corn, garlic-y guacamole, sliced blackberries, pomegranate seeds, and fresh tomato salsa stacked into corn tortillas….all for two people who could not eat it.  The simplicity of the tacos was absurd yet, I was so afraid to present them to my loved ones.  Did I dream of making these tacos for them because I knew, in reality, they could not tell me truthfully if they were awesome or shitty?  Do I have a fear of failing to please others?  Do I need to plan a trip to see my brother?  Geeeeeeeees…..someone TELL ME!!!!!
Meanwhile….back in the kitchen, I tried out these crazy tacos and uhmmmmm….they are pretty fucking delicious!  Thanks, dream??
Dream Tacos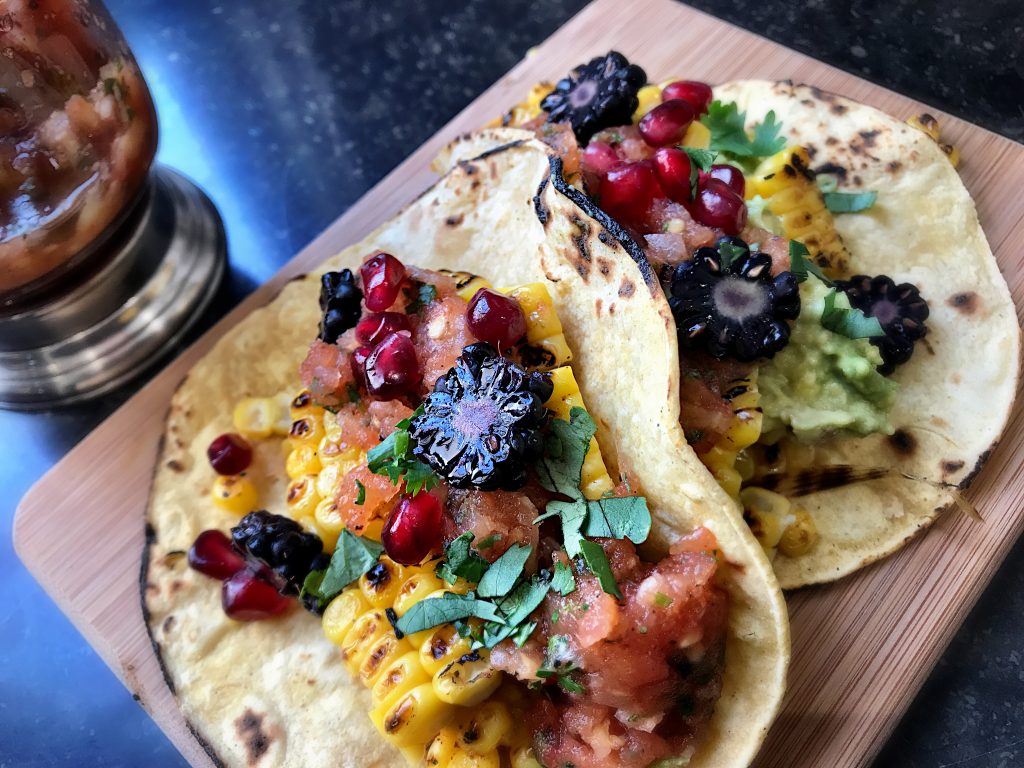 serves 4
5 fresh tomatoes on the vine
1/2 yellow onion, roughly chopped
2 jalapenos, if you would like it spicy
1 heaping tbsp ground cumin
2 tsp kosher salt
juice of 1 lime
1 bunch fresh cilantro
4 ears fresh corn, husks removed
chili powder for dusting
2 tbsp olive oil
4 avocados, peeled, seed removed, then smashed
1/2 tsp garlic salt
juice of 1 lime
fresh cracked pepper
fresh blackberries. sliced into small rounds
pomegranate seeds
chopped cilantro for garnish
8 corn tortillas
Broil tomatoes, onion, and jalapenos on a baking sheet in the oven for 20 minutes or until tomatoes are charred.  Remove from oven and transfer into food processor along with cumin, salt, lime juice, and cilantro.  Process to your desired consistency.
Rub corn ears with olive oil and chili powder.  Grill until charred.
Combine smashed avocados with garlic salt, lime juice, and pepper.
Using a large knife, carefully cut kernels from cob.  Heat tortillas over open flame.  Place corn into each tortilla then top with guacamole, salsa, blackberries, and pomegranate seeds.  Serves 4