There is something to be said about being a "creative".  After years of denial, I have accepted that I am.  I also recognize other creatives when I see them.  Courtney Brown, indeed, is one of the most fascinating….
Courtney, an Amarillo, Texas native, is a perfect living example who bestows what I call the "Trinity of Self Expression".  In other words, she's a triple threat with her creativity.
When I met Courtney a few years back, I had only known of one of those art forms:  her bad ass barista skills at The 806 Coffee + Lounge in our lovely yellow city.  

Although there is an age difference between us, I could sense a small bit of her that reminded me of myself.  I wasn't exactly sure what it was that I connected with at that moment, however, I knew it was there.  Quiet and mysterious but with an edgy disposition, she's like that intense film you watch between your fingers covering your eyes.  The film is too cool for you to handle but you just have to get close to the screen and soak in the intriguing content.  A few years later, she turns up in one of my art history courses during my undergrad studies.  Threat #2:  she is a fucking artist.  Following graduation, She began exhibiting her artwork consisting of impressive charcoal drawings and graphic prints.  Fast forward to last year…I notice her fronting an all girl band called Deathbelles.  Threat #3:  SHE'S IN A FUCKING BAND.  Their music was a haunting reminiscence of sound for me…. a cross between the band, Lush (from my generation) but, with a twist of Warpaint.  I just HAD to know what sparked a little girl's passion to grow up and become such a captivating creative.  So it went a little like this…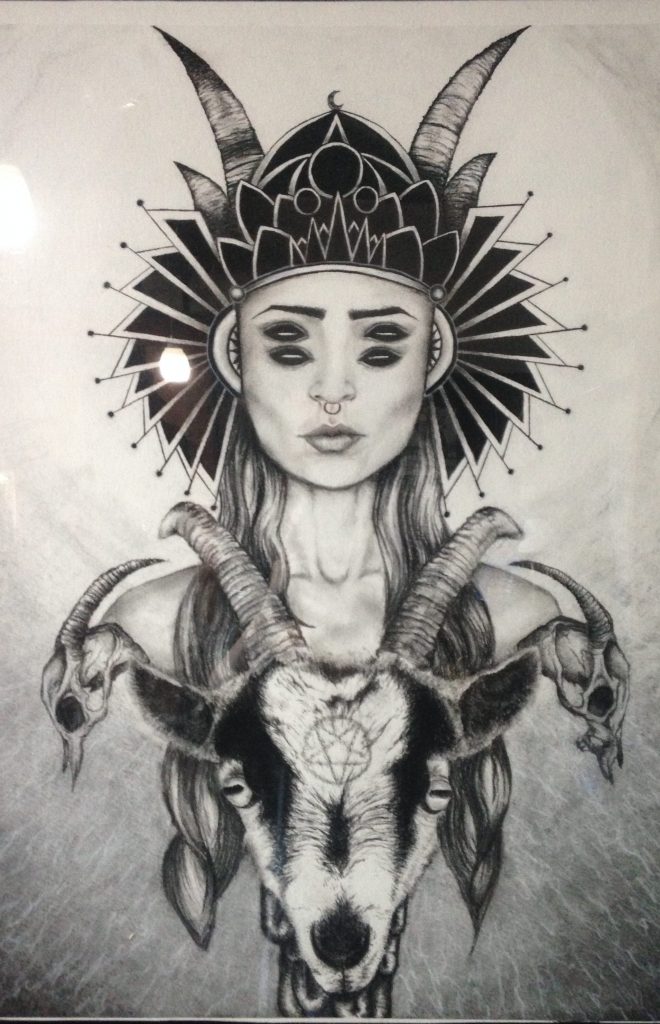 BF:  When did you realize that you wanted to create?
C:  "This is kind of a tough one for me to answer.  I really don't know where it started.  Maybe its one of the few genes I inherited from my dad.  He was a decent illustrator though he never pursued it.  I've kinda always drawn since I was a kid and phased in and out of that passion over the years.  As a child, I just remember creating and sketching things.  I really didn't like people and would've rather have been drawing or reading (DING DING DING…THIS is where Courtney's and my connection became clear to me).  Over the years, I've always taken art classes, hung out with creative people, but I never really considered myself creative, it was always something that I did as a response to boredom and just a way to change the world I live in."
BF:  How would you describe and what inspires you to create your art?  What is your preferred medium?
C:  "My art, over the last few years, has taken on darker tones…more monsters and demons.  Maybe, it just stems from my general experience and outlook of the world we live in.  Our world is completely shit-filled.  We all see the horrors of war, politics, or just the toxic people in our lives.  Don't get me wrong, there are a lot of great, wonderful, and beautiful people in my life and in the world.  And, good for them for staying strong in this crazy place, but I believe the demons run this world.  Eisheth, (pictured above), is about a female Queen demon who ate the souls of the damned.  It was Halloween piece.  I'm not religious by any means, but I do love stories about women being the great evil of the world, a prominent source in the bible, or within other religious texts.  If a woman didn't eat the apple, we would all be lazy and naked in the garden…how boring."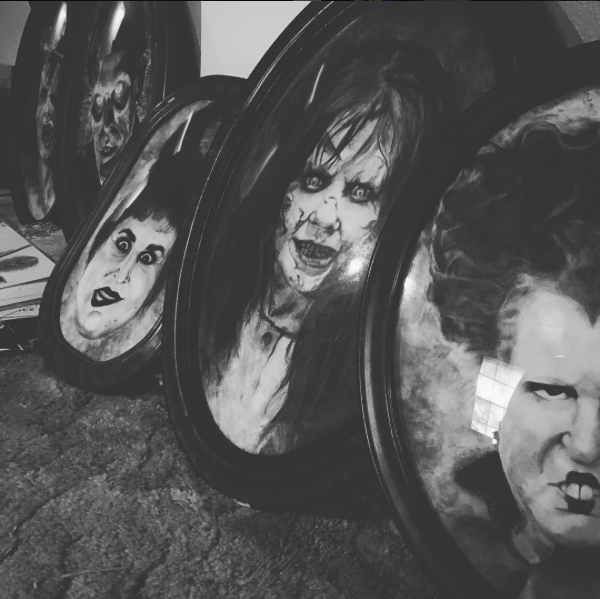 "My most recent work has been of horror characters from favorite horror movies.  The great thing I find about this work, is that people already have a certain connection to the characters from childhood or just a favorite movie.  Through my style of work, it's a connection to them.  I really hope in the future that I can find the time to do less horror portraits and more time just appealing to the sins of the world through charcoal.  I love working with charcoal.  It's messy and hard to control but after you've worked with it, you look like you've been digging ditches…which is all pretty accurate on how I feel when I draw.  I think charcoal is a really beautiful medium and can give you that haunting air….like a ghost just walked through you."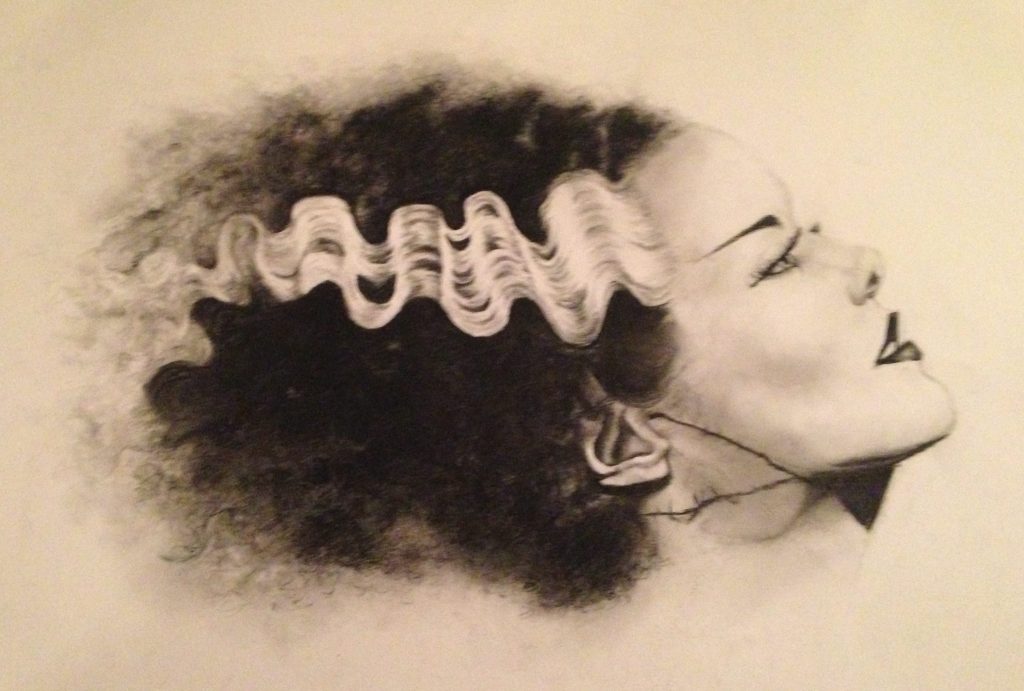 BF:  What did you want to be when you grew up?
C:  "I think I wanted to be EVERYTHING when I grew up…an artist, a singer, a lawyer (I still drunkenly argue at the bar, so I guess I'm a lawyer) , a doctor, an archaeologist, an Egyptologist, a pastry chef…oh, and  I wanted to save the planet.  Everything!  Working at the 806 gives me flexibility to do a lot, so I get to do everything, pretty much!"
BF:  What daily ritual do you do to get your creative energy flowing?
C:  "I really don't have a daily ritual for getting creative energy flowing.  I wish I did.  I think my life would be easier and I always say I will start doing more to encourage creativity, but I'm lazy and horrible.  As busy as I am, I set time aside to be creative, so when I do try and work into a more creative mindset its by tuning out the world.  I shut my phone off i.e. Facebook/Instagram for awhile.  I can't really experience the different paths of thought while plugged into the world.  Being truly alone for an hour is a luxury for me.  I also use music to tune out the world.  I put my headphones on and just listen to music…good music (DING DING DING!…yet another thing I connected with)…. music that makes me think about myself and the world.  Then I write or sketch.  This routine isn't anything special or original.  I suppose if I had more time, I could build a process, but it's what I've got."
BF:  How long have you been a barista?  
C:  "I have been a barista for nearly 9 years, I think.  I started at Hastings and then moved over a for a month to Starbucks where I got in trouble a lot.  Then, fate stepped in and I started working at the 806.  It's been fun.  I get to be a part of  a lot of community events while making all the coffee I could ever want."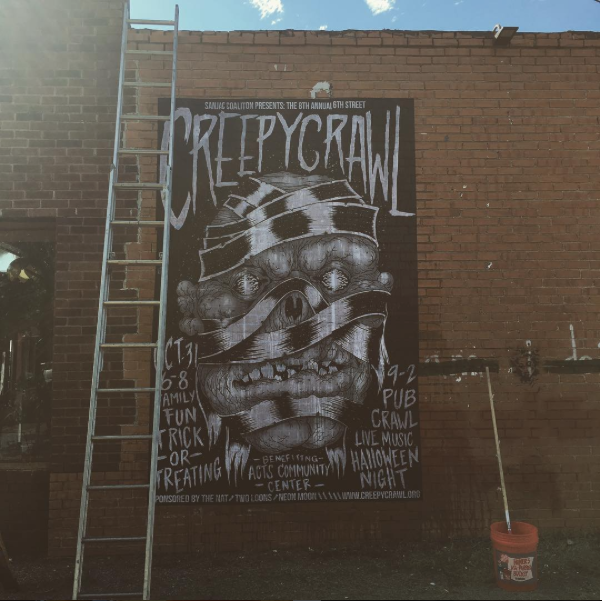 BF:  Working at the 806, you are super involved with fundraisers such as Creepy Crawl (held in October) as well as the 806's Birthday Celebration both benefiting ACTS Community.  You also head another fun project, Bad Magik Musik Festival (held in the Spring).  Why do you choose that specific charity? 
C:  Yes…the 806 Birthday party benefits San Jacinto Elementary every year with some much needed school supplies.  And as you mentioned, our Creepy Crawl benefits ACTS community center.  It's a program that caters specifically to local San Jacinto needs.  We chose this particular charity because it's all about the community developments and improvement of our San Jacinto neighbors.  They're a great organization and I encourage everyone to get involved.  Bad Magik isn't a fundraiser this year.  We had some left over funds last year that were donated to fund a summer art program at ACTS, but this year, it probably won't be that way.  My primary goal in continuing Bad Magik is to just promote local music. We have a lot of great local bands in the area and it's fun to hear them in a "not so common" venue that is family friendly.  So mostly, it's just a giant party for Amarillo."
BF:  What inspired you to form Deathbelles?  How would you describe the music you write?
C:  Deathbelles started as a joke.  I never thought I would be in a band in a million years, but I'm glad it happened.  It started with Anna (right) and I joking about being the most mediocre band ever, called "Meg White Jr."  Well…fast forward to last winter, at the bar, Anna and I were just hanging out and having a few drinks.  She was like "I'm serious. Let's start a band (great ideas happen drunkenly at the RR Bar). "  I just said okay and called up Kat (center) who I knew could play drums.  She agreed to be a part of it.  It's been a growing experience for sure, but also the best experience.  We really didn't start out looking for a sound.  We started out doing covers.  It was a good starting place for three people who have never been in a band, but we weren't completely happy with it.  We got some of the best advice ever ( which I can only paraphrase) from our friend Kole, who said "don't do covers, just make music and you'll find your sound."  It was the best advice for me.  It gave me confidence to do it and not overthink it too much.  I will never be a musical genius, but I DO have fun doing it and that makes the music happen.  So, we slowly, for nearly a year, developed into what we are now.  We are gloomy and dark, but you can jam out to it if you like it."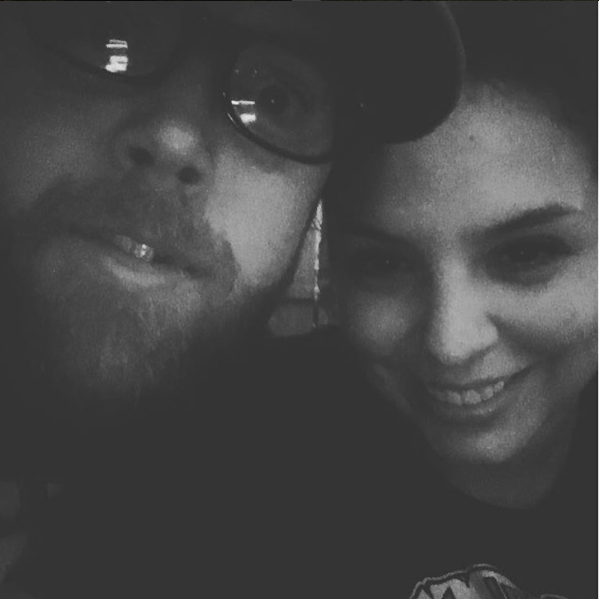 BF:  I have been told by a few others that artists should never be with other artists because crazy equals crazy…haha. (It seems to work for me!)  Do you believe that?  Is it fun/annoying/inspiring to be with a mate who is just as talented as yourself?  How do you feed off of each other when creating your art?
C:  "I think that idea really comes from ego maniacs.  Artists have been greatly known for their pretentiousness and egos.  Josh and I created a life for each other where we come first and everything else comes second.  We've been together for over 5 years and we've grown so much together that I don't think art or an ego can drive us apart.  Art has made us stronger in that we collaborate together.  I've helped him with his projects, he's helped me with mine i.e. 6th St. Creepy Crawl, Bad Magik, our Halloween art show…we have a life that benefits from one another's talents and goals.  Now, he is committed to being a full time artist and fulfilling his artistic goals and I couldn't be more supportive and happy for him."
BF:  Besides Josh, who is your support system in everything you do?
C:  I have a whole network for my support system with all the damn projects I take on.  Josh is the one who sees me at my weakest points of self doubt.  He's my rock.  He encourages me to not give up and to keep going.  Jason (owner of 806 Coffee + Lounge) is my side kick.  We tackle the biggest projects together.  Without him, life would be boring.  My band mates, Anna and Kat, are the shit.  This past year has been my biggest year of growth by taking on music.  I've had my struggles and insecurities and couldn't be happier playing music with these two women.  They inspire me with their many talents which, in turn, fuel me to create.  My mom is another…she is a hustler and is always helping promote Bad Magik or Creepy Crawl.  My sister, Camille, is the coolest.  I am always eager to share all my newest projects with her.  Then, there's all the people on 6th street (so many people to name) who support what I do by coming out to watch Deathbelles or art shows, or take part in Bad Magik or Creepy Crawl.  I know a lot of great people and I sincerely wouldn't be who I am without every single one of them."
BF:  Would you care to share a little bit about Brown Courtney….Courtney Brown, clicking out?  I have heard stories about her but have yet to witness her greatness in person.  Who coined the nickname?  Does it bother you or do you wear it with pride?          
C: " I have no idea where Brown Courtney started!  Maybe Jason, maybe Sameera coined the name.  I just get really sassy when I drink and the world had better watch out.  Brown Courtney is just a "no bullshit" aspect of my personality.  I am proud of it, It's me on whiskey and fun. "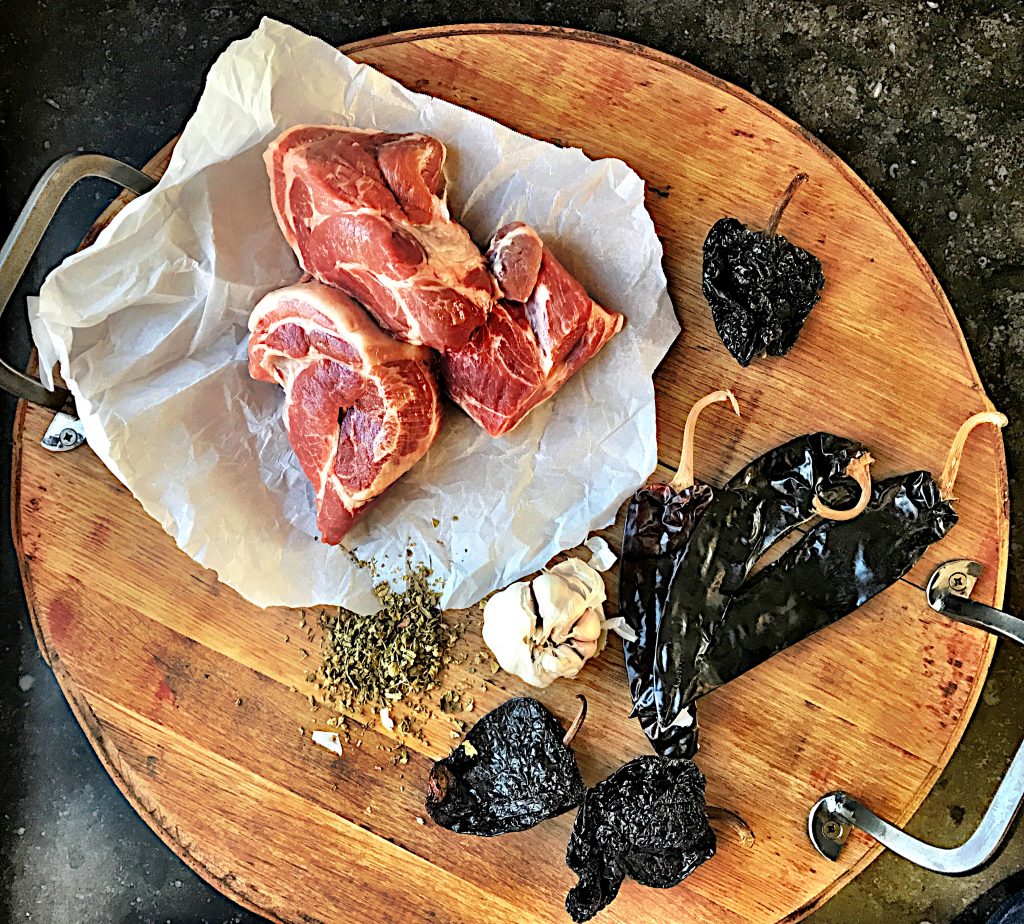 BF:  In my opinion, one cannot be passionate about anything if not passionate about food….what favorite dish makes you forget about all the shitty things in life?  What food makes your eyes roll back into your head?  Is there a food or drink that helps you with your artistic vision?
C:  "I love to eat food.  I'm not much of a cook, mostly because I hate the clean up.  I am thankful for Josh who does all of the cooking at home.  He's a great cook and keeps me happy.  I really love pizza, chocolate, and my grandma's cooking.  You want to win my heart, send me some Oreo cream puffs, a large pepperoni pizza with ranch from Pizza Planet, or Gouda mash potatoes. I'm pretty simple. If it makes me fat, I love it."
BF:  Do you have a childhood memory relating to food?
C:  "My favorite home made meal is my grandma's Asado and homemade tortillas.  Her house was where you were getting the best meal and laughs.  I'm really sad she moved to Houston, but she did impart some of her "Mexican cooking" wisdom before she moved to Houston.  This meal really took me a few tries to get right…you know, to make it taste just like her's, because if it doesn't taste like grandma's cooking, its just not worth it."
Asado de Puerco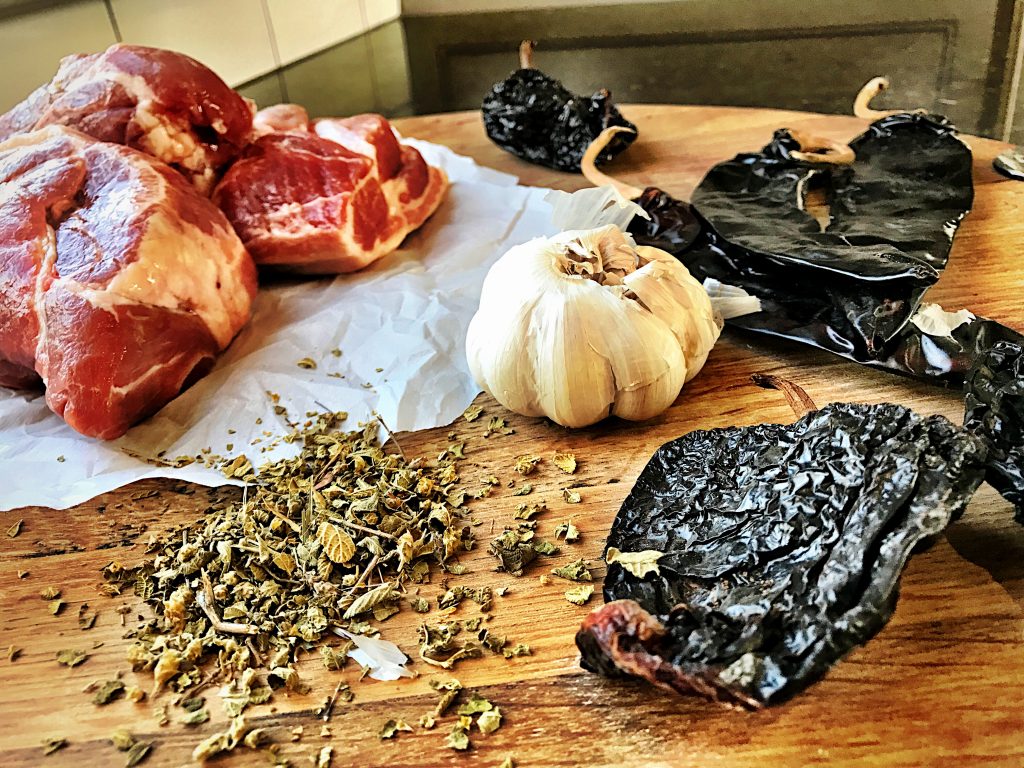 3 dried ancho chiles, seeded and deveined
1 dried cascabel chile, seeded
*both dried chilis can be found at a Mexican grocery store or the international food isle.  If you want to take a short cut to making the chili sauce, you can use store bought chili such as Bueno Brand Chili that can be found in freezer section.
1 1/4 lbs pork shoulder, trimmed of fat
1 tbsp olive oil
1/2 yellow onion, diced
2 garlic cloves, minced
1 tsp Mexican oregano
3/4 tsp ground cumin
2 tsp kosher salt
1/2 tsp fresh cracked pepper
1 bottle Mexican beer
1 cup water
1 heaping tbsp flour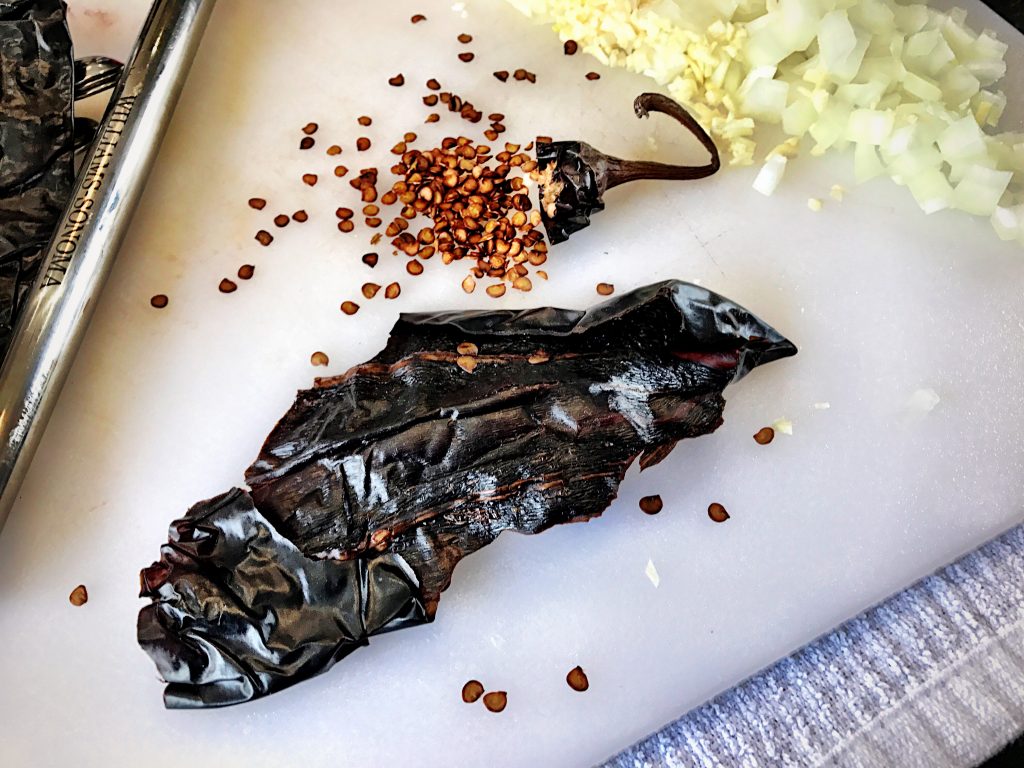 De-seed dried chilis.  Bring a large pot filled with water to boil.  Add the chilis, cover and remove from heat.  Let them sit for 15 minutes.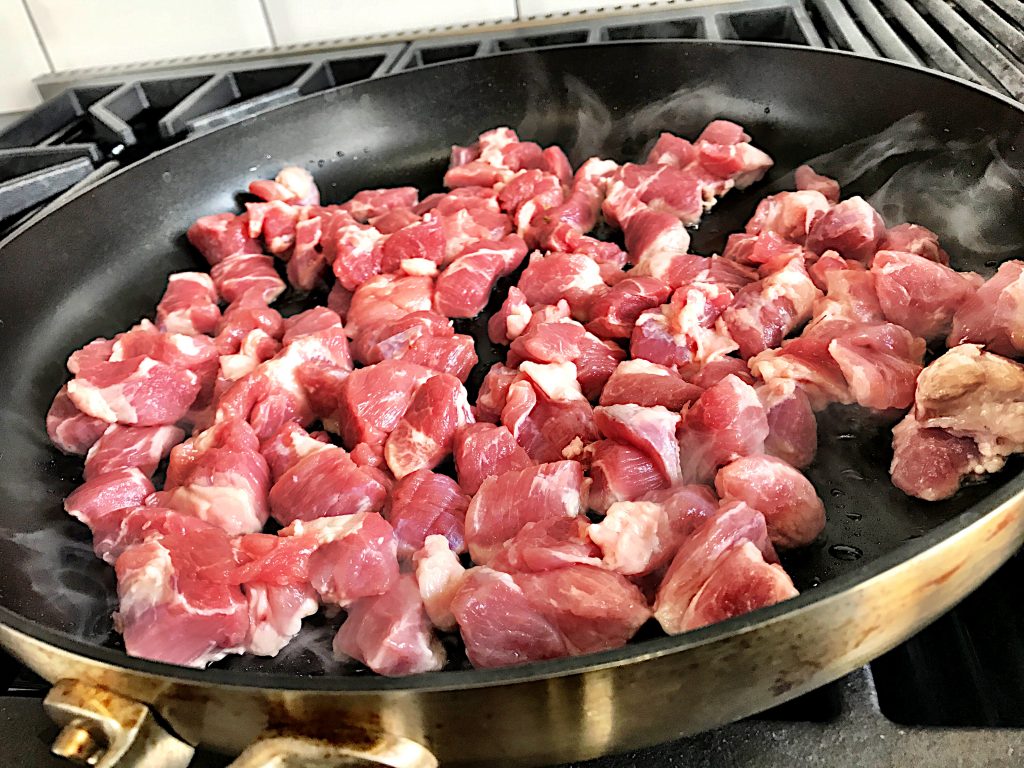 Chop pork into small cubes, then brown in a pre-heated pan with the olive oil for 10-15 minutes.  Transfer cooked pork into a medium sauce pan with lid.  Set aside.  Saute onion and garlic together (in the same pan used to brown pork) for 5 minutes or until onion become translucent.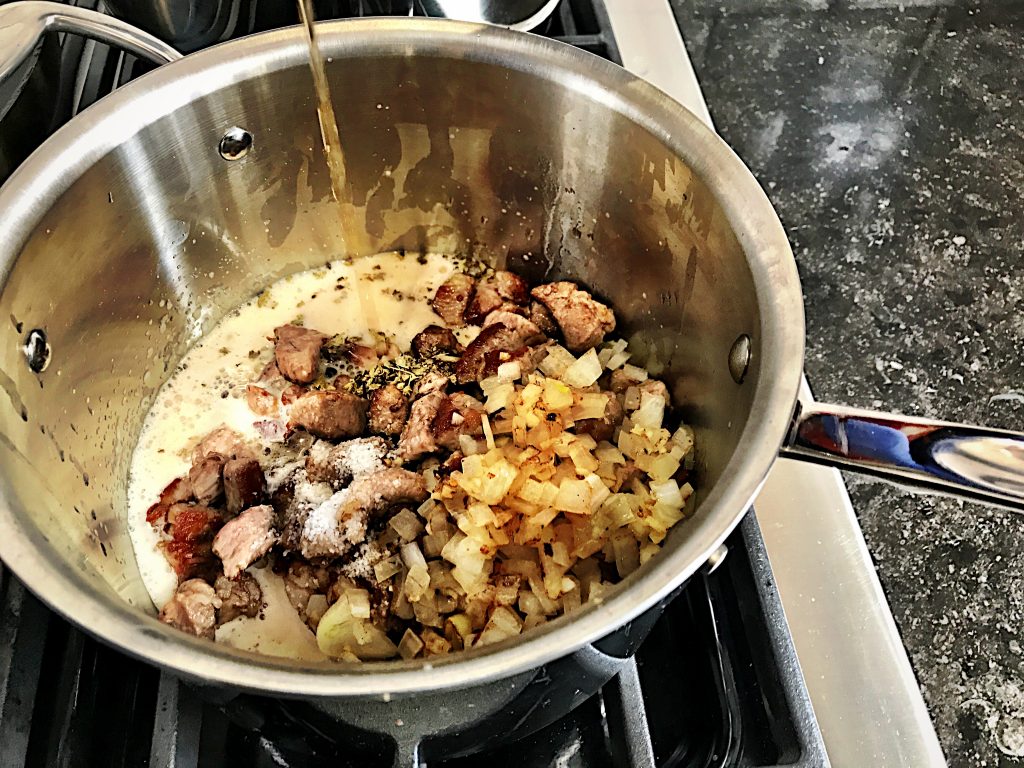 Transfer the onion mixture to the sauce pan with pork.  Add oregano, cumin, salt, pepper, and beer.  Then add water, cover and simmer until the liquid has reduced to where it is barely covering the meat.  Add the flour and stir to thicken.
Transfer chilis to a blender or food processor.  Add a small amount of the boiling water to loosen the blending.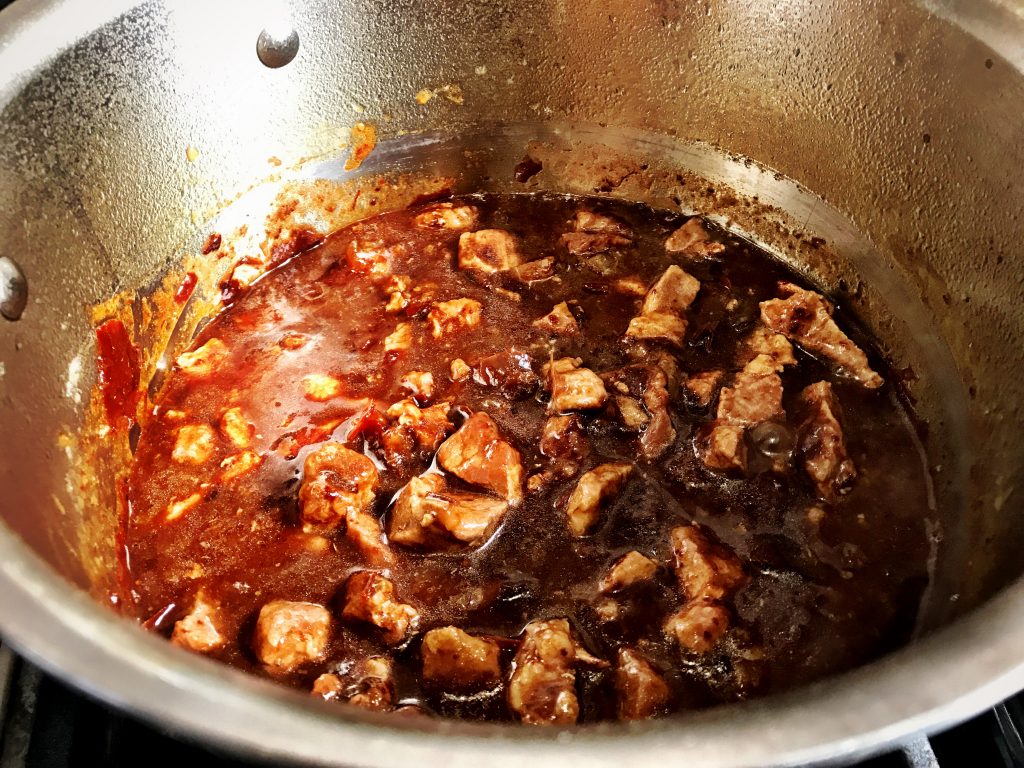 Add chili sauce to pork and stir.  Reduce to low heat, cover with lid and simmer until ready to serve.  Can be served with flour or corn tortillas.  I chose corn tortillas and topped with culantro (cousin of cilantro) for a Caribbean flare.
Thank you, Courtney!  I now have a new favorite recipe to put into my regular rotation!