Cook Beautiful?  I haven't been doing ANY cooking lately.  I have been stumped for several reasons I cannot really share but, I CAN tell you I see a clearing.
A few days ago, I burned my face while trying to make popcorn on the stove…you know, like old school style?  Hot kernels and oil flew right at my mug just as I peeked to see if they had popped yet.  The shit isn't funny, but it is…. Anyway, those minor burns added to my many reasons why I have been hiding from the world.  Me- 0 Vanity-1.  I must also add that my popcorn was OFF THA CHAIN!!!!!  During my downtime of feeling sorry for myself, I decided to finish a book review I had started in January.
Buying cookbooks are like a religious experience for me.  When I purchase a cookbook and get it home, I can't just open it right away.  I have to let it tell me when it's time.  I gotta be ready for it.  And, I am usually just happy to admire the cover forever.  Call me crazy….
I envision myself sitting at the author's table.  What sort of face will I make once I am served?  What scents will I smell?  What will I wear?  What music will be playing on the turntable?  Most of the time, I will imagine the author shopping at a farmer's market, carrying wicker baskets to hold delicious finds, wearing something from J. Jill or Chico's, smelling cantaloupes and shooting the shit with vendors, smiling because they are rich AF.  I hear Stan Getz  or Billie Holiday playing in the background as the scene turns to a Woody Allen black and white movie.  There are birds in the sky circling skyscrapers, weaving in and out of walkway tunnels in Central Park.  Suddenly, my image turns to color again as soon as the author begins to prepare a meal; vibrant greens and reds of the market vegetables sizzling in a Le creuset dutch oven.  Yeah….if a cookbook can't put this scenario in my head, it stays on the shelf.  Unless it's Thug Kitchen, by Michelle Davis and Matt Holloway…THAT cookbook straight up had me ripping through a playground during recess in a 1970 Chevelle at top speed and listening to 'Go Motherfucker Go" by Nashville Pussy while eating a sloppy hummus and rice wrap.
Cook Beautiful by Athena Calderone is the latest cookbook I have acquired in my hot little hands.  As eager as I was to read it, I didn't crack it open for quite a while.  In fact, It sat on my bedside table for well over a month.  It collected dust because I was afraid to read it.  I figured as long as I didn't actually OPEN the book, it wouldn't suck.  I just clung to the hope it would be a wonderful gem to save us from every other cookbook out there with a section on "10 Ways to Top your Toast."  I have been so incredibly tired of seeing unoriginal ideas being done to death…I simply DID NOT WANT TO OPEN THIS BOOK!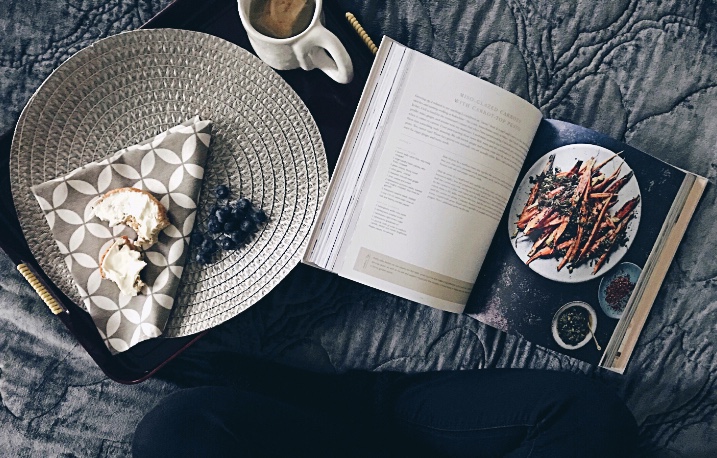 But, eventually, I did.  I had an afternoon to kill so…I made a cup of hot tea and decided it was time.
The refreshing part of the book is that it is sectioned into Seasons which lends a helping hand to those who look for meal ideas using ingredients that are…well… in season!  Duh.  Within each season, Athena gives you options for appetizers, salads, pasta dishes, lunch, dinner, and such gorgeous desserts.  There is something there for everyone.
It begins with Spring, and whadda ya know, we are fast approaching that season!  The recipe photos depict sharp vibrant greens, sun-kissed golden hues (such as in her zucchini fritters), colorful grilled skewers, fresh and clean ingredients not hidden underneath melted cheese or heavy sauces.  Beautiful wrinkled linen table clothes in subdued colors add to my thought, "I could truly enjoy this fucking meal!"  Seriously, I remember the days when wrinkled linen could make Crockett, Tubbs, AND my own mother cringe.  These days, it is more acceptable and adds to a new aesthetic for some Instagrammers and food stylists.  Bravo, I say.
Leading into Summer, my most despised season, I see bright colors of ripened berries, squash blossoms, and tomatoes.  As much as I want to stay in the moment of hating summertime, the strawberries and golden tomatoes, looking most alive, move me to crack a smile.  At that second, I come across the recipe, A Duo of Summer Crostini.  There it is.  There is the damn toast recipe.  But wait…it is so beautiful!  Two crostini:  Blueberries, ricotta, thyme, paired alongside thinly sliced radishes, goat cheese, and fresh green herbs.  Okay, she had me at "duo."  I like having options, and I appreciate the originality in her ingredient choices.  Anything else but smashed avocado and chia seeds, please….
Lastly, I dive right into Fall and Winter simultaneously because I love them so…  Fall is the section where the colors of summer and fall meet to dance with one another.  I sense a gorgeous and welcoming transition from clean and simple flavors to a more romantic and dramatic piquancy.  Comfort soups such as a silky Cauliflower and Watercress Pesto, simple breakfast of Roasted Pumpkin and Brussels sprouts with Poached Egg, and pan-roasted, seared, slow-roasted goodness are throughout this section.  The season of Winter introduces the deep rich burgundy colors and zing of grapefruits and pomegranates.  The leaves of earthy beet stems plant a "taste of salty" onto my tongue.  Recipes, such as Warm Nonna's Chicken Soup and Lamb Roast with Fennel Root Vegetables and Lemon Chermoula, have me drooling onto the pages of my brand new book.
I am in love with this cookbook, mmmmmkay? I know the recipes are good.  Each one is crafted around fresh ingredients and clean flavors.  I am certain I will be using this book for years to come.  There is not one recipe in it I could recreate that would suck.  It has inspired me to get off of my ass and get back into the kitchen.  It has opened my mind to embrace ALL of the seasons as well as "things on toast."  Just by its images, Cook Beautiful delivers gorgeous visions, devouring sounds, inviting textures to the palate, and smells of romance and beauty…..soooooo worth the wait in cracking it open.  It is art.  If you cannot pick up any of what I am putting down, you just don't get it.
GJ (good job), Athena