I had the pleasure of meeting this lovely lady, painted by Antonis Mor, at the Prado Museum in Madrid back in the summer of 2014.  Queen Mary I of England, also known as "Bloody Mary" by her opponents, was responsible for the execution of  a slew of Protestants during her five year reign.  It was a beautiful painting and I stood in front of it for quite a while….but, what a bitch, right?    
     Then I got to thinking…. any man would be driven to drink if he were married to a woman like this.  Drink, did I say?  A bloody mary sounds delicious! But I'm thinking more of a little bite to go with a little buzz.  
     This recipe is a morph between ceviche and the tasty mid morning ( or for any time of the day) beverage.  I like to serve it in a cocktail glass with toasted pita chips for dipping.  Try it out and let's have a toast to Queen Mary!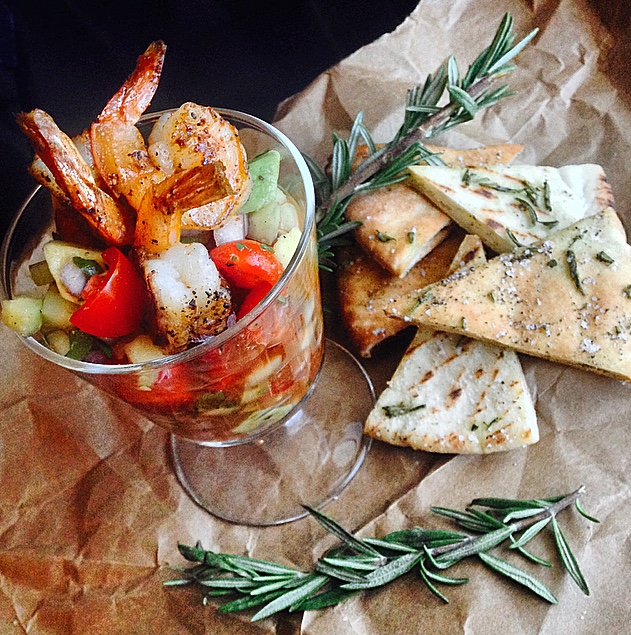 Bloody Mary Shrimp Ceviche with Rosemary Pita Chips
1 cucmber, peeled, seeded and diced
1/2 medium purple onion, diced
1/2 cup cherry tomatoes, quartered
1 large avocado, cubed
1/2 cilantro, chopped
1 cup spicy clamato juice
1/4 cup fresh squeezed lemon juice
1 tbsp worcestershire sauce
1 tsp tobasco sauce
1 to 2 tsp celery salt
2 tsp fresh cracked pepper
1 to 2 shots of Peppar Vodka
1 lb fresh shrimp, shelled, deveined, tails on
salt and pepper
2 tbsp unsalted butter
1 bag wheat pita bread, sliced into eight triangles
fresh rosemary, chopped
3 to 4 tbsp olive oil
Preheat oven to 350 degrees.  Prepare the first five ingredients and toss into a medium bowl.  Add the next seven ingredients to bowl and stir.  Set aside.  Toss pita triangles in another bowl along with olive oil, rosemary and salt and pepper.  Place on a baking sheet and toast in oven for about 15 minutes.  Season shrimp with salt and pepper.  Heat skillet to sear the shrimp.  Add butter to hot pan.  Then add shrimp and cook until they have a nice sear.  Once your pitas are ready, remove from oven and assemble onto a platter along with the ceviche in a bowl!  You can place the shrimp on top of the bloody mary mixture or take the tails off, chop them up and throw them into the ceviche.  Either way, it'll go down smooth 🙂