Bacon Jam, a sweet taste of the South, has been on my mind for a while.  Today, I paired it with figs and okra as an appetizer.  It turned out to be the best indulgence  I have had thus far.  Key word is "indulgence".  Use it as a drizzle over bacon, pancakes, fried chicken and waffles, eggplant and goat cheese, toasted baguettes or fruit.  Toss this recipe into a spinach salad.  Go ahead. Don't deprive yourself of a little sexy, sugary, sweet treat every now and then.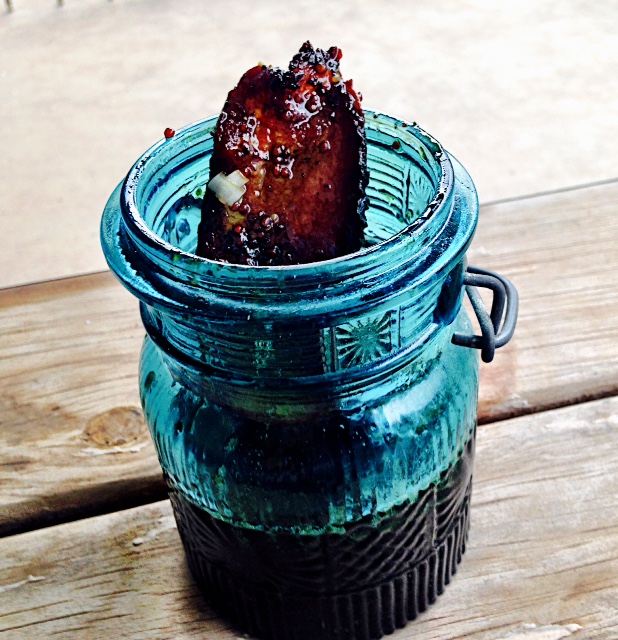 Bacon Jam
4 to 6 slices thick bacon, peppered
1/2 white onion, sliced thin
1/2 cup apple cider vinegar
1 cup light brown sugar
1 heaping tbsp whole ground mustard
5 to 6 fresh figs, sliced in half
10 okra, sliced lengthwise
Kosher salt
Fresh cracked pepper
Cook bacon in a large non-stick skillet over medium heat until crispy.  Remove bacon and set aside.
Pour 3/4 of bacon grease into a small bowl and set aside.  Season figs and okra with salt and pepper then sear them, cut-side down into skillet until the bottoms are a nice golden color.  Remove from pan and plate.
Add the reserved bacon grease back into the pan with sliced onion and saute for 5 minutes over medium heat.  Then, add cider vinegar, brown sugar and mustard.  Stir with a wooden spoon and simmer over low heat until it thickens.  Add cooked bacon back into the jam and coat before serving over figs and okra.