My time home is coming to a small pause as I wrap up the week and prepare to head back to Georgia.  I was super stoked to be here to witness autumn (my favorite season) slowly creeping in along with the Tri-State Fair into our city.  It is a time for that long awaited seasonal wardrobe change to hang from my clothing rack and cherished fall recipes to adorn the table.
The most perfect end to my week started the moment I stepped foot into Back & Forth Thrift Store.  Anyone who knows me, knows how much I love things with a history, a past, a story….it is here where I found heirlooms, once belonging to another human being, meant to be mine.  The energy I felt, coming off of the pieces that caught my eye, were stabbing at my heart, inspiration, and wallet.  Let's just say I was murdered…and what a wonderful way to go.
It was refreshing to discover a new local thrift store with the most splendid set-up.  Although I sometimes welcome the idea of clothing grouped by color, I appreciated the garb mixed together (but still grouped in sizes) in various patterns, styles, and hues.  I like to hunt for my "high" rather than have it handed to me so, it worked out for me.  The owner, Kristie, and her staff (Korree) were so kind and went out of their way to help me find my inspiration.  I scored some really beautiful vintage Everlast Metal serving platters (there's still some left, you guys!) and a few pieces to add to my wardrobe.  As I began walking around the store, I thought of my friend, GaLena, who introduced me to this wonderful store.  I vindictively thought, "I beat her here today.  I will take what she hasn't seen yet."  I'm a bitch like that…but I still love her.  She too has found her own inspiration at Back & Forth by curating and selling vintage clothing and lifestyle items online and in pop-ups through Lena Von Vintage.   Check her out.  I guarantee, you will find something meant to be yours.  And if you're local, visit the fine ladies at Back & Forth!  They'll have you strutting away like George Jefferson with purchases galore in tow.  I was totally George the other day…dreaming about serving some heirlooms on my new heirlooms!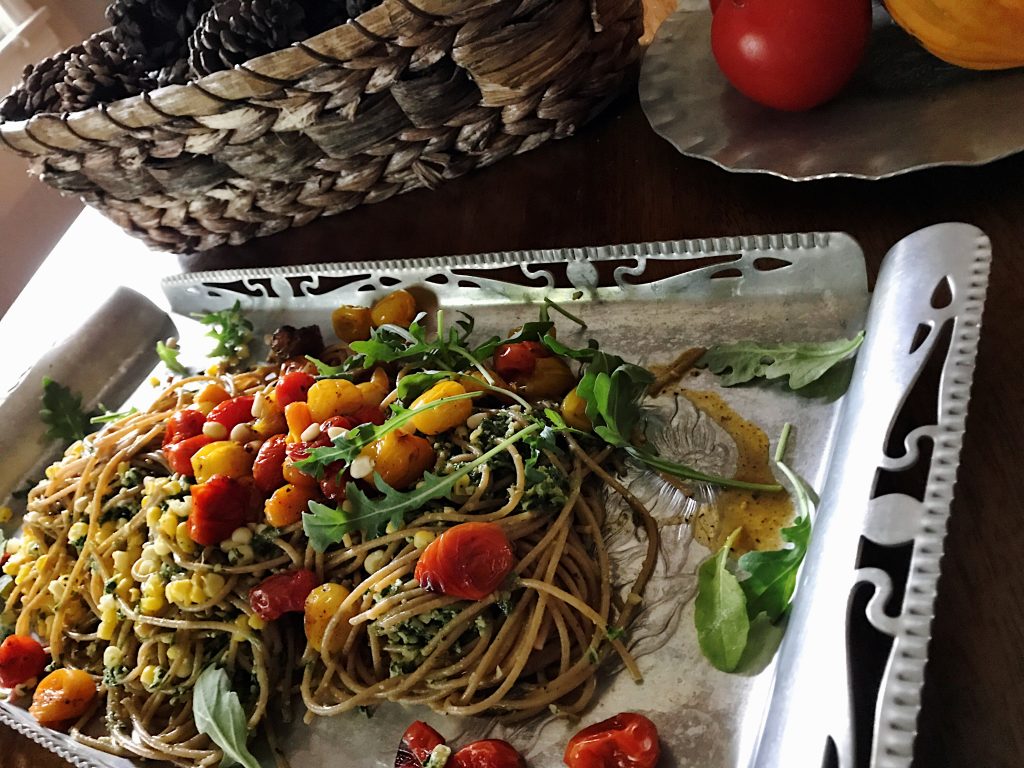 Kick ass vintage Everlast Metal platters for food inspiration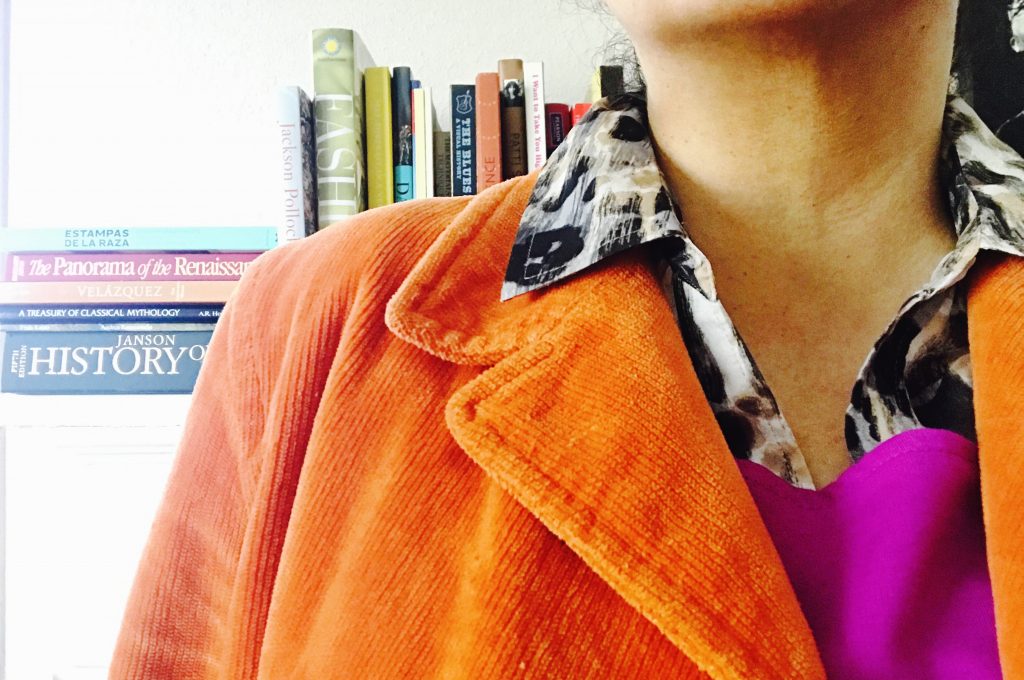 I got a pretty sweet fuchsia dress and printed delicate blouse to pair with my favorite orange coat for the fall.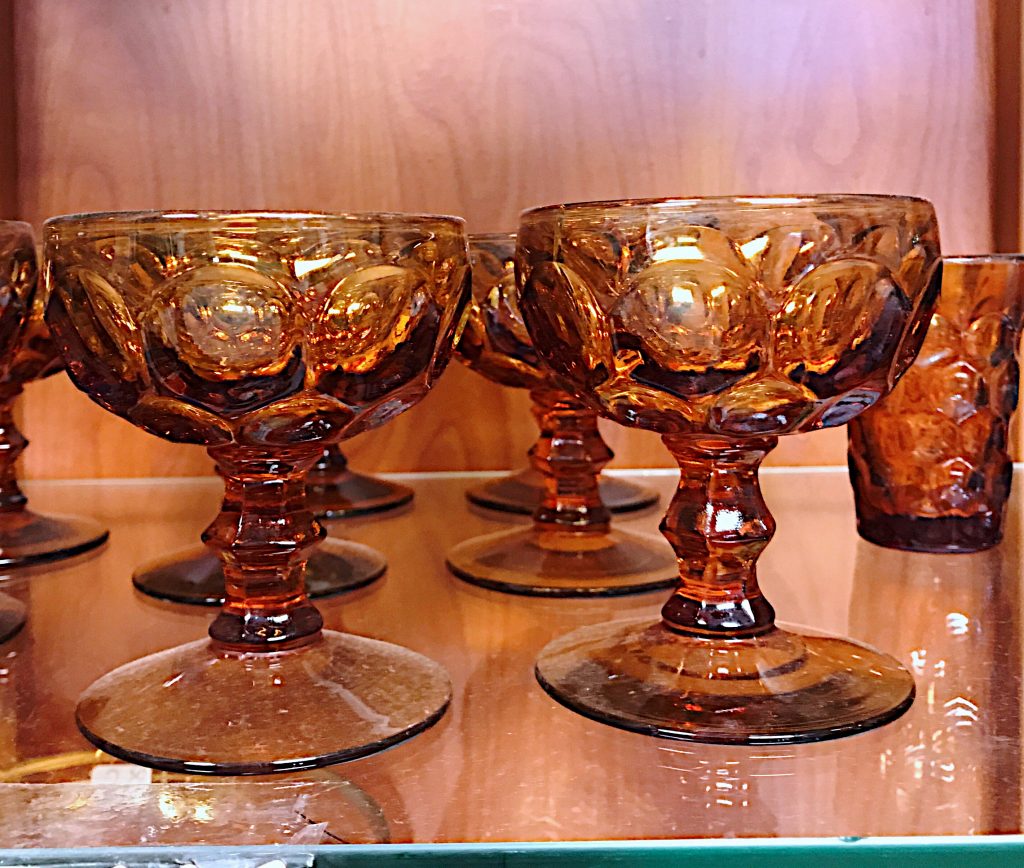 Vintage Amber Glass for the perfect "after dinner" dessert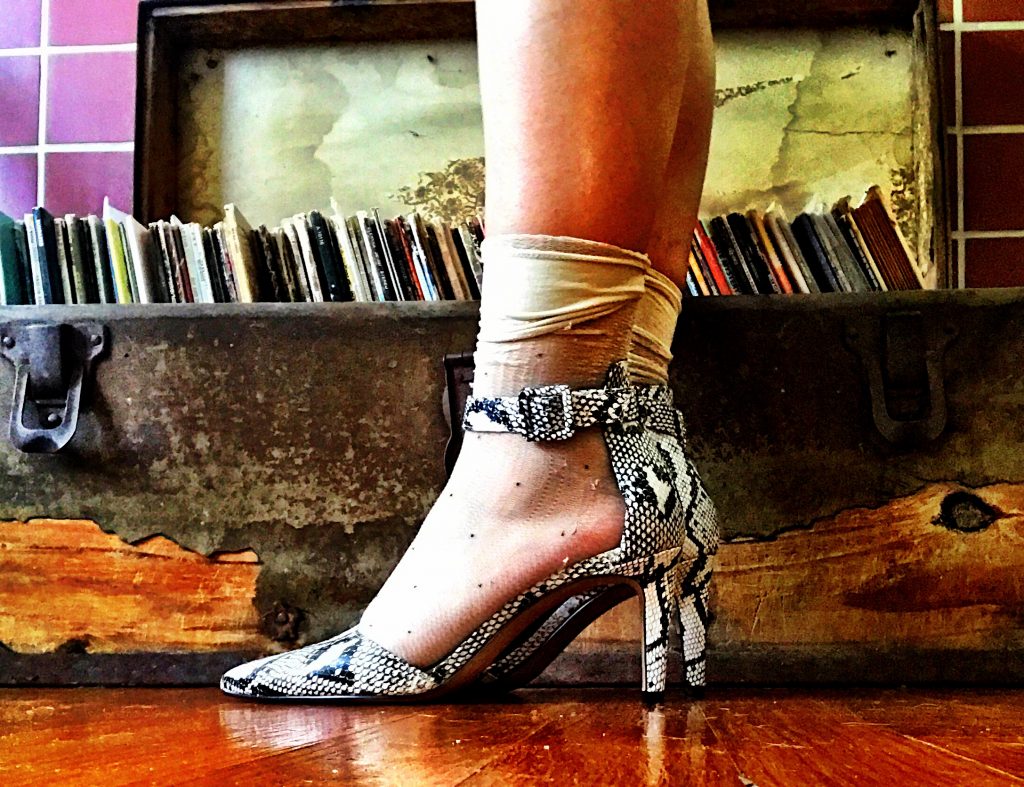 Faux Snake Skin Pumps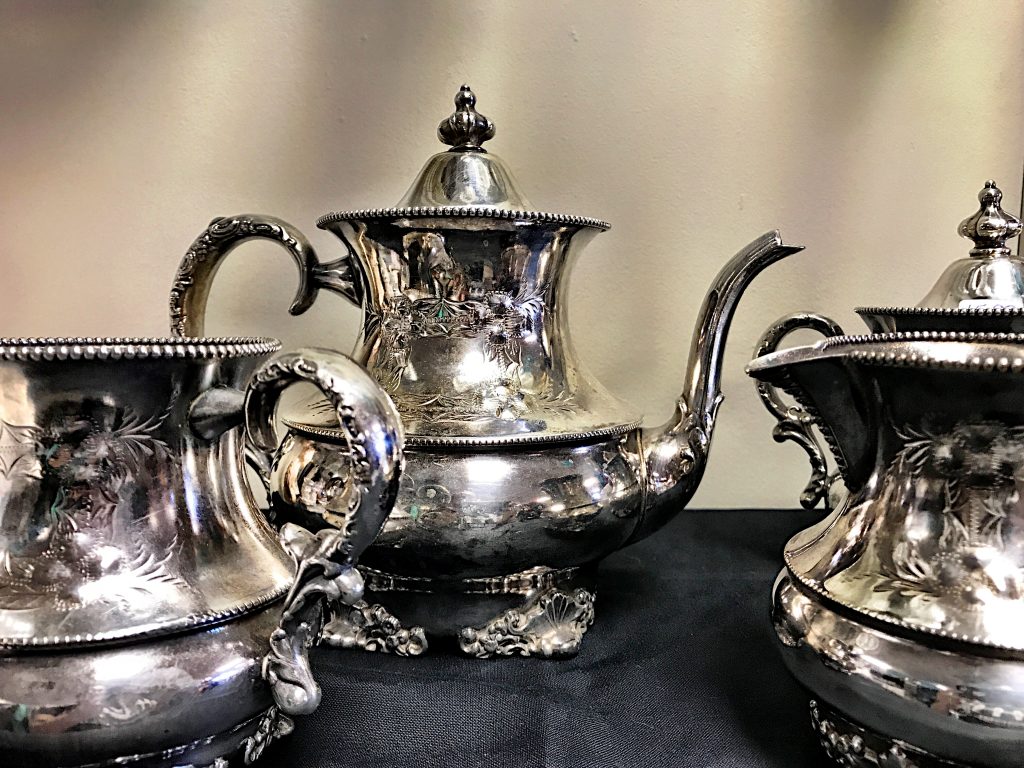 Romantic Silver Tea Set for your Downton Abby moments
Inspiration in Color Contrast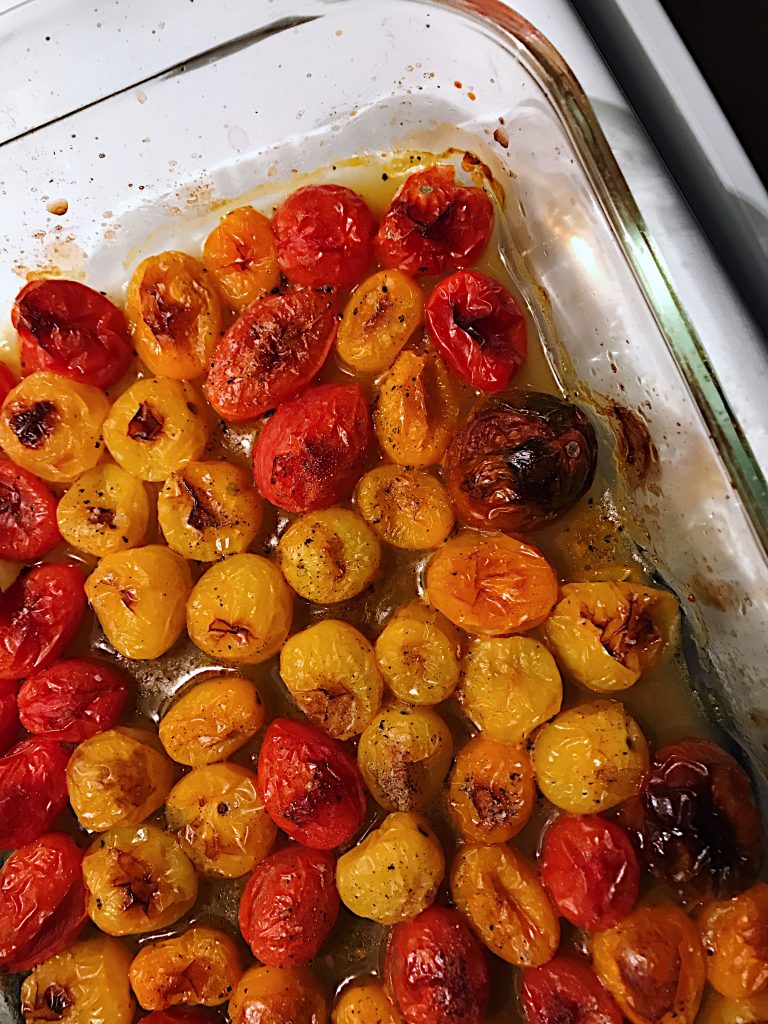 Simple Oven Roasted Mini Heirloom Tomatoes
The flavor in these roasted sweet little gems is completely insane!  If they aren't going into a salad, they end up straight from the oven into your mouth.  For a little extra flavor, you can add fresh garlic, thyme, and a drizzle of balsamic…whatever you're into…you do you!
1 container mini heirloom tomatoes
1 glug of olive oil (about a tbsp)
Kosher salt and fresh cracked pepper to taste
Preheat oven to 400 degrees.  Toss tomatoes with olive oil, salt and pepper in a baking dish.  Roast tomatoes in oven for 30-45 minutes or until they begin to brown and pop.  Remove from oven and add to pasta dish or refrigerate for salads or any other favorite recipe of yours.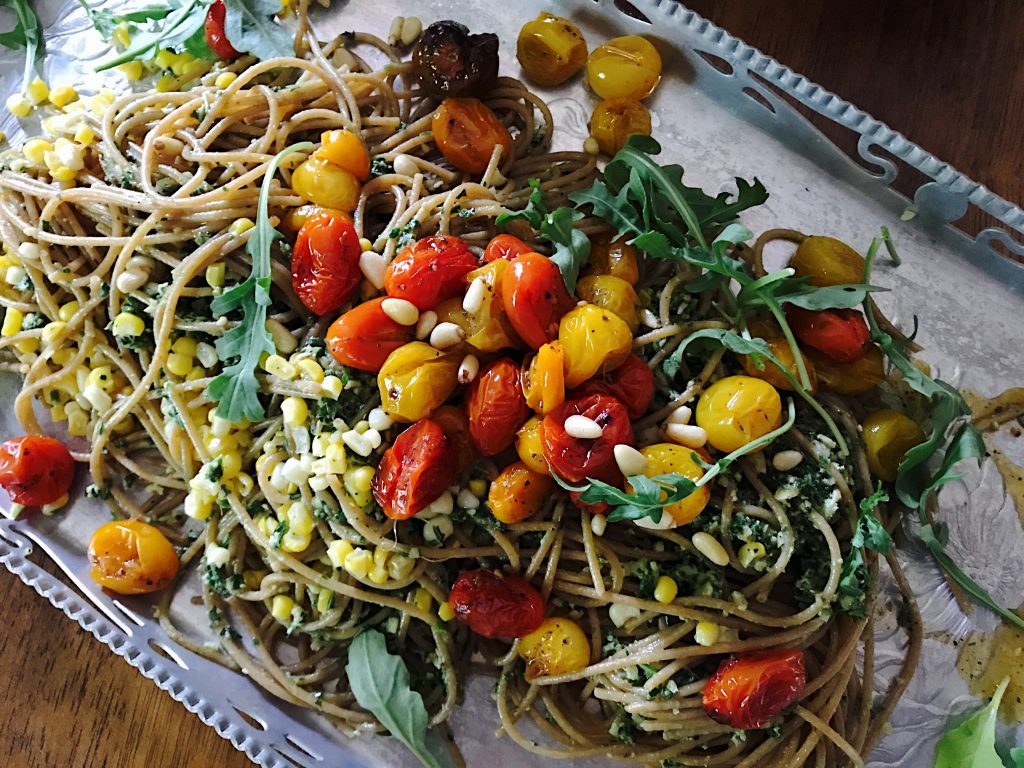 For a delicious lunch with leftovers to make love to later, just combine the roasted tomatoes with your favorite whole wheat pasta and veggies along with my Arugula Pesto recipe.  For you carnivores out there, just top with grilled chicken or sliced skirt steak and a little Parmesan.