This is me in full meal planning mode; my bed, my meal planning socks, a sip (hot tea, iced coffee, or sparkling water…spiked or not), magazines and cookbooks for inspiration, weekly planner, journal, and  most importantly….a fuckin' snack!  Special event socks are super necessary, BTW.  I still have the pair I wore for the birth of all three of my kiddos!  Thank goodness those bitches are retired at the back of my sock drawer until the end of my time! But, anywho…where was I?
I am constantly learning about new cooking techniques, ingredient pairing, and other culinary info by keeping my head in mags and cookbooks.  I will never presume to know everything there is to know about cooking.  I will ALWAYS be learning.
When I really began diving into the world of cooking 23 years ago, I followed recipes to a T until I became more comfortable with what ingredients paired well together…then I began challenging myself on making that recipe even better.  My experience in catering and working a busy food line during peak lunch hours, prepared me on so many levels where food and hospitality are concerned but more importantly, it has given me the "want" to eat, drink, and sleep food.  So, if you're like me on that note, I thought I would give you a few ideas on where to begin on creating your own recipes.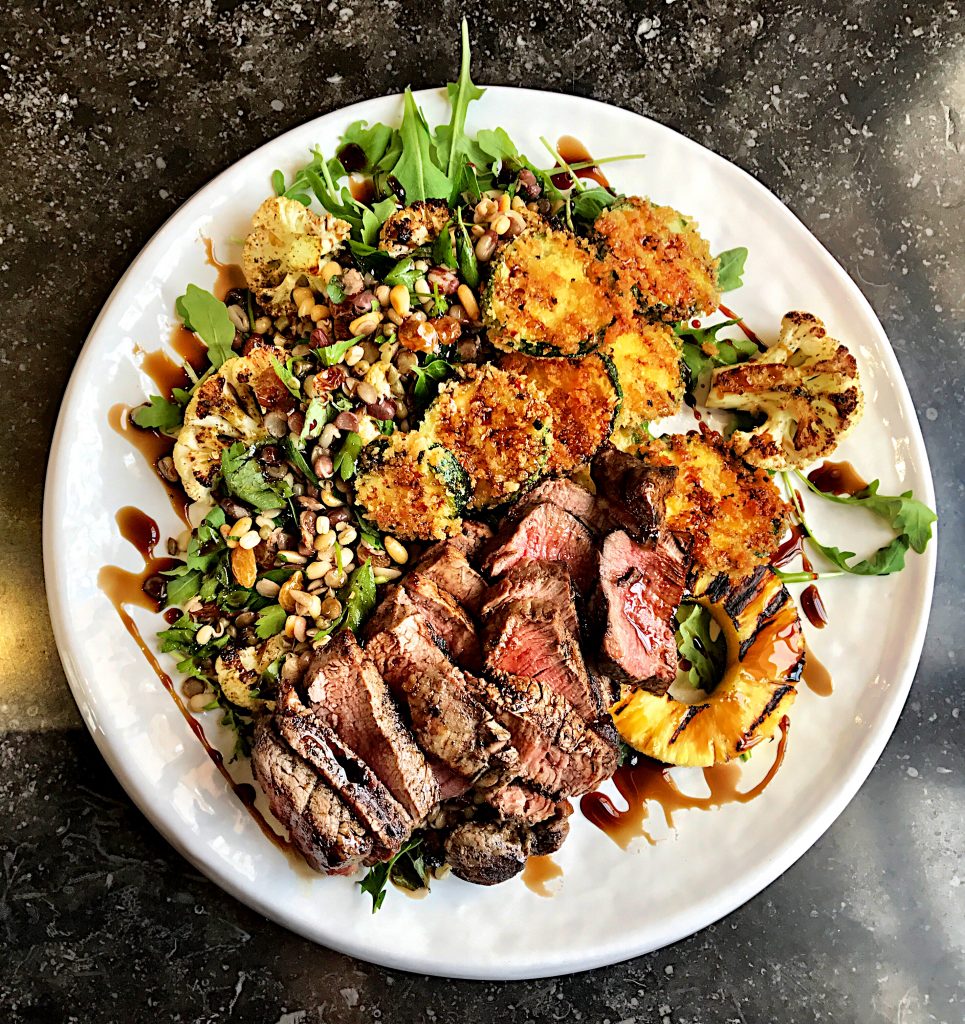 Lately, I have been letting protein take the back seat when planning menus and playing around with ingredients to form a solid recipe.  In other words, I make, what normally is considered the side(s), the main course.  And, my meat choice becomes the side.  This is an easy approach to looking at meal planning when cooking for carnivores and vegans.  Build your meal around your veggies and add a simple protein for those who need it.
 Thank goodness for the "blow-outs" and failures…it is how I learn.  So, do not let that discourage you.  When building a recipe, I keep a few things in mind: texture, crunchiness, saltiness, sweetness, and personality.  This recipe has all five.
Roasted Cauliflower, Sprouted Lentil and Bean Blend with Zucchini Rounds
(with Grilled Beef Tenderloin)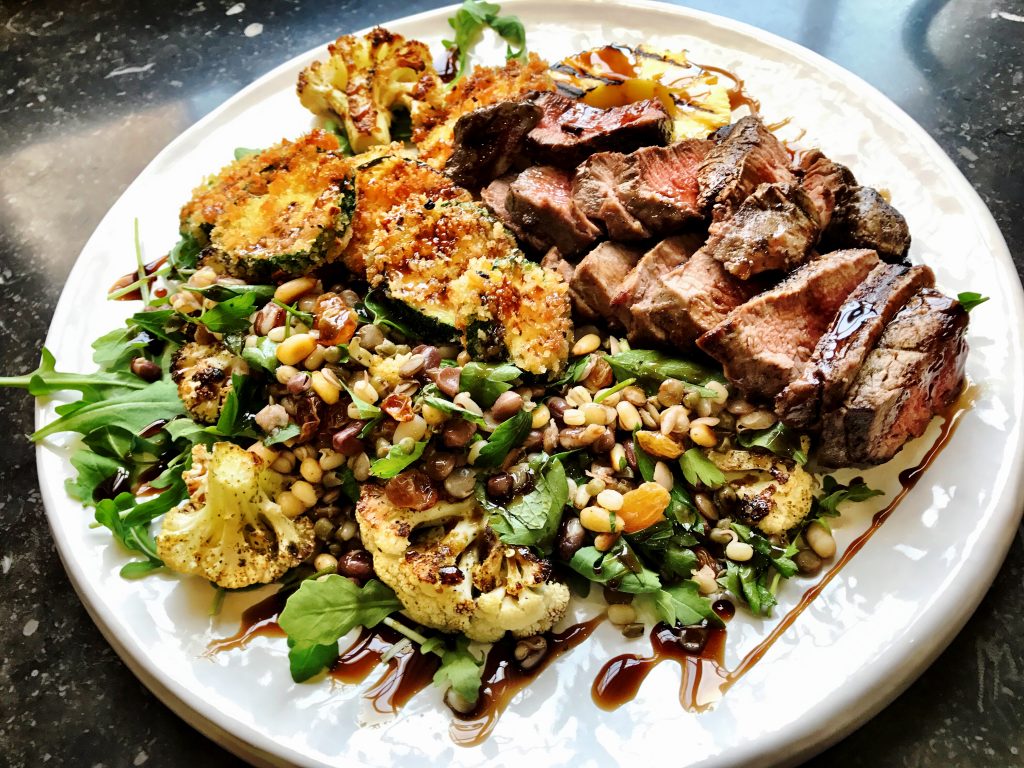 1 head cauliflower, stem removed, cut into florets so that each has a flat side
olive oil
kosher salt (duh…the salt)
fresh cracked pepper
1 tbsp za'atar
1 cup dried sprouted lentil and bean blend, or other lentil mix (the texture)
1 zucchini, cut into rounds
2 eggs, beaten
1 cup panko (the crunch)
vegetable oil for frying
1 tbsp fresh parsley, roughly chopped
1 tbsp fresh mint, roughly chopped
1 tbsp pine nuts, toasted optional
1/2 cup golden raisins or sliced grilled fresh pineapple (the sweet)
balsamic glaze for drizzling  (the personality)
*choice of protein if adding to the dish
Preheat oven to roast at 375 degrees.  Place cauliflower on a baking sheet.  Sprinkle with salt, pepper, za'atar then drizzle with olive oil.  Gently toss with your fingers until coated.
Heat a cast iron skillet over medium-high heat.  Circle the skillet twice with olive oil.  Add cauliflower to skillet and brown on each side for 3-4 minutes.  Remove cauliflower from skillet and place back onto baking sheet.  Roast in oven for 15-20 minutes or until cauliflower is soft.  Remove and set aside.
Prepare bean blend to package instructions.  Heat vegetable oil a non-stick skillet over medium heat.  Soak zucchini in egg mixture. Dredge each round on both sides in panko.  Fry zucchini rounds 2-3 minutes on each side or until panko is golden brown.  Set aside on dry paper towels to soak up residual oil.
Drain beans and place in a medium mixing bowl.  Add parsley, mint, pine nuts, and raisins.  Season with salt and pepper.  Mix together then set aside.
Place cauliflower on plate, top with bean salad, then fried zucchini rounds.  Add protein to side of the dish, drizzle with balsamic glaze, and serve.