"To be naked is to be oneself, to be nude is to be seen by others"- John Berger
It was a Monday night that I drove into town for a little din din.  As I drove through downtown and past the store windows, I noticed these naked mannequins just hangin' out in a very "as a matter of fact" carefree way.  I wondered if  they were feeling carefree or were they feeling exposed?  It made me think about the way I felt when I first arrived here.  You know that dream everyone has when they are naked in their high school hallway during that 5 minute class change…  I felt that way, I was alone, scared and knew no one..I might as well have been naked.  Then I laughed.  That feeling lasted about a week, and then it turned to a feeling of relief, gratitude, and a welcoming new experience.  I decided that  those mannequins didn't feel a damn thing.  The store employee just went home before she dressed them in their new digs to entice all.  Let's get to the recipe, shall we?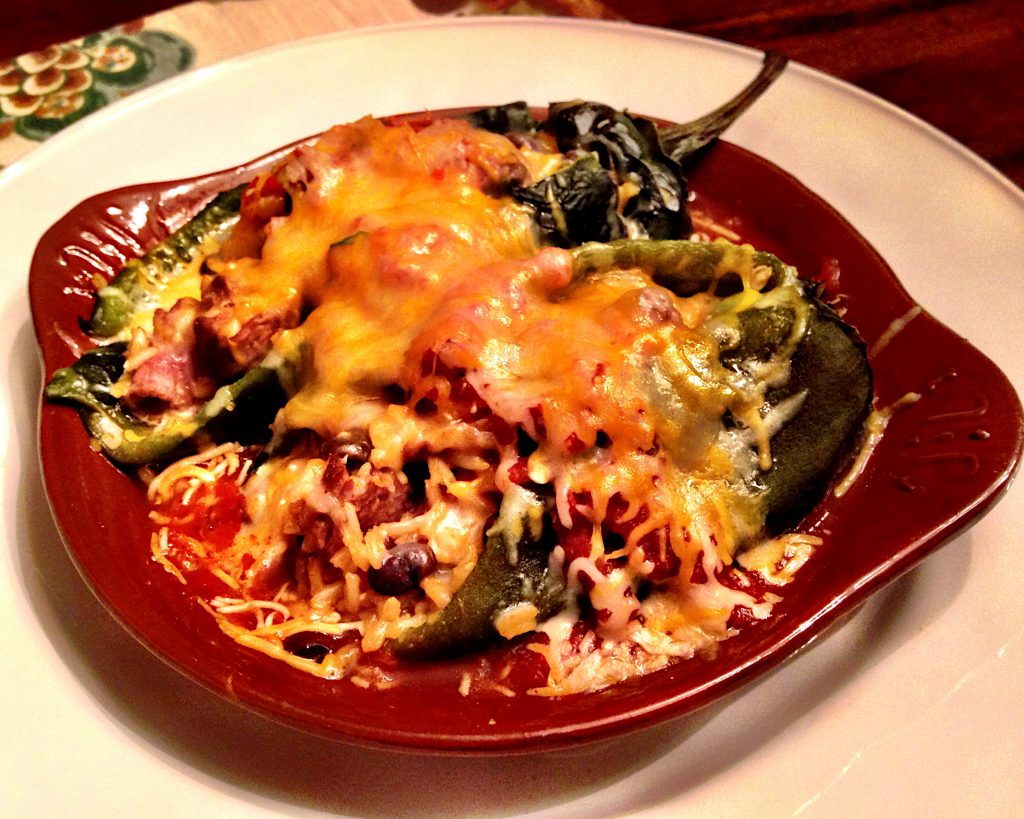 When I want to eat meat, I always prefer beef tenderloin because it's sexy, it's juicy, it's 'tender', it deserves the romance that I can give to each piece.  I wanted to make stuffed poblanos but without the egg batter… without the peppers' clothes.  Egg batter can be good but I wanted to take a lighter approach to the dish and leave room for my sexy cheese to carry the weight of sin instead of the batter.   Yes, I choose my sins wisely…. most of the time.  Enjoy this recipe.  Put on the Sade because it's sexy time.
Naked Poblanos Stuffed with Grilled Filet
serves 2-4
4 fresh poblano peppers
1 cup whole grain brown rice, cooked to package instructions
1/2 yellow onion, finely chopped
2 tbsp oilive oil
2 large tomatoes, rinsed and cubed
1 can black beans, rinsed
1 tsp garlic powder
1/2 tsp ground cumin
1 tsp chili powder
kosher salt and fresh cracked pepper
2 to 3 good sized filet mignons
1 tbsp olive oil
2 cups shredded colby jack cheese
Heat grill
Wash peppers, dry, and rub with a little olive oil.  Place them over an open flame to roast or broil them in the oven until their skin is charred.  Remove peppers and immediately place in a plastic bag to steam.  Set aside
Cook your rice to package instructions.  In a large non-stick skillet, saute onions over medium heat until translucent.  Add fresh tomatoes and cook for 3 minutes, then add black beans, garlic powder, cumin, chili powder, salt and pepper.  Stir and let the spices get to know eachother.  Then add rice and stir.  You may need to add a bit of water to keep the mixture from drying out.  Reduce heat to low, cover and  set aside.
Place filets into a baking dish and rub them with 1 tbsp of olive oil, salt and pepper.  Grill them 3 minutes, flip and cook another 3 minutes, flip once more and let cook 1-2 more minutes.  This should give you a medium-rare outcome.
Take your filets off of the grill and slice them into thin strips.  Mix the meat into your rice and bean mixture.  Remove your peppers from the plastic bag and peel they skin off of each one under cold running water as best you can.  Spoon the mixture into each pepper, top with grated cheese and then place on a baking sheet.  Roast peppers in the oven until hot for about 20 minutes.  Be careful not to over cook the medium rare meat.  Serve over your favorite tomato sauce.  I use my mom's…simple simple:
2-8 oz. cans tomato sauce
2 tsp ground cumin
2 tsp garlic powder
1 tsp kosher salt, maybe more to taste
Simmer all ingredients in a small sauce pan until hot and bubbly.