To eat is to experience art.  Every bite should be respected.  Every hint of flavor, every taste of color, every kind of texture should be a fucking party on your tongue.  The time it takes for an orange to grow and produce an encapsulation of art within itself… well, that orange deserves to be enjoyed.  To taste its color is to see the intense beauty of its skin that triggers a childhood memory of an Orange Julius.
It has almost been two years since I stepped foot into The Prado Museum in Madrid, Spain.  I think of all the beautiful bits that I experienced while in Europe and am so very glad that my professor encouraged us all to keep a sketchbook during our travel.  Looking back at my notes and drawings, I jotted down so many ideas for food that were sparked from the inspirational artwork I saw around me.   I had saved these ideas with every intention of opening a small Bistro back home.  However, my direction with work changed and that little dream has been put on the back burner.   Rather than have my ideas sit within the pages of my sketchbook, I thought I would bring them to life and share them with you.   Hopefully, they will give you a glimpse into how I am inspired by art and how I execute my experience.
As I bring my catering business to a close within the next few months, I will share a few of my hors d'oeuvre recipes with you.  They were no huge secret, really, but they were special enough to be craved by my clients.
Radiance, joy, and flowering are depicted in The Three Graces by Peter Paul Rubens…. all three of which I put together within the flavors of each of these appetizers. Their simple and fresh flavors are reminiscent of the cuisine I enjoyed during my time in Spain. They are very simple hors d'oeuvres. Make them on a weekend to enjoy with friends before you head out for drinks. Or, just make them your meal for the night. Eat one of each and then start over again until you just can't anymore.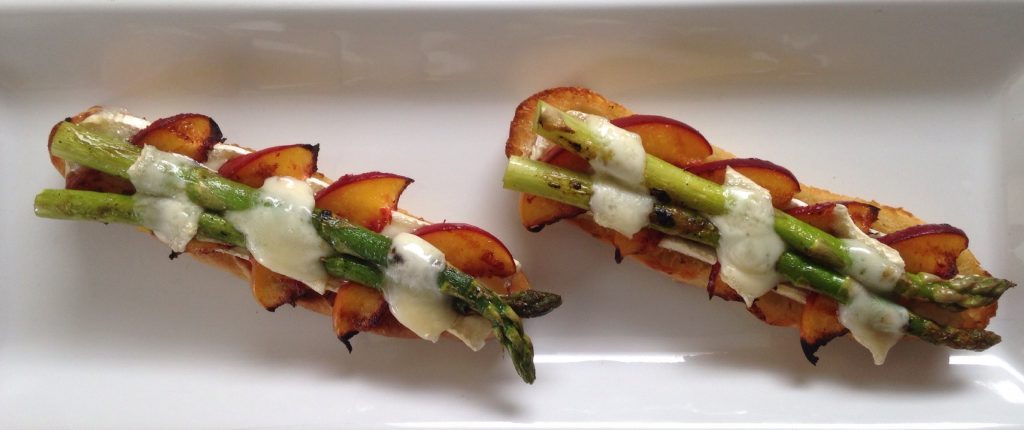 Sautéed Asparagus with Peaches and Brie on Toasted Ciabatta
1 bunch asparagus, rinsed, trimmed and patted dry
2 peaches, rinsed, dried, pitted and sliced
1 small wheel of your favorite brie cheese, sliced
1 loaf flat Ciabatta bread, sliced
Olive oil
Kosher Salt and fresh cracked pepper
Preheat your oven to 350 degrees. Place bread slices onto a baking sheet and drizzle generously with olive oil. Season the slices with salt and fresh cracked pepper. Toast bread in oven for 10 minutes. Remove from oven and flip slices over and toast bread for another 5 minutes. Remove from oven and set aside.
Heat a large skillet over medium-high heat. Add 2 tbsp of olive oil to hot pan. Add the asparagus to sauté in the hot olive oil, rotating each spear as it starts to brown. This will take about 10 minutes. Remove from the pan and let rest on a baking sheet lined with paper towels. Repeat process with slices of peaches. Add a bit more olive oil to pan if needed. You want to sear the edges slightly about 1 minute on each side. Remove from pan and set aside along with the asparagus. Top each bread slice with 2 to 3 thin slices of brie, sliced peaches and 2 asparagus spears. Finish off with a few more slices of brie over the asparagus. Bake in the oven until the brie melts; about 3-5 minutes. Remove from oven and serve immediately.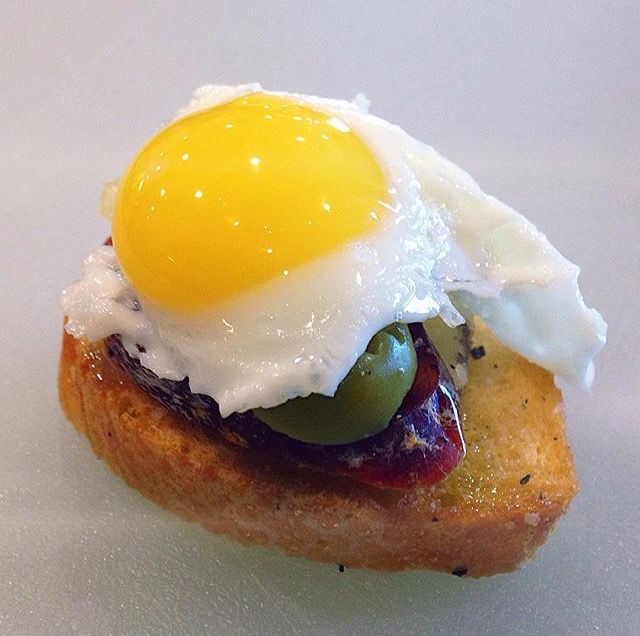 Spanish Tapas topped with Quail Egg
I don't include amounts on the ingredients for tapas because I want you to just go with what you know you are going to devour!
Quail eggs
1 baguette loaf, sliced thin
Pitted olives of your choice
Spanish Chorizo, sliced
Honey
Figs (when in season, they make these tapas extra tasty)
Manchego Cheese, sliced
These are super simple to make. Toast your baguette slices, fry your quail eggs, and then top each baguette with each ingredient. Drizzle with olive oil or honey.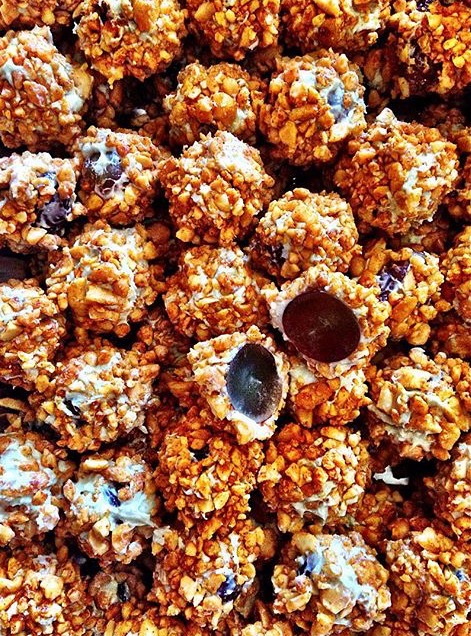 Purple Grapes Rolled in Roquefort and Walnuts
1 bunch purple grapes, rinsed and dried
1 8 oz package cream cheese, softened
8 oz Roquefort or blue cheese, softened
2 tbsp heavy cream
1 16 oz bag chopped walnuts
Pluck grapes from their stem and place in a large bowl. Add cream cheese, Roquefort cheese and heavy cream to a standing mixer bowl and mix together until creamy. Take about a teaspoon of the cheese mixture and form around each grape then roll in chopped walnuts. Set grapes on a baking sheet that will fit in the refrigerator. Chill before serving.