My summer has been an interesting one in that I have gotten to experience, not one kind but, two kinds of heat.  Living in summers of Texas dry heat all of my life, I have been privileged to sweat at an entirely different level of Hell in Georgia.  Although, I adore what the humidity has done for my complexion, I will always be true to the winter months.
What I am most true to, besides my handsome hubs, are fruits and veggies that are in season.  I use avocados and tomatoes heavily in my summer dishes to add a little "cool down" element.  They are pretty much in my fridge all year round.  I buy them at their greenest state and ripen them at home.  When I notice I have two avocados left, I buy more and wrap them in a paper bag for a few days to overt the tragedy of running out.  If you run out, then you are doing it wrong.  Don't be that person. Be that person who gets a wild hair and decides to make guacamole from scratch instead of buying that 'squeeze out of a bag' kind.  Be that person who would rather make fresh salsa than eat the jarred variety that tastes like failure.  Or better yet, just slice them up and throw them on your food.
Stuffed Baked Sweet Potato
Serves 2
2 large sweet potatoes
1 lb 80/20 grass fed ground beef
2 tbsp chili powder
1 tbsp ground cumin
1 tsp garlic powder
kosher salt
fresh cracked pepper
1/2 cup water
1 avocado, chopped
1/2 sliced cherry tomatoes
1/4 cup red onion, finely chopped
Line a baking sheet with foil and place the potatoes in the center of the sheet.  Bake sweet potatoes in a 350 degree preheated oven for 45 minutes.
Heat a medium skillet over medium-high heat.  Brown beef until completely cooked.  Add chili powder, cumin, garlic, salt, pepper, and water.  Stir and let simmer on low until potatoes are ready.  Remove potatoes from oven and slice open lengthwise.  Spoon beef into the middle and top with avocado, tomato, and onion.
*Vegan Option:  Add seasonings to cooked black beans and fresh tomatoes.  Let simmer until tomatoes are softened.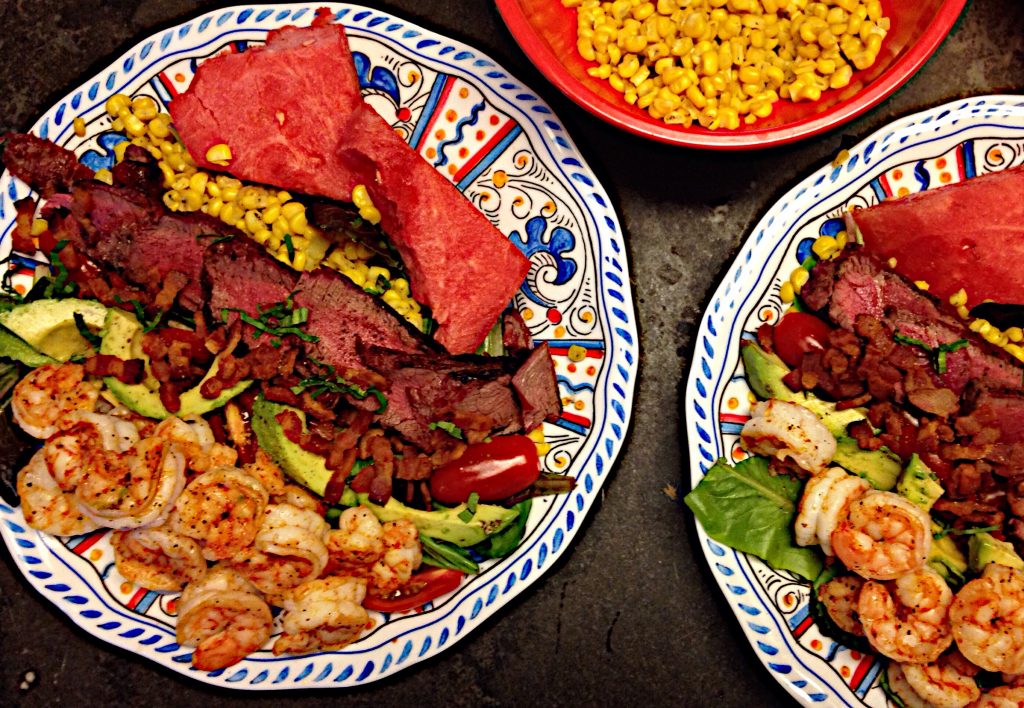 For a Surf and Turf Cobb Salad, I grilled shrimp and beef filet to accompany fresh sauteed corn, baby kale, sliced avocado, and tomato.  You can use chicken or black beans as an alternative to your protein; just add your favorite dressing.